How to Choose a Soldering Station
The problem of choosing the soldering station is topical not only for the newbies, but for experienced engineers and technicians as well.
That's not a secret that modern equipment, especially digital one, every year becomes more advanced and multipurpose, while their weight and dimensions constantly decrease. It resulted in the difficulties in electronic components assembly during the manufacturing process and later during the repair and maintenance activities.
PCB component soldering in industry is successfully carried out by the machinery, however the repair works are to be carried out by humans. Here the successful result depends on the proficiency level of that specialist, as well as on the equipment used.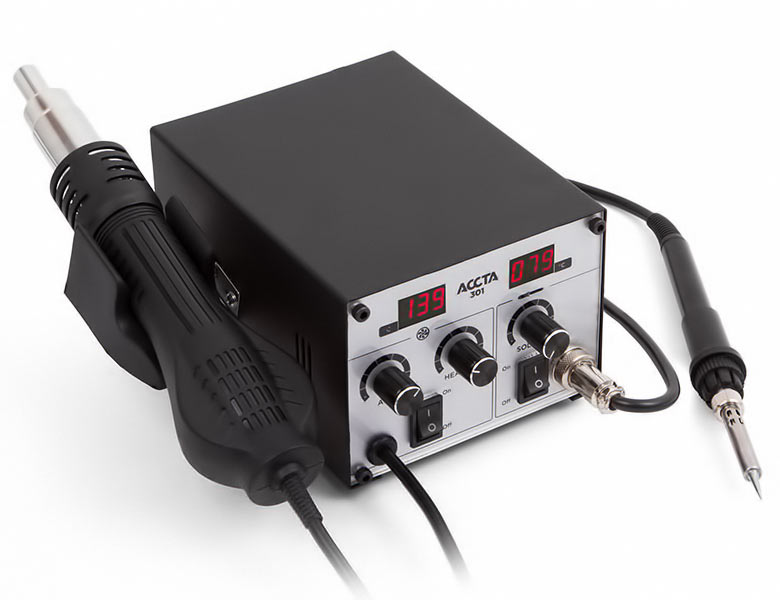 Since the traditional soldering iron has already become the tool for household applications, the soldering equipment market offers a wide range of specialized soldering stations for repairing almost any modern device.
We are going to provide short characteristics of different types of soldering stations, to describe their functional characteristics and application methods in this article. That may help you make the right choice.
So, the soldering stations may be divided into the following categories:
Contact soldering stations
The most common and popular ones are contact soldering stations. They slightly differ from traditional soldering irons, but they do not have the same design deficiencies.
The most common problem in operation with soldering iron is the overheating of the sensing element, especially the semiconductor ones. The reason is incapability of heater temperature adjustment. The soldering iron heats up to about 400 degrees, and the soldering safety is ensured with short-term contact between the soldering iron tip and the solder alloy.
Contact soldering station has a built-in power supply unit, which in most cases ensures the galvanic separation between the power circuit and the heating element. The voltage on the heating element may be adjusted using the power supply unit, and accordingly the heating temperature may be changed. In most cases the optimal soldering temperature range is 250-330 °C.
We may present several common models of such soldering stations:
We should also mention that soldering stations have the system of thermal stabilization. It is realized with the help of PID controls with back-coupling using tip temperature. During the tip cooling (the moment the tip touches the solder alloy) the microcontroller analyzes the correlation of the set temperature to the real one and automatically stabilizes it, as a result of voltage increase on the heating element.
The power of "ordinary" contact soldering stations does not exceed 50-60 W. even taking into account thermal stabilization system, they may be used only for soldering with lead non-refractory soldering alloys like POS 60. A lot of service engineers use them for repairing modern RoHS PCBs with the help of refractory lead-free soldering alloys. It is a great mistake. The negative results of such actions are as follows:
radiocomponent overheated as a result of the increased soldering temperature;
overheated soldering tip leading to its lifetime reduction;
significant decrease in heating element operation time;
low-qality soldering (cold soldering);
PCB track overheating.
Lead-free soldering stations
To avoid that, the so-called lead-free soldering stations should be used for repairing modern equipment.
They are similar to the traditional ones in their operation principle, but the heating element power is from 75-80 W up to 150-160 W. the manufacturers also try to minimize the time of temperature stabilization by microcontroller. The more advanced PID controls are used for that purpose.
Popular lead-free soldering stations:
A very popular model GOOT PX-201 should be noted. It seems to be a soldering iron, but in fact it is a fully operational lead-free soldering station in a compact design.
You should not be afraid to use lead-free soldering stations with lead solders. They are compatible no less than in case of ordinary contact stations.
However, not all the tasks may be solved using contact soldering method only. Surface-mount technology (SMT), which is prevailing implies using miniature SMD-components and leadless BGA chips. To cope with these works using the soldering iron is not only difficult, but in most cases it is simply impossible.
Non-contact soldering stations were designed for such tasks, and hot air stations are the most common.
Hot Air Soldering Stations
The operating principle of hot air soldering stations is rather simple. A compressor generates the air flow, which heats to a certain temperature while going through the heating element spiral. The air flow outgoing from the heat gun is directed into the soldering area.  
That is the solution to the problem of soldering in restricted space with heating of several contact pads.
Hot air soldering stations are widely used for repairing cell phones and household appliances. The power of any such station is enough for operation with lead and lead-free soldering alloys. However, they also have restrictions of application. This soldering station can not be used for large BGA chips soldering/desoldering.
Combined Hot Air Soldering Stations
Hot air soldering stations became wide-spread in combination with other soldering equipment types. That made Lukey 852D+ the most popular model on the market. The combination of a hot air gun and a soldering iron at a moderate price became an earnest of success for this model.
After the success of Lukey, hundreds of models somehow similar to it appeared on the market. Now you may easily choose a station you like the best.
For instance:
In a range of Lukey products, besides the 852D+, there are 702, 868, 898 models. Their difference from the classic variant is in an air pump. All of them are equipped with a turbine engine, which is installed inside the hot air gun handle. That enabled to abolish an sir hose from the station main unit, that enhanced the ergonomics and user comfort. Lukey 853D is also equipped with a built-in power supply unit.
Even more variability may be found in AOYUE product range. Apart from the models with a built-in PSU – AOYUE 768, there are soldering stations with built-in smoke absorber – AOYUE 968. The most advanced models are equipped with lead-free soldering iron (AOYUE 2738A+) and even a desoldering gun (AOYUE 2702A+ and AOYUE 2703A+).
Desoldering stations
An integral constructive element of desoldering station is a compressor, but it is working for blowing in, instead of blowing out. With its help the heated solder on a contact surface is blown into a special receiver. The one who used to desolder a PCB from, say, a DIP8, at least once, understands how convenient it is.
Apart from AOYUE 2702A+, which is a soldering complex, there are purely desoldering stations, such as Pro'sKit SS-331B, AOYUE 474A+ and AOYUE 701A+ (AOYUE 701A+ is also equipped with an ordinary soldering iron).
Infrared Soldering Stations
It is impossible to describe all the aspects of operation and application of infrared soldering stations in a general review. That is a topic of a separate article. However, we will try to make their short classification.
This type of soldering equipment was designed for solving several complex tasks:
middle-size and large BGA chips soldering and desoldering;
decrease in thermal effect on plastic elements during soldering;
abolition of using a lot of nozzles for each type of PCBs, as in hot air stations, as new PCBs appear on the market constantly.
Taking into account these advantages, the IR stations have almost completely displaced other types in PC and laptop service centers.
Almost every (except for Tornado low-price solutions) IR station is a rework complex, consisting of the following elements:
upper heater;
lower heater (preheater);
PCB holder;
thermal control system, consisting of temperature probes and a programmable controller.
Such design is suitable for operation with lagre PCBs, such as PC and laptop mainboards.
Powerful upper heater allows desoldering a large BGA chip, e.g. a north bridge. Large-area lower heater minimizes the risk of textolite thermal deformation due to the local upper heating. The PCB may be correctly and securely fixed on the holder stand. Thermal control system automatically detects the temperature change in control points, compares it with the preset temperature and adjusts it according to the thermal profile.
The task of the operator of such station is to set a correct thermal profile (temperature and time intervals of the soldering process), and the station will do the rest in automatic mode.
According to the heating element type the IR stations may be divided into:
The advantages of ceramic heaters are: operation in invisible emission spectrum, high reliability and long mean time between failures.
The advantages of quartz heaters lie in less persistence and in more homogeneity of heating spot.
We hope this article will help you make the correct choice of the soldering station. Concerning the questions, that were not covered in the review, and any other questions you may address out technical support department.
Yuriy Stakhniak,
Technical expert of ToolBoom Online Store
All rights reserved. This material from toolboom.com web site may not be published, rewritten or redistributed in whole or part without authorship indicated and backlinks provided.