Jeken PS-30 Ultrasonic Cleaner Review
Greetings to all of our ToolBoom store customers and visitors! Today we're going to talk about new and innovative ultrasonic cleaner Jeken PS-30, by the way available in ToolBoom online. First of all lets figure out what an ultrasonic cleaner is. The process itself is quite unique method of metals, plastics, glass, rubber and ceramics cleaning with a help of high frequency sound waves (ultrasonic means above the range of human hearing). Using the Jeken PS-30 you can clean dust, dirt, oil, pigments, grease and many more foreign contaminants.
In general, ultrasonic cleaners come in many sizes and shapes. But, what you really should pay attention to is its generator power. The higher the power, the greater the force and, therefore, cleaning capacity. But that's not all to it. Operating frequency is really important, since the intensity of the process depends on this parameter. And that's when Jeken PS-30 comes on stage. It's powerful enough to clean even the worst dirt and still is pretty gentle to the jewelry and other fragile stuff.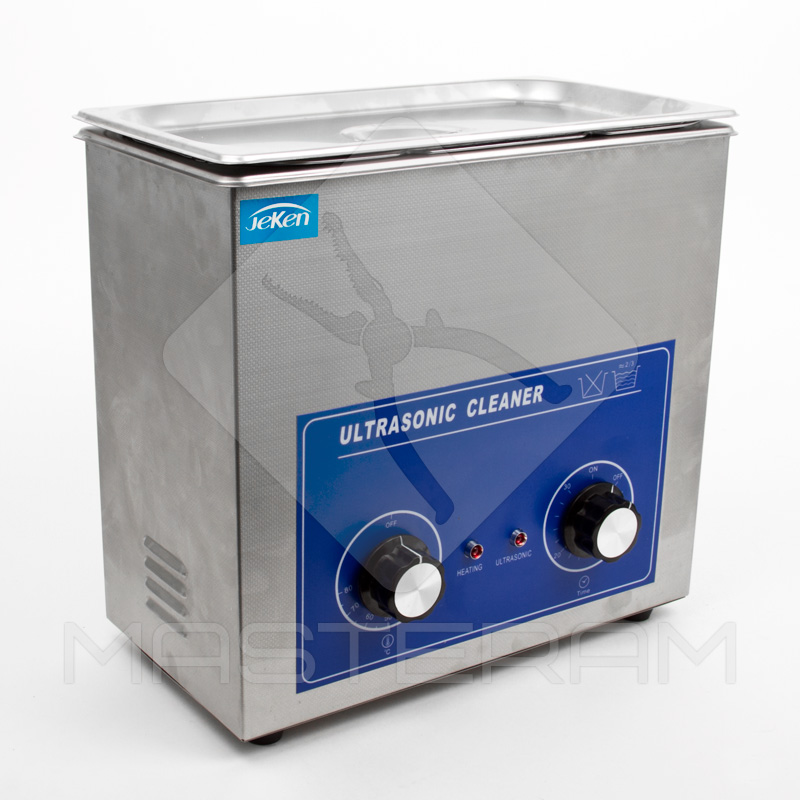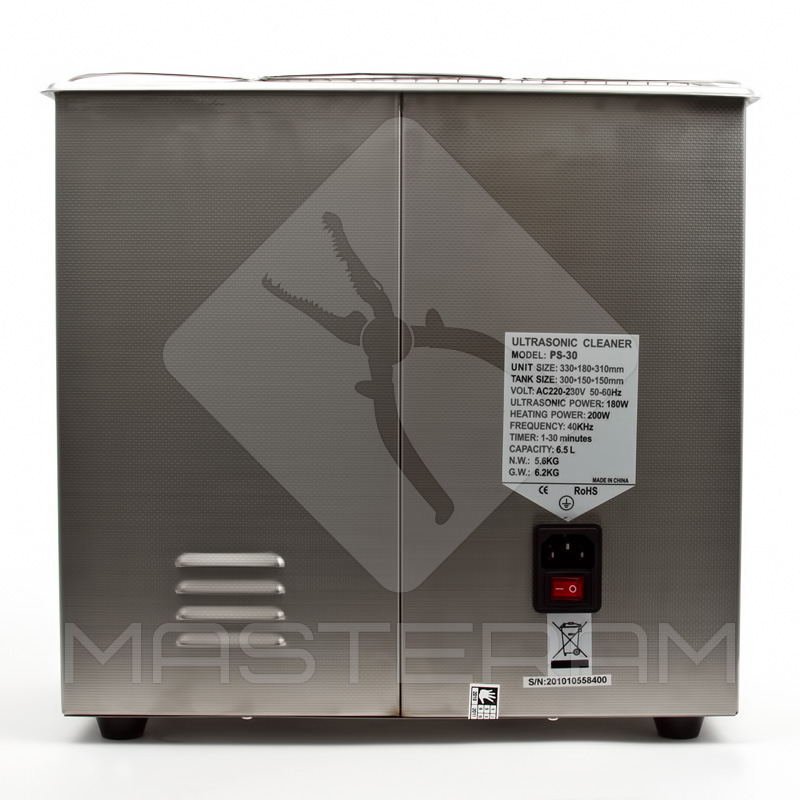 Ultrasonic Cleaner Jeken PS-30
Ultrasonic cleaner Jeken PS-30 is used for cleaning:
carburetor, injectors, gears, etc.
electronic circuit boards.
necklaces, rings, earrings, bracelets and so on.
glasses, watches, lenses and accessories.
shaving heads, razor blades, dentures, toothbrushes.
printer heads and other office supplies.
ancient coins, badges and other antiques.
forks, spoons, knives and stuff.
Specifications of Jeken PS-30 ultrasonic cleaner
| | |
| --- | --- |
| Power supply | 220-230 V, 50-60 Hz |
| Dimensions | 310 × 310 × 180 mm |
| Power | 180 W |
| Generator's frequency | 40 kHz |
| Tank size | 6.5 l |
| Timer settings | 1-30 minutes |
| Tank dimensions | 300 × 150 × 150 mm |
| Heating element power | 200 W |
| Weight | 6.2 kg |
| Material | stainless steel |
So, it does the job. And a very good one. But what would you say if I'll add just a few features that would make Jeken PS-30 a must have in every shop or even home? And here it comes – it even heats up cleaning solutions! As you may know warm liquid increases the effect of cleaning. Especially, if we're talking about extremely greasy items. Maximum tempetature you can go with on Jeken PS-30 is as high as 80 ºC. Though, the process of heating itself is quite slow – only 40 ºC in every 30 minutes. But still it's more than enough to do the job.
Controls of Jeken PS-30 ultrasonic cleaner are pretty simple and quite intuitive.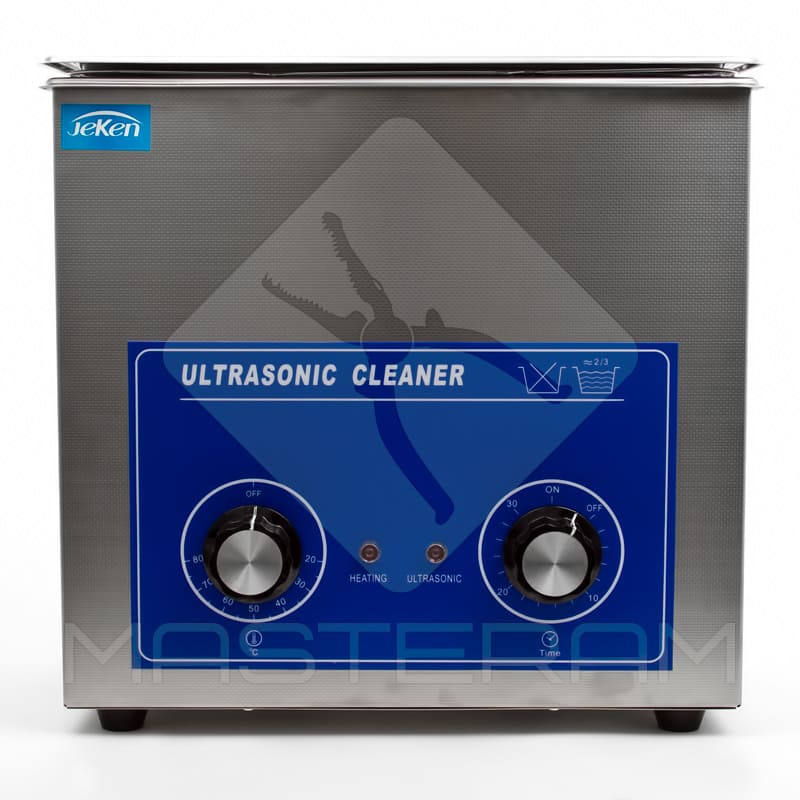 Jeken PS-30 ultrasonic cleaner control panel
The best part of Jeken PS-30's controls is that all of them are analogue. That means less electronics – less breakdowns. And still they are as functional as any other virtual UI. You can turn on continuous work mode or a timer, which is very convenient. But what is most attractive in these functions that both of them are implemented in one button only. You can turn the timer knob for up to 30 min. Timer has a mechanical construction, which is again very good if you are concerned about failures of electronic equipment. It is necessary to remember that the timer turns off the generator only, - the heating element works independently. Whether it's on or off you can tell by red lights on the control panel.
The whole body of Jeken PS-30 ultrasonic cleaner is made of steel, which is very useful when it comes to keeping it clean. Besides, thanks to its metal construction you will be able to use some types of cleaning chemistry which is unacceptable for plastic containers.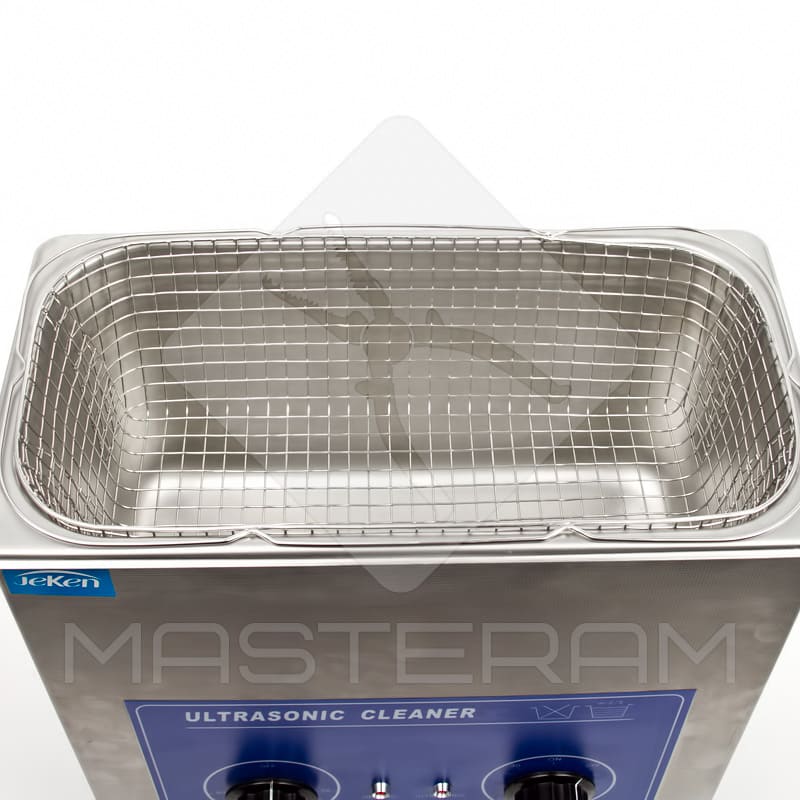 Tank and a basket of Jeken PS-30 ultrasonic cleaner
Probably, one of the worst things you can experience while working with Jeken PS-30, is the annoying sound of generator.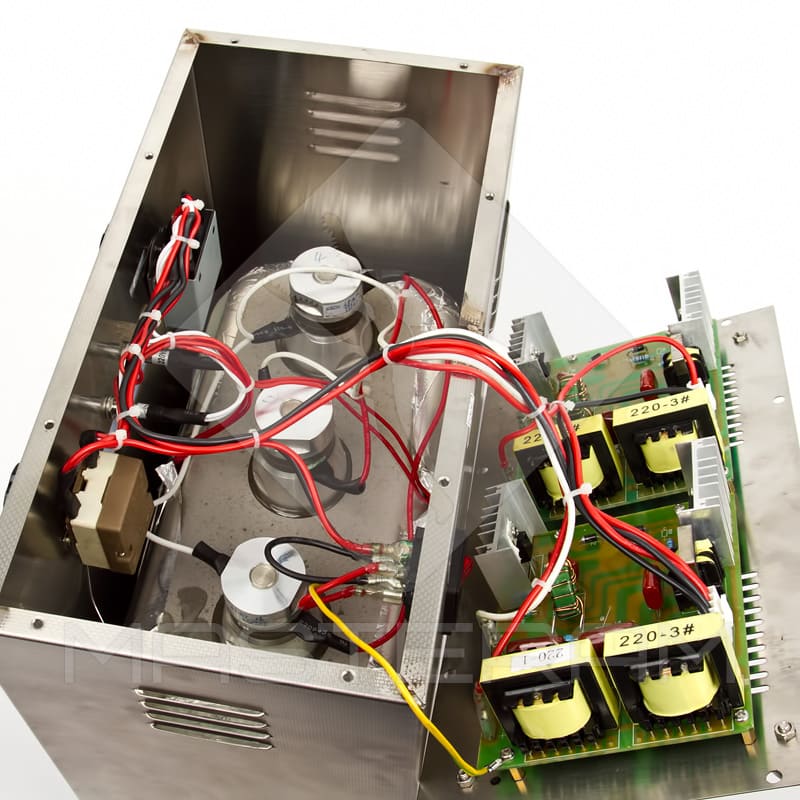 Piezoelectric transducer of Jeken PS-30 ultrasonic cleaner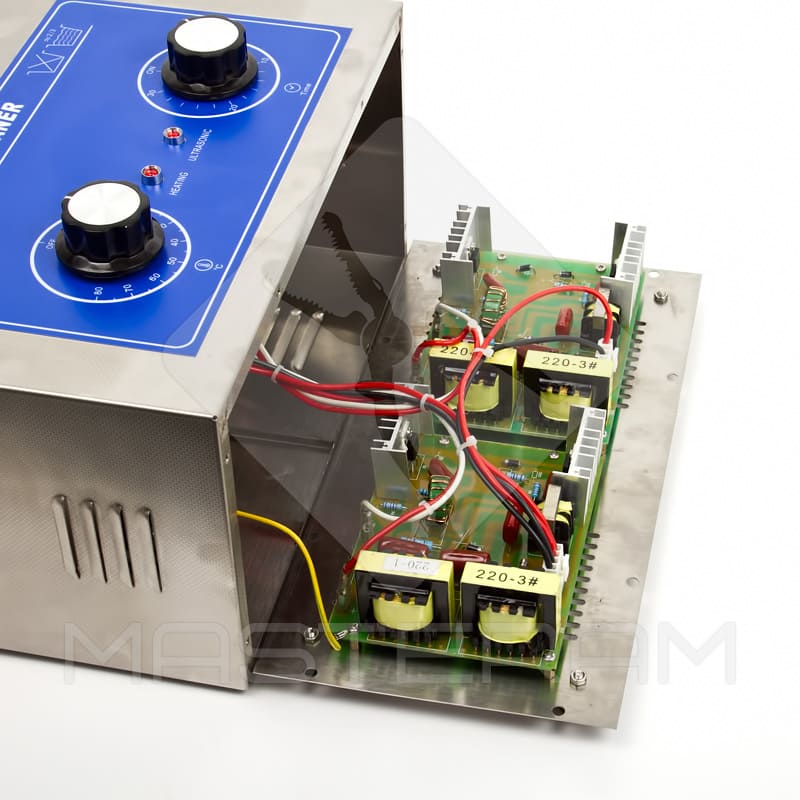 The control board of Jeken PS-30 ultrasonic cleaner
To avoid any malfunctions and breakdowns you should remember: first of all, do not turn it on when tank is empty. You shouldn't place any items on the bottom of the tank as well. Always use a basket.
Jeken PS-30 ultrasonic cleaner performance
It turned out that Jeken PS-30 ultrasonic cleaner can handle even the toughest dirt just with simple water. Only half an hour of work and the result is perfect.
Here's the result of cell phone keypad clean-up with Jeken PS-30 ultrasonic cleaner: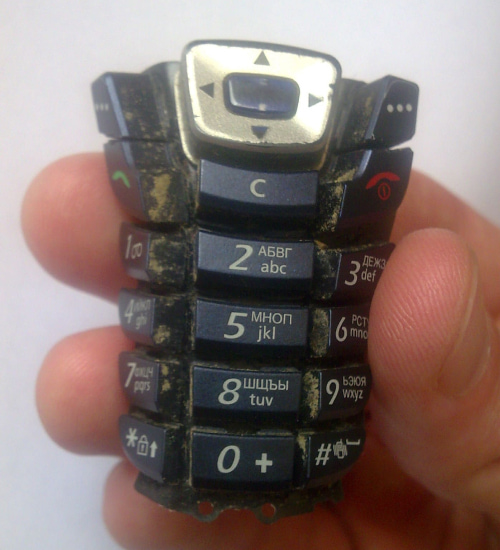 Before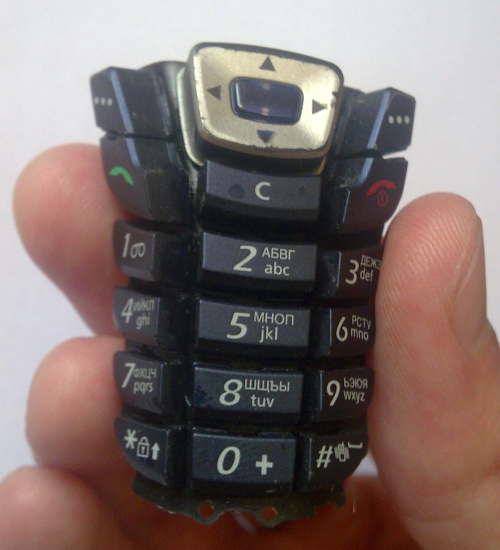 After
And here's the same cell phone before and after the process of cleaning: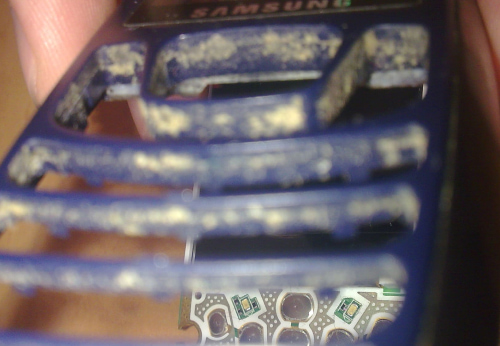 Before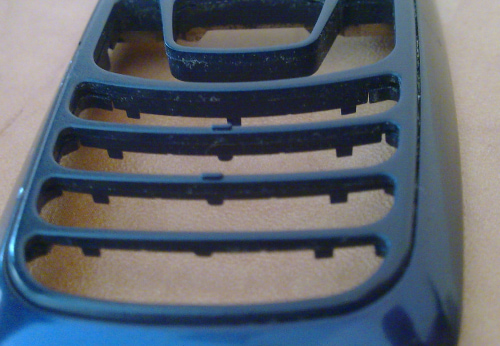 After
Note that any rust that may appear on metal parts can be washed off with strong detergents only.
Analogues of Jeken PS-30 ultrasonic cleaner
PS-30 is not the only ultrasonic cleaner available in ToolBoom online store. You can order Jeken PS-20 and Jeken PS-40A as well. All are slightly different though have the same productivity. For instance, the last one has an integrated water draining system and a digital interface. In addition, it has the most capacious tank – on the whole 10 liters. Jeken PS-20 is slightly simpler. The only difference is that it runs on low-powered generator and has a smaller tank. But, still it is a lifesaver when it comes to stripping the dirt off.
You can buy Jeken PS-30, Jeken PS-20 and Jeken PS-40A in ToolBoom online store.
Sergiy Safonyuk,
Technical specialist of ToolBoom online store.
All rights reserved. This material from toolboom.com web site may not be published, rewritten or redistributed in whole or part without authorship indicated and backlinks provided.