Thermal Imaging Cameras: Seeing the Invisible
What is a thermal imaging camera?
Thermal imaging cameras or Thermographic cameras are the devices for non-contact measuring of the temperature distribution and change of a certain object or in a certain area without any other preparations required. The operation is possible even in total darkness because the ambient light level does not matter.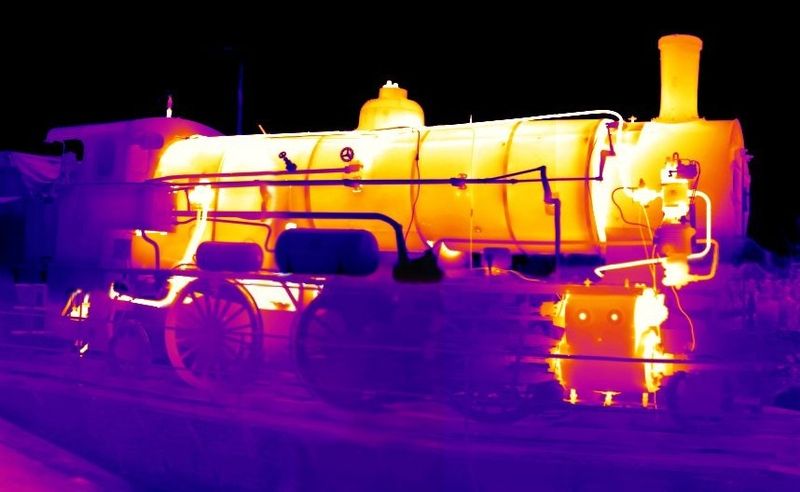 Thermal distribution of a steam locomotive
Any object with a temperature above zero is a carrier of electromagnetic emission. A thermographic camera can detect this emission in a way similar to the way an ordinary camera detects visible light. It detects an infrared range of electromagnetic spectrum (0.9 – 14 µm). The same infrared matrixes are used in manufacturing photo and video equipment - that is why thermal imaging cameras are also often called infrared cameras. The resolution of such cameras is considerably lower than that of optical cameras, mostly only 120×120, 160×120 or 320×240 pixels.
The amount of the emitted energy depends directly on the object temperature and thermal emitting capability. By calculating the emission intensity it is possible to determine the absolute temperature value. The energy is proportional to the temperature. The infrared emission detector is a core of a thermal imaging camera. It may convert the electromagnetic emission oscillations into a graphic image and calculate the temperature value using that image. That is how a multispectral picture is formed. It reflects the real thermal distribution among the different areas of the object inspected. This form of representation is usually called a thermal image or a thermogram.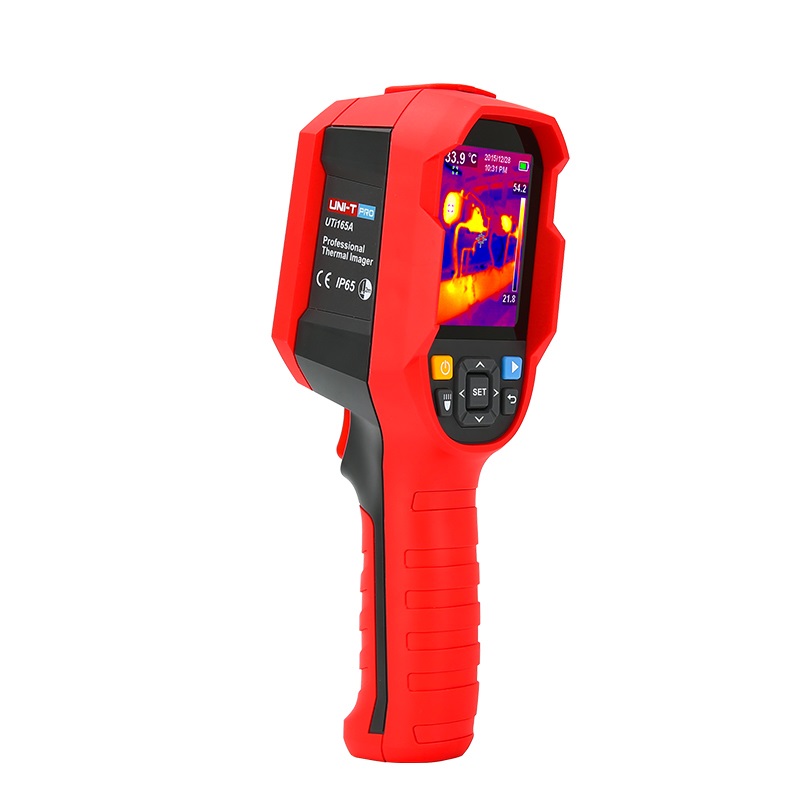 FLIR T420 Thermal Imaging Camera
Modern thermal imaging cameras are equipped with color LCDs. The level of temperature distribution is displayed on the screen or stored in the camera memory as a colour map, where each temperature valuecorresponds to a certain colour. The colours traditionally correspond to the temperature as follows: the brightest parts of the image (white colour) are customarily the warmest, light colours (like red or yellow) show the intermediate temperatures, while the darkest ones (blue, violet, etc.) indicate the low temperatures. A scale should be shown next to a color image to relate colors to temperatures. Usually we may see a temperature range on a display. The images are created in a digital format; therefore, they may also be stored, processed, converted and printed out.
The market of thermal imaging cameras is represented with various manufacturers, e.g. FLIR Systems, Fluke Corporation, Testo, Sonel, etc.
Applications
Thermal imaging cameras were initially used to control complex technological operations during the manufacturing process – in mechanical engineering, oil refining, asphalt laying, etc. Using the thermographic camera one may determine the overheating of the equipment, and the due time of process stop, e.g. during the steel smelting in blast furnace. Thermal imaging cameras are extremely useful in aircraft inspection, and this is, probably, the only way of fast failure detection in such a huge mechanism.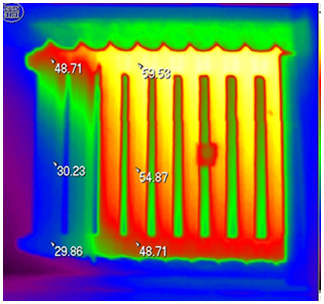 Thermal image of a heating radiator
Apart from the specialized devices there are portable handheld thermographic cameras for personal use. Thermography is widely used in building industry to conduct the analysis of possible heat loss and to determine which areas need additional heat insulation or winterization. Thermal imaging cameras help to check the operation of the heating system in a building as well.
One more reason for using thermal imaging cameras is the possibility to find thermal emitting objects or live beings in poor visibility conditions, to detect animals location, to find the shot down bag during hunting. This search method may also be used during rescue operations, to find missing people and to detect the location of the victims after natural disasters such as earthquakes, avalanches, etc.
Thermal imaging cameras are also used as vehicle night vision cameras that are designed to reduce night driving troublesome situations by detecting potential danger on the way and ensuring more time for the driver to react to any hazard. They help recognizing pedestrians, animals or another objects under poor visibility conditions such as total darkness, smoke, rain, fog and snow.
Thermography may have various possible applications in different spheres. The main thermal imaging camera applications are as follows:
Science / R&D
Automation / process control
Building diagnostics
Electrical / mechanical tests
Cores & components test
Optical gas imaging
Mining operations
Solar panels inspection
Aviation
Maritime navigation
Border security
Military and police target detection & acquisition
Law enforcement and anti-terrorism
Commercial security
Medical purposes
Veterinary purposes
Quarantine monitoring
Firefighting operations
Search and rescue operations
Transportation
Personal vision
Night vision
Astronomy
Aerial archaeology
Quality control in production environments
Pollution effluent detection
Education / Training
Thermorgam of a building
Thermal Imaging Camera Specifications
Thermographic cameras can be broadly divided into two types: those with cooled infrared image detectors and those with uncooled detectors. According to the application method the cameras may be divided into stationary ones and portable ones.
While choosing a thermographic camera you should take into account the principal technical characteristics of the device:  number of pixels, spectral band, minimum resolvable temperature difference (MRTD), field of view, dynamic range, sensor lifetime, input power, mass and volume.
First of all you should pay attention to the size of its matrix. It determines the range of the measured temperature. For instance, to determine the quality of thermal insulation material the range from –10 to 350 degrees Celsius is more than enough, while a device with the range from –200 to 2000 degrees Celsius might be needed for industrial applications. The matrix determines the value of results accuracy, temperature sensitivity threshold (from 0.05 to 0.03) and other parameters. The number of movable points, the temperature of which the camera may measure simultaneously, is one more important factor in the process of choosing the device.
It should be also mentioned that the measuring quality and the matrix size do not depend on the device size. There are compact-sized portable thermal imaging cameras with high operability. The camera characteristics should be chosen depending on the area of application and operating conditions: take into account the required weight, size, battery operation time, display size, and more. The device often has a shape and size similar to those of professional digital photo and video cameras.
Modern thermal imaging cameras are capable of showing the difference in temperatures up to hundredth parts of a degree in a thermal flow.
You may choose a device from the offered FLIR, Fluke and UNI-T portable models and order it now from our Online Store. Our product range includes Fluke Ti-series, as well as FLIR i-series, and a representative of new FLIR T400 series cameras – FLIR T420.
Yuriy Ter-Arutiunian
All rights reserved. This material from toolboom.com web site may not be published, rewritten or redistributed in whole or part without authorship indicated and backlinks provided.
Compare
No items in compare list