Tools for Apple Products Repair
While Apple Company uses Liam and Daisy robots for disassembling their smartphones and their further recycling, a lot of cell phone repair engineers bring iPhones back to life by manually disassembling and repairing them. Let's find out what you need to do that.
Basic set of tools for iPhone disassembling:
Screwdrivers
Suction cup for display lifting
Plastic paddle
You may also facilitate the process using tweezers, rubber pad, boxes for screws, buttons, tiny components and parts, as well as special screw position boards.
Similar tools are used for disassembling other Apple products: iPad, iPod, MacBook, Apple Watch.
Screwdrivers for Apple Products
Apple company widely uses a special type of screws for assembling its products. It is a five-pointed tamper-resistant system called Pentalobe screw. However, only the standard Phillips screws were used in models till iPhone 4.
Pentalobe screw sizes are commonly marked as TS, as well as P and sometimes PL (used by Wiha, a German tool manufacturer).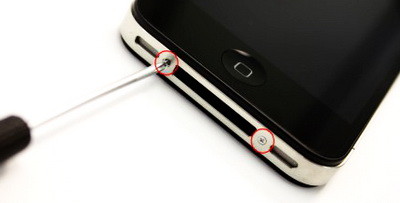 Pentalobe screw sizes include TS1 (0.8 mm, used on the iPhone 4, iPhone 4S, iPhone 5, iPhone 5c, iPhone 5s, iPhone 6, iPhone 6 Plus, iPhone 6S, iPhone 6S Plus, iPhone SE, iPhone 7, iPhone 7 Plus, iPhone 8, iPhone 8 Plus, iPhone X), TS4 (1.2 mm, used on the MacBook Air and the MacBook Pro with Retina display), and TS5 (1.5 mm, used on the 2009 MacBook Pro battery).
| TS Type | P Type | PL Type | Size | Application |
| --- | --- | --- | --- | --- |
| TS1 | P2 | PL1 | 0.8 mm | iPhone 4*, 4S, 5, 5C, 5S, 6, 6 Plus, 6S, 6S Plus, SE, 7, 7 Plus, 8, 8 Plus, X |
| TS4 | P5 | PL4 | 1.2 mm | MacBook Air and MacBook Pro with Retina Display |
| TS5 | P6 | PL5 | 1.5 mm | MacBook Pro (2009) Battery - 15" only |
* late models
Slotted screws, crosshead Phillips type screws, Torx screws, Tri-Point screws are also used for assembling iPhone, MacBook and other Apple devices.
The manufacturer started using Tri-Point type screws (0.6 mm) in iPhone 7/7 Plus, 8/8 Plus, X, and Apple Watch.
How to choose a screwdriver for Apple devices
Other Tools for Apple Gadgets Repair
During the repair process it is very convenient to store small parts, components, screws in utility component storage boxes.
One more handy thing to do before starting a repair procedure is to put a special mat on your working surface. There mats with ESD protective features, and some mats have built-in cells where you may put small components.
To avoid losing or mixing up the screws during the device repair, try using special screw position boards. They look like a card with an iPhone layout and the holes to put the screws in keeping the correct order.
To lift the iPhone display / touch screen you should use a suction cup. It may be the most simple suction cup with a ring or a more convenient vacuum suction cup. There are even more advanced devices – suction tweezers for lifting display.
It is very convenient to disassemble the device and to work with small parts using tweezers. There are lots of tweezers designed for operation with SMD components, as well as ESD-protected tweezers.
Tool Kits for Apple Products
No doubt, it is great to have all the needed screwdrivers and additional tools. However, it is even better to have all that in one tool kit, where all the tools are orderly placed for storage and transportation.
Special tool kits, apart from screwdrivers contain suction cups for taking out the glass, paddles, spudgers, levers and other mobile device disassembling tools.
A lot of manufacturers added special Pentalobe screwdrivers for Apple gadgets to their popular electronics repair tool kits. Some of them even presented specialized iPhone repair tool kits.
Let's compare some of the most handy and popular tool kits:
Most of these tool kits may be used for repairing other smartphone models, tablets and similar electronic devices, as they contain all the needed types of screwdrivers.
For more information about tools and equipment for Apple device troubleshooting and repair follow this link:
Toolboom Team
All rights reserved. This material from toolboom.com web site may not be published, rewritten or redistributed in whole or part without authorship indicated and backlinks provided.