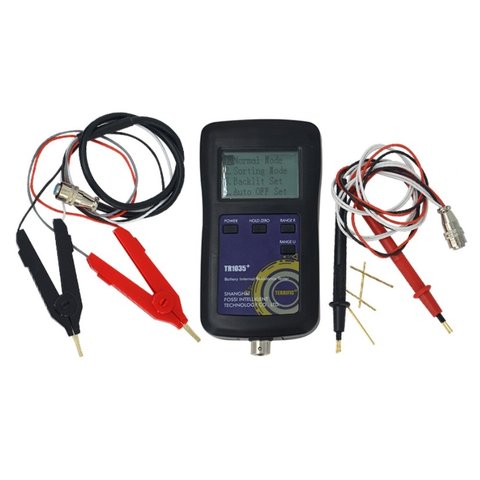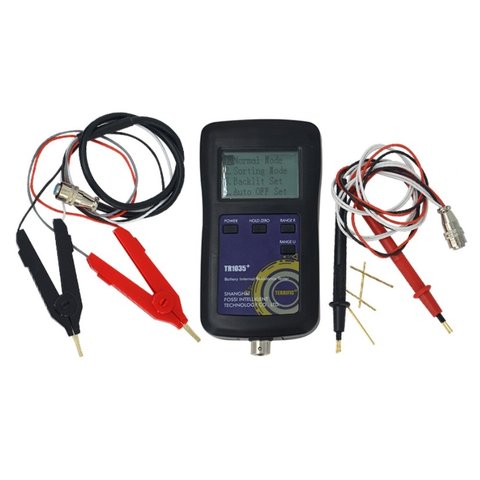 0.5 kg
Warranty: 6 month (s)
The device measures the internal resistance of batteries or battery assemblies of any type (up to 100 V) using 1 kHz alternating current.
YR1035C5 is an ultra-precise device that tests batteries by measuring the internal resistance of any type of battery or battery assembly (up to 100 V) using 1 kHz AC.
Features
Backlit LCD.
Micro USB port for charging the built-in rechargeable battery.
Manual/automatic range selection.
Technical Specifications
Internal Resistance Measurement
(0.01 mΩ to 200 Ω)
Range
Resolution
Accuracy
up to 20 mΩ
 0.01 mΩ
0.7%+7 (when ZR function is enabled)
up to 200 mΩ
 0.1 mΩ
0.5%+5
up to 2 Ω
0.001

Ω

0.5%+5
up to 20 Ω
0.01

Ω

   
0.5%+5
up to 200 Ω
0.1

Ω

0.6%+5
Voltage Measurement
(0.00001 V to 99.999 V)
Range
Resolution
Accuracy (% reading + % range)
up to 1 V
0.00001 V
0.35+0.015
up to 10 V
0.0001 V
0.30+0.010
up to 100 V
0.001 V
0.30+0.015
Package Contents
Battery Tester YR1035C5 — 1 pc.
Probe Test Line — 1 set
Kelvin Clip — 1 set