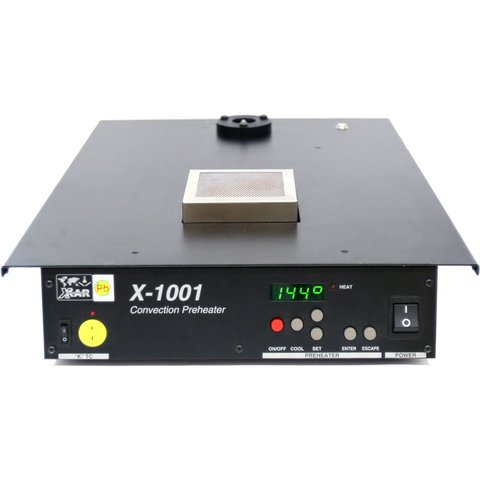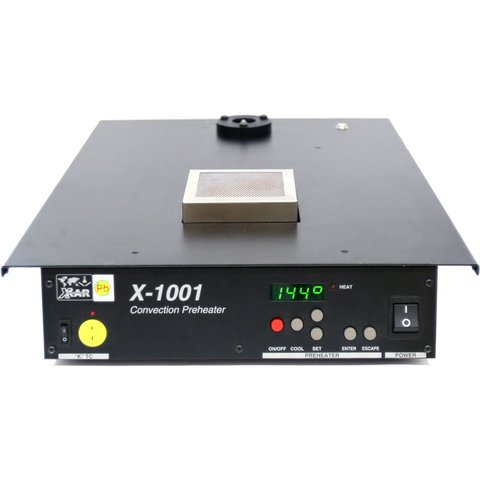 10.5 kg
220 V
Warranty: 12 month (s)
Preheat area: 52 cm²;Preheat temperature: 60-150 °C; Average PCB preheat time to 150 °C: < 2 min.
The most advanced and powerful pre-heater for SMT REWORK and REPAIR offering full Process Control, increased rework speed, board protection and operator convenience. The X-1001 was designed to reduce the workspace required for SMT Rework and Repair. The Pre-heater Units are microprocessor controlled to maintain accuracy and also to extend the life of the heating element.
FEATURES OF BOKAR X-1001 PREHEATER
Upgradeable Firmware via DataStore Port without opening the unit

DataStore Port allows customization of settings and changes by simple connection to PC via X-KAR or other RS-USB converter and downloading the upgraded or customized firmware received by e-mail from the Factory.

Control of the AIR Volume by the user from Front Panel Controls

Unmatched accuracy in setting the desire temperature on the surface of the reworked PCB

SPECIFICATION OF BOKAR X-1001 PREHEATER
Overall System
MODEL

X-1001

X-1001S

Input Voltages

220-240VAC

Power Consumption

Max. 1080VA

Weight

5,5 kg (12.1 lbs.)

System dimensions

19.1" x 11.4" x 3.2" (487 x 291 x 82 mm)

Pre-heater Section

Max. Power

1050 VA

Preheat temperature measured on a PCB

140-302 °F (60-150 °C)

Preheat area
More than 52 cm²
More than 13 cm²
Average PCB preheat time to 150B°C
Less than 2 min.
PACKAGE CONTENTS OF BOKAR X-1001 PREHEATER
X-1001 Base Unit

XK-TC 26/39 "K" Type Thermocouple .

AS3-B ESD grounding cord

AML-301A wireless"+" wrist strap
One Power cord: ( P/N XPC-1 for 220V units)

Manual
Guarantee card