DC Power Supply HYelec HY1505C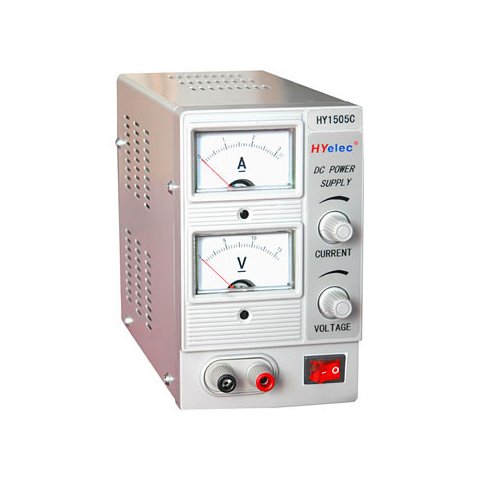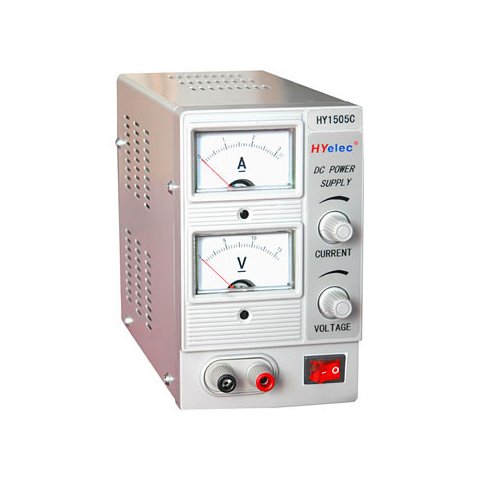 3.65 kg
220 V
Warranty: 6 month (s)
Voltage from 0 to 15 V and current from 0 to 5 A. 2 analogue indicating scales (voltmeter and amperemeter).
Power supply HY1505C provides electronic devices and schemes with power supply by continuous voltage in the range from 0 to 15 V and by current in the range of 0 to 5 A.
Features
Indication: 2 analogue scales.
Protection: reverse polarity protection, current restricted and short-circuit protection.
Parameter adjustment by means of potentiometers.
Output current and voltage are controlled by amperemeter and voltmeter with movable-pointer indicating scales. Measurement error is less than 2,5 %.
Output terminals from which you can turn off the voltage and ground connector are located in the lower part of HY1505C faceplate .
The device is powered from AC mains 220 V.
Switching on/off by means of key switch.
Technical specifications
Output voltage, V
0 - 15
Output current, A
0 - 5
Ripple level
By current , mA
≤ 3
By voltage, mV
≤ 0,5
Load effect, %
By current , mA
≤ 0,2 + 5 mA
By voltage , mV
≤ 0,01 + 5 mV
Supply voltage effect, %
By current, mA
≤ 0,2 + 1 mA
By voltage, mV
≤ 0,01 + 1 mV
Output current and voltage indication
2 analogue indicating scales
Dimensions, mm
230 × 160 × 95
Input voltage
104~127 V AC (60 Hz), 207~253 V AC (50 Hz)
Power supply
~ 220 / 110 V ± 10 %
Weight
3,650
| | |
| --- | --- |
| Type | |
| Number of channels | |
| Max. Voltage | |
| Max. Current | |
| Indicator type | |
Compare
No items in compare list