Digital Multimeter MASTECH M9508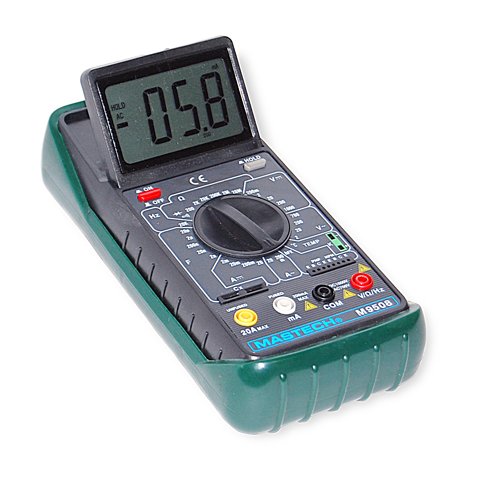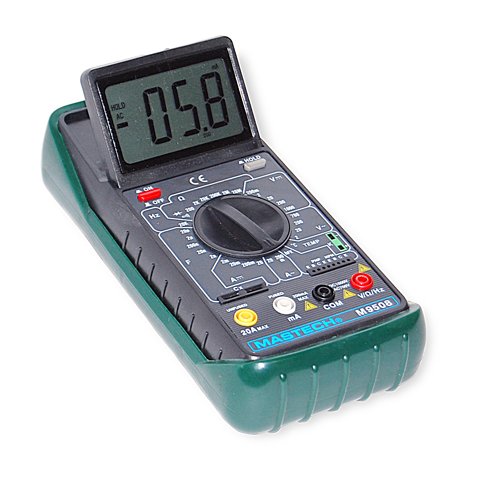 0.77 kg
Warranty: 6 month (s)
All basic functions. Provides high accuracy in wide measuring range. Current overload protection. Limit of effective range by voltage 1000 V.
Digital multimeter MASTECH M9508 with all basic functions and current overload protection provides high accuracy in the wide effective range.
Video
You'll find even more video reviews in the Video tab. Go and check it out!
Technical specifications
| | |
| --- | --- |
| Measuring number per second | 2-3 |
| Auto/Manual ranging | manual |
| Counts | 2000 |
| DC voltage  | 200mV/2/20/200V ±0.5%, 1000V ±0.8% |
| AC voltage | 200mV ±1.2%, 2/20/200V: ±0.8%, 700V: ±1.2% |
| DC current  | 2/20mA ±0.8%, 200mA ±1.2%, 20A ±2.0% |
| AC current  | 200mA ±1.8%, 20A ±3.0% |
| Frequency |  20kHz ±1.5%  |
| Resistance | 200Ω/2/20/200k Ω/2MΩ ±0.8%, 20MΩ ±1.0% |
| Input resistance  | 10MΩ |
| Temperature measurement range t°C |  -20~1000  |
| Transistors current gain rate | 1-1000 |
| Capacitance | 2/20/200nF/2/20µF±4.0% |
| Conductivity wire identification | yes |
| Diode, transistor test | yes |
| Automatic power-off | yes |
| Max/min value measurement | yes |
| Power source | 6F22 (9V) × 1 |
| Dimensions | 192 × 91 × 42 mm |
Type
Measured Values

DC voltage
AC voltage
AC
DC
resistance
capacitance
frequency
temperature

Additional Functions

acoustic continuity test
data hold
automatic shutdown/sleep mode
max / min
diode test
transistors test

Range Selection
Digit Capacity
DC Voltage
Resistance
Capacitance
Frequency
DC
AC
Inductance
Temperature
Power
Duty cycle
True RMS
Backlight
PC connection
Diode test
Analog bar graph
Transistor check
AC Voltage
Continuity test
Battery Testing