Digital Multimeter MASTECH MY65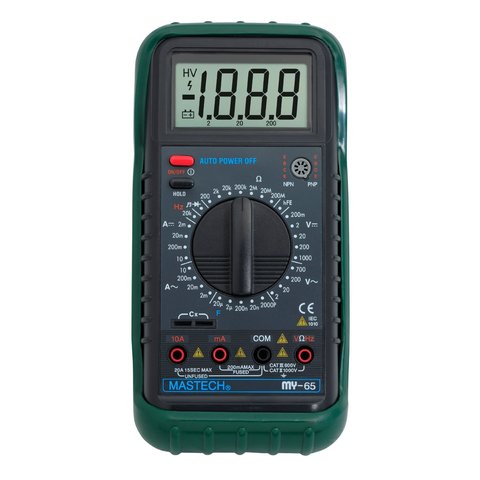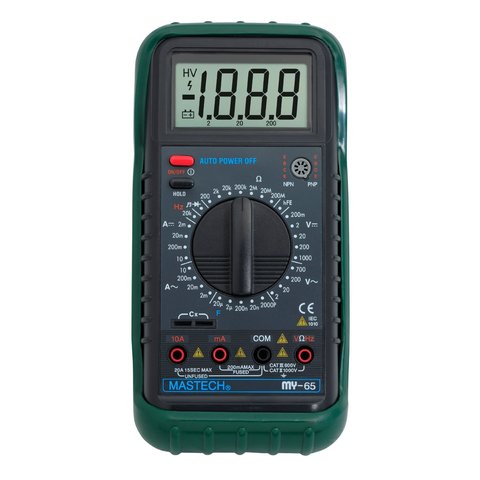 0.75 kg
Warranty: 6 month (s)
Resolution 4 &#189 digits LCD. Capacitance and frequency measurment. High input resistance doesn't break measuring of parameters.
Digital multimeter Mastech MY65 with large 4 ½ digits LCD display provides high accuracy, measuring of capacitance and frequency.
Video
You'll find even more video reviews in the Video tab. Go and check it out!
Technical Specifications
| | |
| --- | --- |
| Measuring number per second | 2-3 |
| Ranging | manual |
| DC voltage  | 0,01mV - 1000V |
| AC voltage | 0,1mV - 700V |
| DC current  | 0,1µA - 10A |
| AC current  | 0,1µA - 10A |
| Frequency | 1 Hz - 20 kHz |
| Resistance | 0,01Ω - 200MΩ |
| Input resistance  | 10MΩ |
| Transistors current gain rate | up to 1000 |
| Capacitance | 0,1pF - 20µF |
| Conductivity wire identification | <50 Ω |
| Diode, transistor test | yes |
| Automatic power-off | ~40 min |
| Data Hold | yes |
| Charge battery indication | yes |
| Overload indication "1". | yes |
| Power source | 9 V |
| Dimensions | 91 × 189 × 31,5 mm |
Type
Measured Values

DC voltage
AC voltage
AC
DC
resistance
capacitance

Additional Functions

acoustic continuity test
data hold
automatic shutdown/sleep mode
diode test
transistors test

Range Selection
Digit Capacity
DC Voltage
Resistance
Capacitance
Frequency
DC
AC
Inductance
Temperature
Power
Duty cycle
True RMS
Backlight
PC connection
Diode test
Analog bar graph
Transistor check
AC Voltage
Continuity test
Battery Testing