Digital Oscilloscope ATTEN AT-H201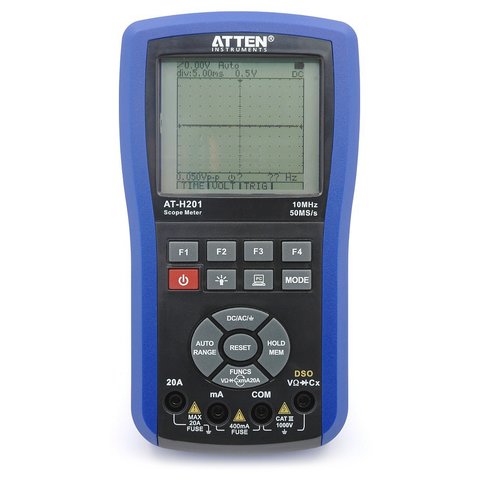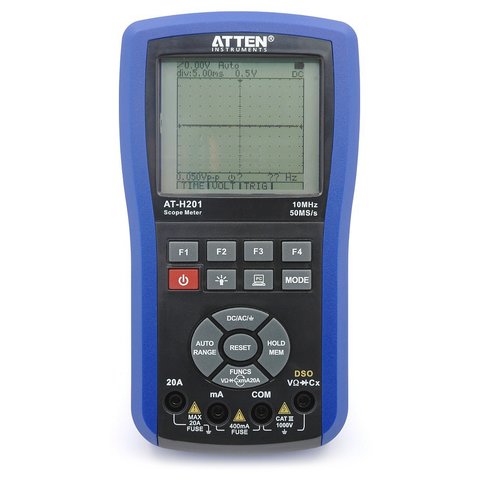 1.5 kg
110, 220 V
Warranty: 12 month (s)
Handheld digital oscilloscope/multimeter with 10 MHz bandwidth.
ATTEN AT-H201 digital oscilloscope is a high-quality handheld digital oscilloscope (10 MHz). This compact lightweight digital oscilloscope was specially designed for easy and quick on-site testing and diagnostic operations. ATTEN AT-H201 combines all functions of a digital multimeter and a digital oscilloscope.
ATTEN AT-H201 digital oscilloscope is ideal for household applications, as well as production tests, field service, research, design and all other applications involving circuit tests and troubleshooting.
ATTEN AT-H201 Digital Oscilloscope Features
Bandwidth: 10 MHz.
Sample rate: 50 M Sa/s.
Software calibration.
Calibrated data storage.
Ability to save & reproduce up to 100 waveforms.
Mesuring AC/DC voltage and current, RMS value, resistance, capacitance, frequency, diode test.
Display: LED back-lit, asjustable contrast.
Auto power-off function.
Adjustable standby time: 5 min to 6 min.
Lithium polymer rechargeable battery.
Battery lifetime: 8 hours.
External AC charger.
USB interface.
Comfortable keypad.
Compact design, small dimensions, light weight.
ATTEN AT-H201 Digital Oscilloscope Technical Specifications
| | |
| --- | --- |
| Interface | USB |
| Battery lifetime | 8 hours |
| Charger | 6 V (AC) |
Digital Oscilloscope Functional Characteristics
Bandwidth
10 MHz
Sample rate

50 M

Sa/s
Input
DC, AC, GND
Input impedance
1 Mohm
Vertical sensitivity range
50 mV/div – 200 V/div
Offset range
50 mV/div – 200 V/div ± (5% + 0.1 div)
Sweep rate

0.2 μs/div – 20 s/div

Time base accuracy
± (0.01% + 0.1 div)
Trigger modes
Auto, Normal, Single
Auto mersuring accuracy
± (5% + 0.1 div)
Digital Multimeter Functional Characteristics
| | |
| --- | --- |
| DC voltage | 400.0 mV ~ 1000 V ± (0.75%+10) |
| AC voltage | 400.0 mV ~ 750 V ± (1%+10) |
| DC current | 40 mA ~ 20 A ± (1.2% + 10) |
| AC current | 40 mA ~ 20 A ± (1.2% + 10) |
| Resistance | 400.0 Ω ~ 40.00 MΩ ± (1.0%+5) |
| Capacitance | 51.20 nF ~ 100.0 uF ± (2% + 10) |
| Frequency | 5.12 Hz ~ 10 kHz ± (1.0% + 5) |
| Duty cycle | 0.1 ~ 99.9% |
| Max testing current | 1.5 mA |
ATTEN AT-H201 Digital Oscilloscope Package Contents
ATTEN AT-H201 digital oscilloscope (1 pc.)
Charger (1 pc.)
Probes (2 pcs.)
User manual (1 pc.)
| | |
| --- | --- |
| Screen Size | |
| Number of channels | |
| Type | |
| Bandwidth | |
| Sample Rate | |