Digital Oscilloscope SIGLENT SDS1104CFL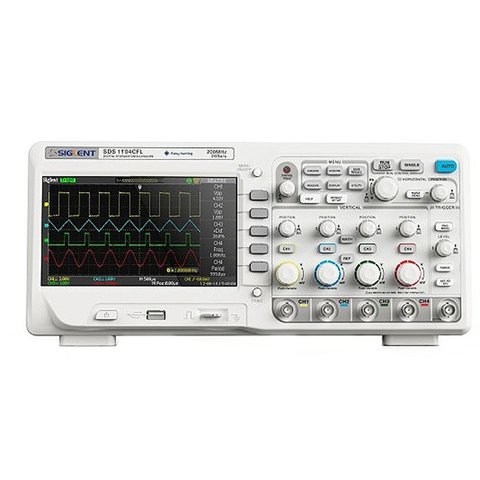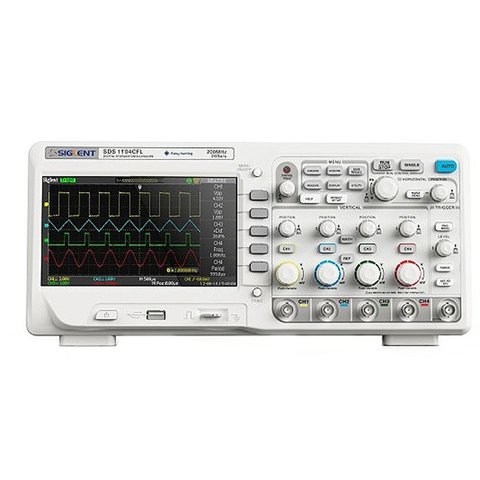 7 kg
110, 220 V
Warranty: 36 month (s)
Four-channel desktop digital oscilloscope with 100 MHz bandwidth, 2 GSa/s real-time sample rate (single channel), 50 GSa/s equivalent sample rate, 24K memory.
SIGLENT SDS1104CFL Digital Oscilloscope is a compact desktop four-channel digital oscilloscope with a 100 MHz bandwidth. 7-inch TFT color liquid-crystal display of the oscilloscope ensures bright and vivid waveform representation and backlit buttons ensure user comfort. 24 K memory allows storing up to 20 waveforms and 20 setups. SIGLENT SDS1104CFL has a multi-language user interface and online help.
SIGLENT SDS1104CFL Digital Oscilloscope is a good choice for industrial control and measurements, R&D, electronic circuit design and testing and all other applications involving testing and troubleshooting, as well as education and training.
Features
Bandwidth: 100 MHz.
4 channels + 1 external triggering channel.
Real-time sample rate: 2 GSa/s. (single channel)
Equivalent sample rate: 50 GSa/s.
Memory: 24 K.
Vertical sensitivity range: 2 mV/div – 5 V/div.
Versatile trigger modes: Edge, Pulse, Slope, Video and Alternate.
Unique digital filter and data recorder function.
7" TFT color LCD, bright and vivid waveform display.
USB Host, USB Device, RS-232.
Pass/Fail Output.
Multi-language display (12 languages): English, French, Spanish, Portuguese, German, Italian, Russian, Arabic, Japanese, Korean, Simplified Chinese, Traditional Chinese.
Online help.
Safety standards: EMC: EN61326; LVD: EN61010-1.
Compact design for saving desktop space.
Technical Specifications
Bandwidth
100 MHz
Channels
4 + 1 ext. ch.
Real time sample rate
2 GSa/s (Single channel)
1 GSa/s (Dual channels)
Equivalent sample rate
50 GSa/s
Memory depth
24 K
Vertical sensitivity range
2 mV/div – 5 V/div
Vertical resolution
8 bits
Rise time
< 1.7 ns
Time base range
2,5 ns/div – 50 s/div
Input impedance
1 MΩ || 13 pF, 50 Ω
Cursor measurements
Manual, Track, Auto measure
Math
Add, Subtract, Multiply, Divide, Invert, FFT
Trigger modes
Edge, Pulse, Video, Slope, Alternate
Storage
Internal: 20 setups, 20 waveforms (storage/recall), 4 reference waveforms
External (USB): BMP, CSV, waveforms and setups
Input coupling
DC, AC, GND
General Characteristics
Display
7" TFT color LCD (480 × 234)
Interface
USB Host, USB Device, RS-232, P/F output
Power source
100 – 240 V AC, 45 Hz – 440 Hz, 50 VA max
Max. input voltage
400 V (Vpp)
Weight
4.5 kg
Dimensions
358 × 156 × 118 mm
Additional Information
Download SIGLENT SDS1104CFL Data Sheet.
Video
You'll find even more video reviews in the Video tab. Go and check it out!
Package Contents
Digital oscilloscope unit (1 pc.)
Probe (1:1, 10:1) Problex (4 pcs.)
Power cord (1 pc.)
USB cable (1 pc.)
| | |
| --- | --- |
| Screen Size | |
| Number of channels | |
| Bandwidth | |
| Type | |
| Sample Rate | |
| Storage Capacity | |