Digital Oscilloscope SIGLENT SDS2304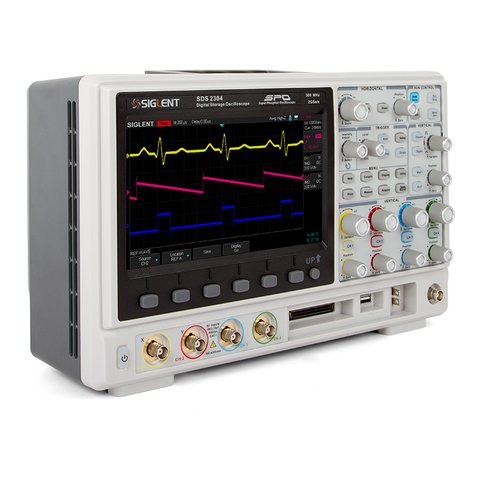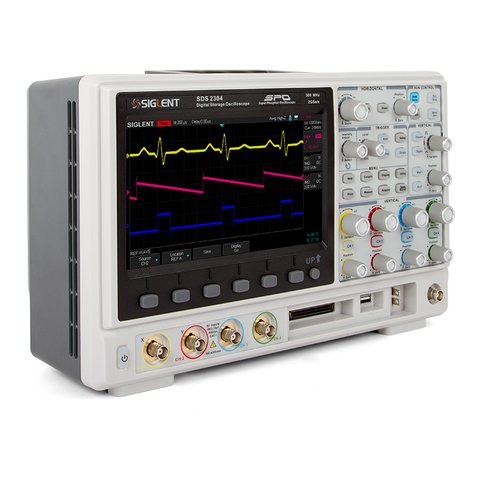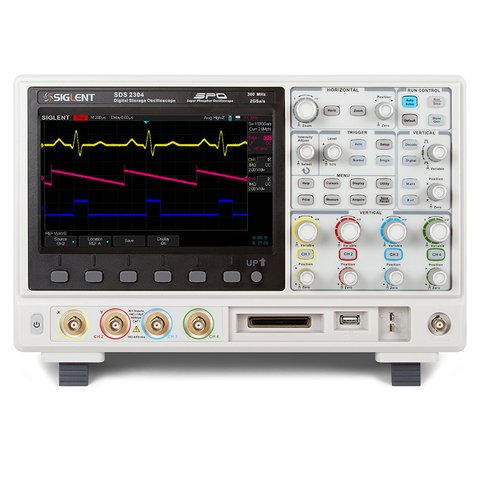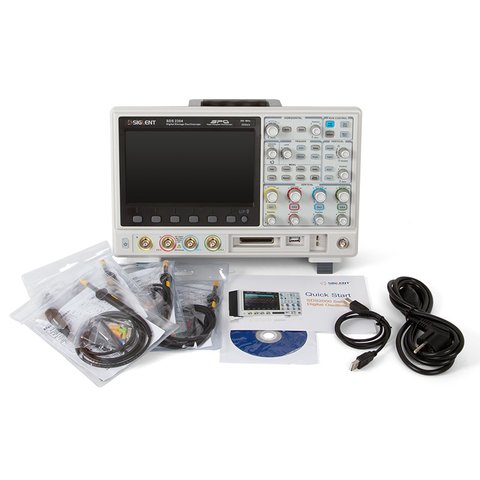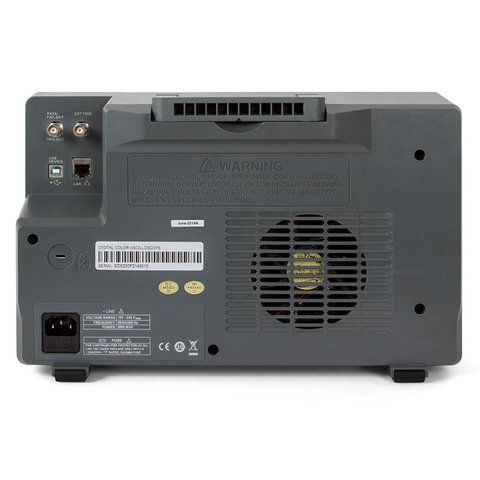 8.5 kg
110, 220 V
Warranty: 36 month (s)
4-channel digital oscilloscope with 300 MHz bandwidth, 2 GSa/s real-time sample rate, 28 MB of memory depth.
SIGLENT SDS2304 is a four-channel digital oscilloscope with maximum bandwidth of 300 MHz. 8-inch TFT color LCD of the oscilloscope ensures bright and vivid waveform representation and backlit buttons ensure user comfort. SIGLENT SDS2304 has up to 28 MB of memory and waveform capture rate up to 110000 waveforms per second.
Features
Bandwidth: 300 MHz.
4 channels.
Real-time sample rate: 2 GSa/s.
Memory: 28 MB.
Vertical sensitivity range: 2 mV/div - 10 V/div.
Trigger types: Edge, Pulse, Video, Slope, Interval, Runt, Window, Pattern, DropOut, Series Protocol Trigger .
8" TFT color LCD, bright and vivid waveform display.
Support for HDTV trigger.
Support history function and segmented memory with up to 80000 frames.
Hardware-based zoom function.
High speed pass/fail function technology.
32 kinds of automatic waveform measurements with support measurement statistics function.
Advanced waveform math operations (FFT, differential, integral and square root)
Complete connectivity: USB host, USB device (USBTMC, PictBridge, LAN (VXI-11), EXT TRIG, PASS/FAIL, TRIG OUT.
Multi-language user interface and built-in online help system.
Video
Technical Specifications
Bandwidth
300 MHz
Channels
4
Real time sample rate
Max: 2 GSa/s
Memory depth
28 MB
Vertical sensitivity range
2 mV/div – 10 V/div
Vertical resolution
8 bits
Rise time
≤1.2 ns
Time base range
1.0 ns/div – 50 s/div
Math
A+B, A-B, AxB, A/B, FFT, Diff, Intg, Sqrt
Trigger types
Edge, Pulse, Video, Slope, Interval, Runt, Window, Pattern, DropOut, Series Protocol Trigger
Storage
Internal: 2 sets of reference waveforms, 20 sets of setups, 20 sets of captured waveforms (store/recall function)
Input coupling
DC, AC, GND
General Characteristics
Display
8" TFT color LCD (800 × 480)
Interface
USB Host (supports USB-GPIB), USB Device, LAN, EXT TRIG, Aux (TRIG OUT/Pass/Fail)
Power source
100 ~ 240 V AC
Weight
3.5 kg
Dimensions
352 × 112 × 224 mm
Additional Information
Download SIGLENT SDS2304 Data Sheet.
Package Contents
SIGLENT SDS2304 oscilloscope (1 pc.)
1:1/10:1 probes (4 pcs.)
USB cable (1 pc.)
Power cable (1 pc.)
CD with user manual and software (1 pc.)
Number of channels
Bandwidth
Type

desktop
mixed-signal
with built-in generator

Sample Rate
Screen Size
Storage Capacity