Double DC Power Supply ( 2x0-30 V; 2x0-3 A) HYelec HY3003M-2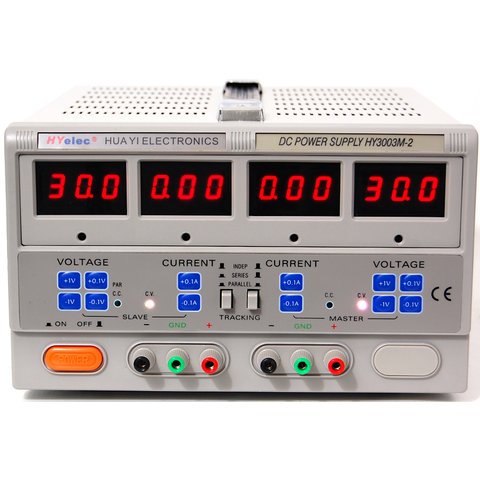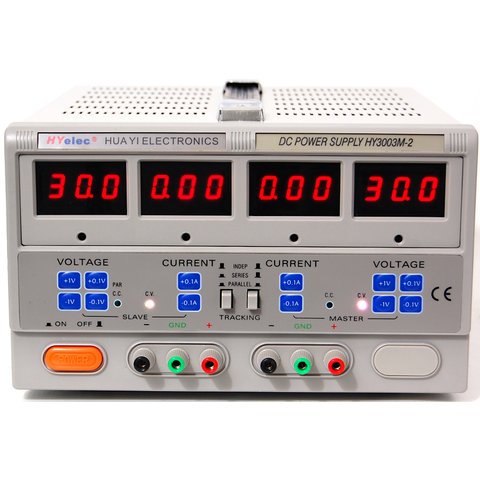 8.6 kg
220 V
Warranty: 6 month (s)
Two output channels 0-30 V and 0-3 A each. Protection against current and voltage overload on each output. Overload indication.
HY3003M-2 Power Supply belongs to DUBLE OUTPUT SERIES. With two independent output channels of 0-3 A and 0- 30 V, it can "feed" various devices and circuits. Both series and parallel connection is possible allowing to double the voltage or current, and outputs can be tracked relative to the master output. The highest output is the sum of twice the voltage value in series mode and the highest output current is the sum of twice the current value in parallel mode.
The device allows smooth adjustment of both parameters (current and voltage) in two modes: rough and fine. Each output has a separate potentiometer.
HY3003M-2 power supply has two 3-digit LED panels where output current and voltage values for each channel are displayed.
Voltage indication accuracy less than 1 % ± 2 digits and current indication accuracy less than 2% ± 2 digits.
In the lower part of HY3003M-2 front panel there are output terminals and earth connectors. Each output has its separate terminal group.
HY3003M-2 power supply protects against current and voltage overload. Overload indicator lights up when any exceeding parameter value is registered. To prevent the device from damage, the security system disconnects secondary voltage on the overloaded channel until the malfunction is removed.
Specifications of HY3003M-2 Power Supply
Output voltage

2 channels 0 - 30 V

Output current

2 channels 0 - 3 A

Ripple & noise

CC

<3 mA

CV

< 0,5 mV

Load regulation

CC

< 0.2% ± 1 mA

CV

<0.01% ± 1 mV

Display

two 3-digit LED panels

Dimensions, mm

365 × 265 × 164

AC mains power

~ 220 V ± 10 %
| | |
| --- | --- |
| Type | |
| Number of channels | |
| Max. Voltage | |
| Max. Current | |
| Indicator type | |