Electrical Installation Works Set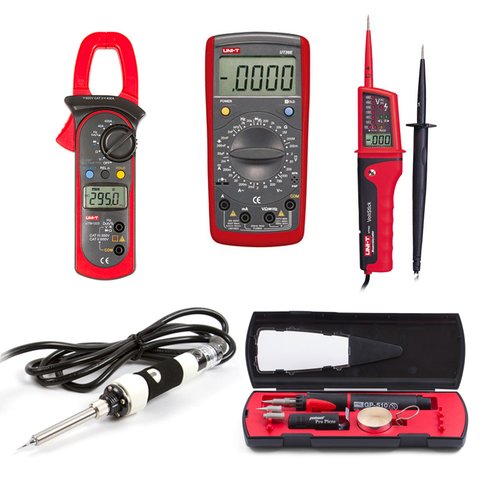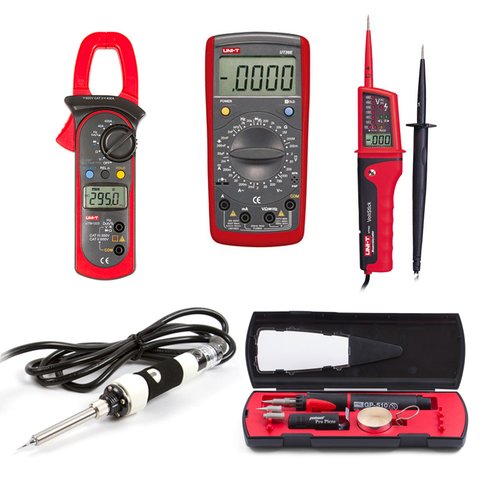 3.5 kg
220 V
Warranty: 6 month (s)
For electrical installation works you will need equipment such as soldering iron, gas-heated soldering iron, digital multimeter, digital clamp meter and a voltage tester. We recommend the following models: Goot PX-201 soldering iron, Goot GP-510SET gas-heated soldering iron, UNI-T UT39E digital multimeter, UNI-T UT203 digital clamp meter and a UNI-T UT15C voltage tester. When choosing these particular models you will get a 10% discount!

Electrical Installation Works Equipment Set includes soldering irons and electrical parameters testers. The kit will be useful for electricians for on site operation.
Goot soldering irons and UNI-T multimeters may be used to install electric lines, to install and maintain electromechanic and electrical drive systems, install and repair switchboards, maintain electrical substations, etc.
Applications
Electric line installation
Electric switchboard installation
Electric line repair

Contact elements soldering
Switchboard elements soldering

Power quality control

AC/DC current measurement
AC/DC voltage measurement
Resistance measurement
Frequency measurement
Duty cycle measurement
Continuity test (with buzzer)
Phase rotation test
Short circuit detection
Positive and negative polarity detection
Package Contents
1. Goot PX-201 is a compact and lightweight temperature controlled soldering iron with high output Goot PX-2H ceramic heater (70 Watts).
2. Goot GP-510SET is a gas-heated soldering iron with piezoelectric ignition system. Heat power is adjustable within 15-75 W. Can be used as a blow torch, a soldering iron or a heat gun.
3. UNI-T UT39E is a digital multimeter for AC/DC current and voltage, resistance, capacitance, frequency measurements, and diode, continuity and transistor tests.
4. UNI-T UT203 is a reliable clamp multimeter which measures AC/DC voltage and current, resistance, frequency, duty cycle and performes diode check and continuity test.
5. UNI-T UT15C is a device for AC/DC voltage, continuity and phase rotation tests, for short circuit, positive and negative polarity and single lead (L2) voltage detection.