EXFO FTB-1 Platform with FTB-720-023B Module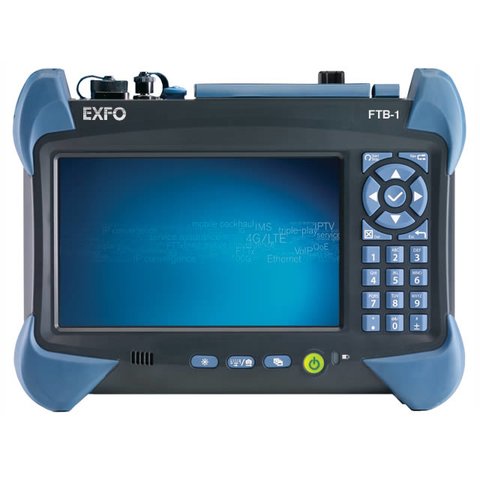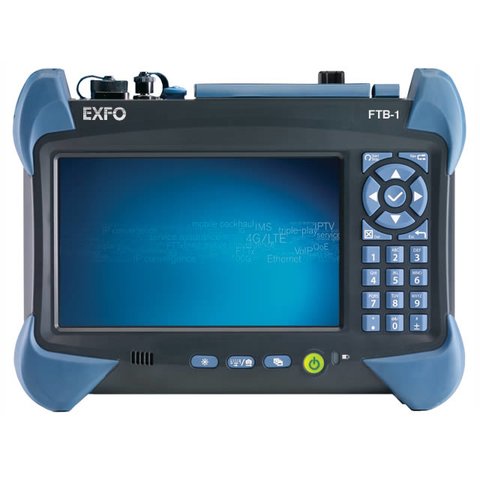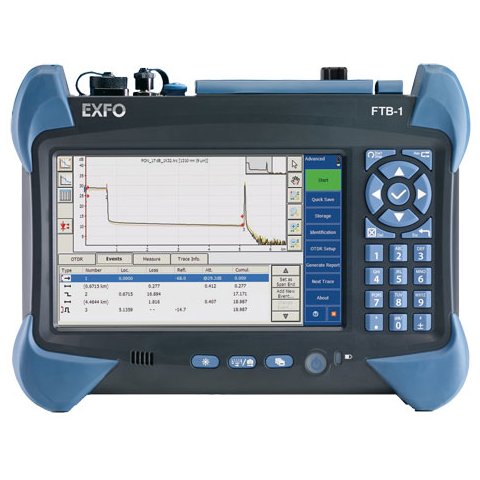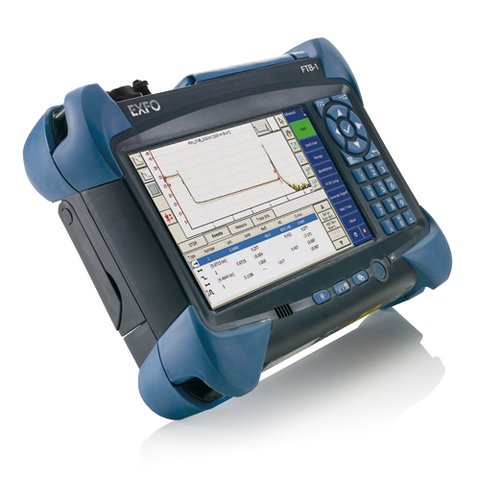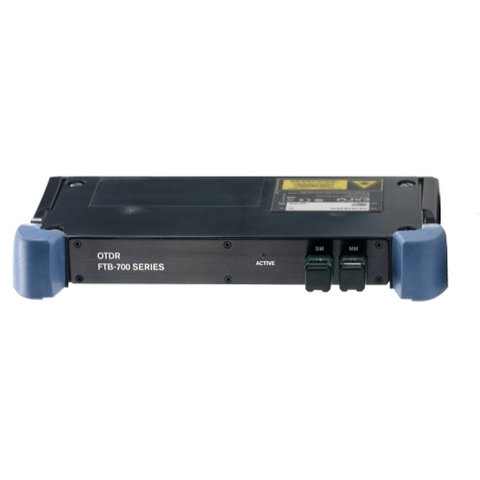 6 kg
110, 220 V
Warranty: 12 month (s)
EXFO FTB-1 handheld modular platform with FTB-720-023B OTDR module. Wavelength: 1310/1550 nm. Dynamic range: 36/34 dB.
EXFO FTB-1 Platform is a modular system for fast and powerful FTTx (FTTH and FTTN), Ethernet, TDM and multiservice applications.
EXFO FTB-720-023B – OTDRs for everyday field testing in any access network, as well as FTTA, LAN and data centers.
Ordering Information
If you want to buy additional options for your OTDR, please choose them from the list below and contact our sales manager.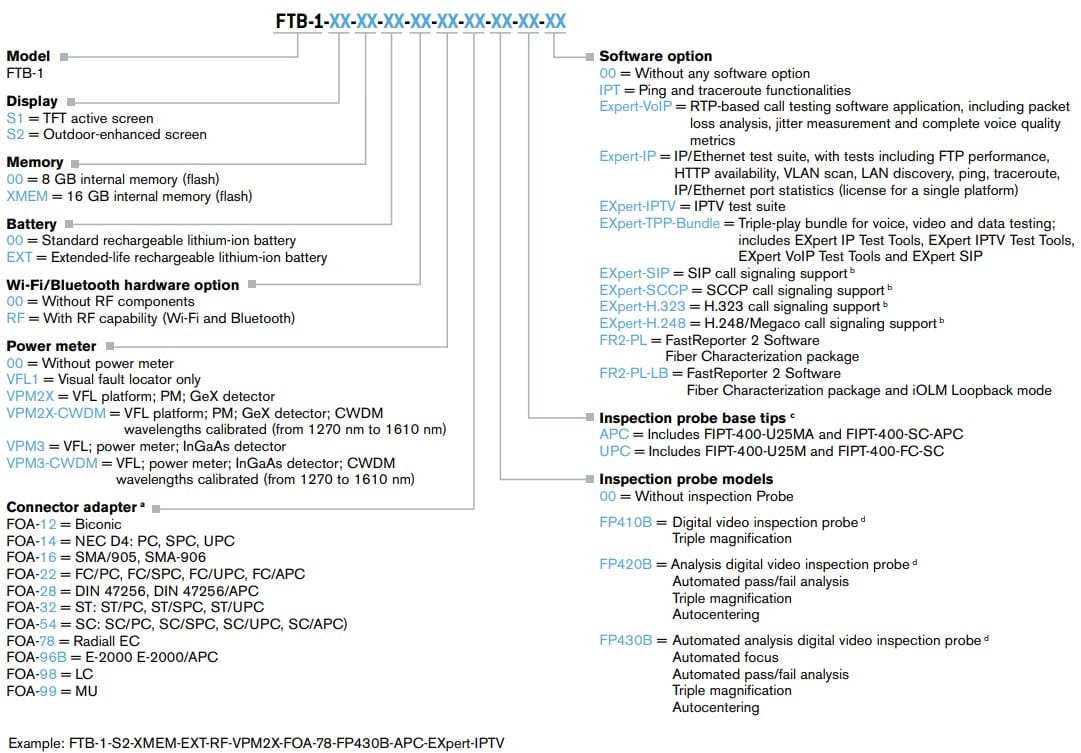 Features
FTB-1 Platform
Connects anywhere: USB, 3G, Wi-Fi, VPN and Bluetooth
Loaded with utilities: all the tools required to maximize fi eld testing, plus third-party applications
Like a PC: Intel processor with Windows Embedded Standard operating system
EXFO Connect-compatible: automated asset management; data goes through the cloud and into a dynamic database
GPS capabilities: accurate coordinates under the same conditions as a regular satellite GPS receiver
EXFO FTB-720-023B Module
Event dead zone as low as 0.8 meter
Combined singlemode/multimode wavelengths
Integrated tool: combines a visual fault locator, inspection probe, broadband power meter and a CW source mode
Controlled launch conditions for more accurate loss measurements
Data Sheet
Download EXFO FTB-1 Platform Specification Sheet.
Technical Specifications
EXFO FTB-1 Platform
Display
Touchscreen, color, 800 x 480 TFT, 178 mm (7 in)
Interfaces
Two USB 2.0 ports
RJ-45 LAN 10/100/1000 Mbit/s
Fiber inspection probe connector port (video)
Built-in Bluetooth and Wi-Fi (hardware option)
Storage
8 GB internal memory (flash)
16 GB internal memory (flash), optional
Batteries
Rechargeable lithium-ion batteries (8 hours of operation)
Power supply
AC/DC adapter, input: AC 100 – 240 V; 50/60 Hz; 1.6 VA max, output: DC 24 V; 3.75 A
Computer
Intel ATOM processor, Windows Embedded Standard operating system
Operation Temperature
Battery operated: 0 °C to 50 °C (32 °F to 122 °F) Charge mode: 5 °C to 40 °C (41 °F to 104 °F)
Storage Temperature
–40 °C to 70 °C (–40 °F to 158 °F)
Relative humidity
0 % to 95 % non-condensing
Size (H x W x D)
190 mm x 252 mm x 66 mm
Weight (with battery)
1.5 kg (3.3 lb)
EXFO FTB-720-023B Module
Wavelength
1310/1550 nm
Dynamic range
36/34 dB
Event dead zone
0.8 m
Attenuation dead zone
3.5, 4.5, 5, 5, 5
Distance range
Multimode: 0.1, 0.3, 0.5, 1.3, 2.5, 5, 10, 20, 40 km
Singlemode: 1.25, 2.5, 5, 10, 20, 40, 80, 160, 260 km
Pulse width
Multimode: 5, 10, 30, 50, 100, 275, 500, 1000 ns
Singlemode: 5, 10, 30, 50, 100, 275, 500, 1000, 2500, 10 000, 20 000 ns
Launch conditions
Class CPR 1 or 2
Linearity
±0.03 dB/dB
Loss threshold
0.01 dB
Loss resolution
0.001 dB
Sampling resolution
Multimode: 0.04 to 2.5 m
Singlemode: 0.04 to 5 m
Sampling points
Up to 256 000
Measurement time
User-defined (60 min. maximum)
Typical real-time refresh
3 Hz
Stable source output power
–2.5 dBm (1300 nm), –7 dBm (1550 nm)
| | |
| --- | --- |
| Dynamic range | |
| Wave length | |
| Fiber type | |