Fusion Splicer Fujikura 80S+ "Kit-A" Plus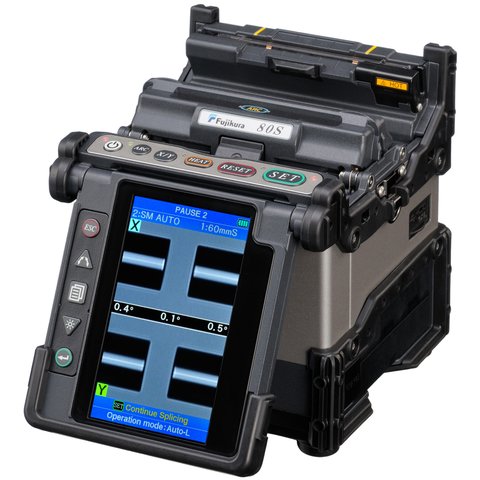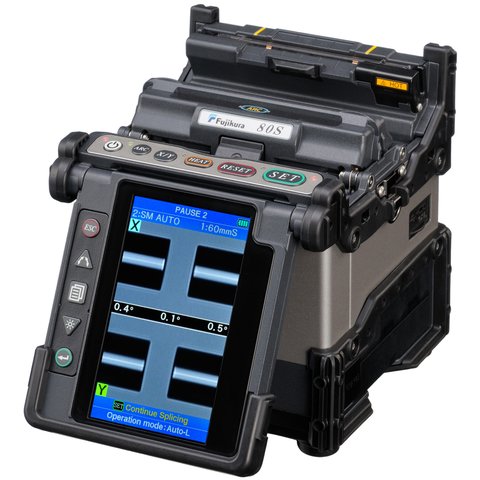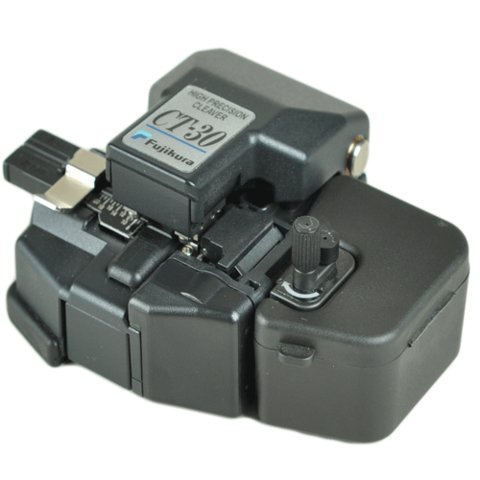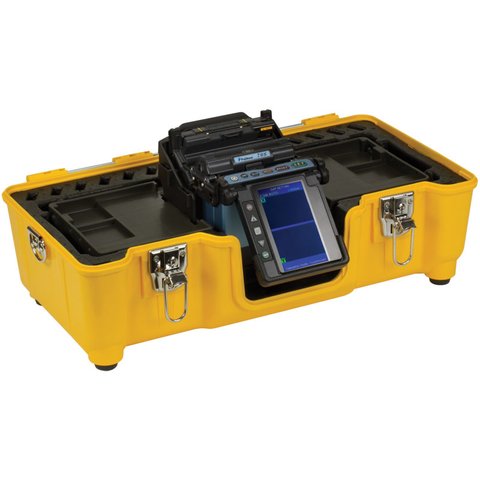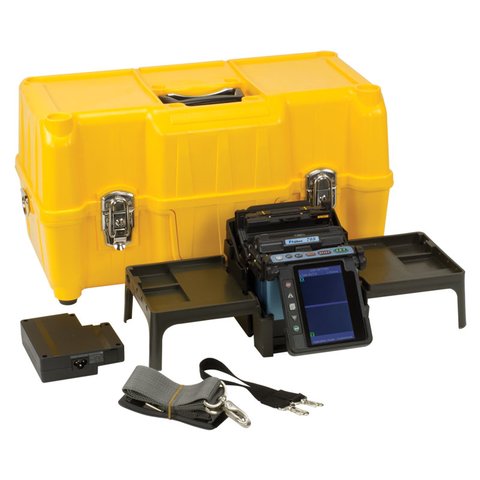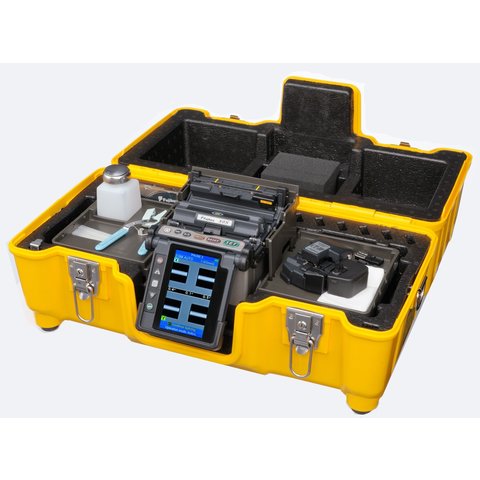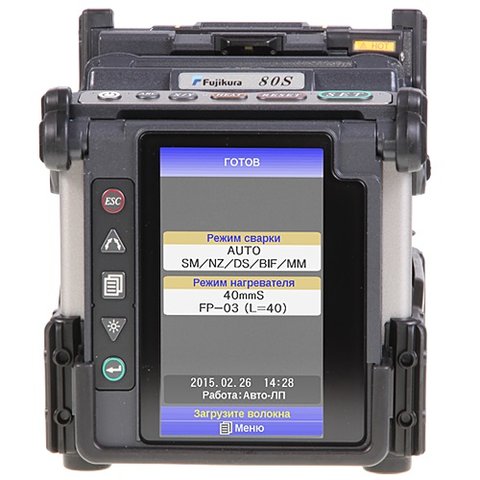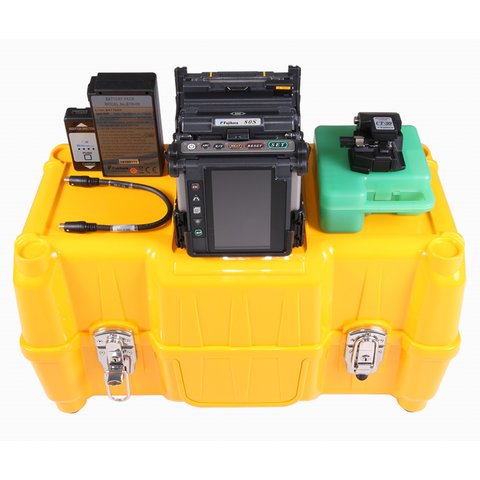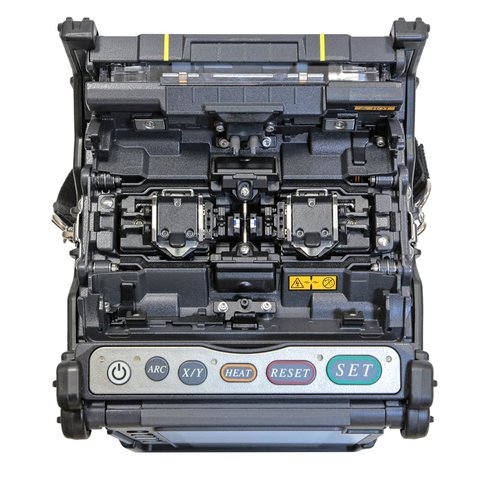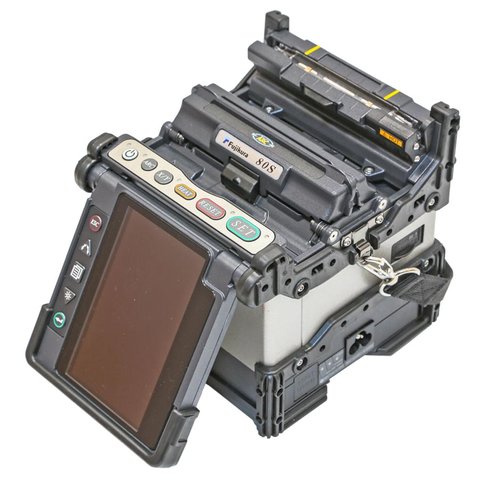 18 kg
110, 220 V
Warranty: 24 month (s)
Core-to-core alignment single fiber splicer designed for splicing SM, MM, DSF, NZDSF optical fibers. Splicing time: 6 s, heating time: 9 s. Includes Fujikura CT-30A Fiber Optic Cleaver.
Fujikura 80S+ Fiber Optic Fusion Splicer is core-to-core alignment single fiber splicer providing minimum splice loss. Splicing takes only 6 seconds, and heating takes only 9 seconds. Fujikura 80S+ is designed for splicing single-count optical fibers: SM (G.652/657), MM (G.651), DSF (G.653), NZDSF (G.655) for telecommunication use, PON/FTTx networks, etc.
Fujikura 80S+ model is successor of the famous Fujikura 80S series of splicers, top splicer model from Fujikura. The upgraded version is characterized by Bluetooth connection capability for thermal stripper operation control, as well as new menus for thermal stripper adjustment and wireless connection configuration. The manufacturer has also upgraded several other menu items. Configurable automation features allow you to customize the operation of the machine to best suit your particular splicing technique and process.
The device is optimized for splicing under severe weather conditions, it is protected from stress and shock. It may be powered from 220 V AC, or using a battery (included). For user comfort the package contains a convenient working table, where you may place the needed tools: a cleaver, a stripper, sleeves, etc.
Features
Reduced splicing time – 6 seconds only.
Reduced heating time – 9 seconds only.
Wireless connection via Bluetooth.
Splices all known types of fibers.
Fiber core alignment.
Typical average splice loss for single mode cable with G.652D fiber is only 0.02 dB.
Increased electrode lifetime – up to 3000 splicing cycles with one set, without splicing quality loss.
Battery life increased up to 200 full splicing/heating cycles.
Rotary color anti-glare LCD 4.73", high contrast and vividness.
Simultaneous display of X and Y axes.
May splice SC, LC, MPO connectors.
Automatic: wind-protective lid, heater, fiber holders.
Increased water, dust and shock resistance, may be used under severe environment conditions.
Automatic arc calibration.
Battery BTR-09 is included.
New comfortable carrying case, optimized for quick operation start.
The case may be used as a working table.
Operation manual is installed into the splicer.
Software update option.
2 years of full warranty with the device replacement.
Technical Specifications
Splicing / Heating
Typical Splicing Time
6 sec (for SM)
Typical Heating Time
9 sec (for 60 mm sleeves)
Applicable Fibers
SMF (ITU-T G.652)
MMF (ITU-T G.651)
DSF (ITU-T G.653)
NZDSF (ITU-TG.655)
CSF (ITU-T G.654)
Fiber with low sensitivity to bends (ITU-T G.657)
Erbium-doped fiber
Cladding Diameter
80 μm – 150 μm
Coating Diameter
100 μm – 1,000 μm
Fiber Cleave Length
5 – 16 mm
Typical Average Splice Loss
0,02 dB (SMF)
0,01 dB (mmF)
0,04 dB (DSF)
0,04 dB (NZDSF)
Splice Loss Estimate
core
angular offset
fiber deformation
Return Loss
≤60 dB
Compatible Protection Sleeves
60 mm
40 mm
micro
Splicing Modes
100 user programmable
Heating Modes
30 (10 preset + 20 user programmable)
Internal Memory
up to 2000 splice results and parameters
Additional Options
Mechanical Proof Test
stretching force 1.96 – 2.25 N
Electrodes lifetime
3000 cycles
External Interfaces
USB 1.1, Mini-DIN
Data Display
Screen type
rotary anti-glare LCD
Screen Size
4.73"
Colour
Yes
Viewing
Yes (2 CMOS cameras)
Magnification
х200
Power Supply
Adapter ADC-19
220 V AC
Battery BTR-09
4000 mAh
Battery Cycles
up to 200 splicing/heating cycles
Operation Conditions
Temperature
–10 ~ +50°C
Altitude above sea level
0 ~ 5000 m
RH
0 ~ 95%
Max. wind velocity
34 mph / 15 m/s
Storage Conditions
Temperature
–40 ~ +80 °C
RH
0 ~ 95%
Protection
Shock Resistance
height: 76 cm, any surface
Dust Resistance
dust particles from 0.1 to 500 μm
Rain Resistance
10 mm/h for 10 min
Dimensions & Weight
Width
150 mm
Length
159 mm
Height
146 mm
Weight
2,5 kg (with adapter ADC-18)
2,7 kg (with battery BTR-09)
Video
Data Sheet
Download Fujikura 80S+ Data Sheet.
Package Contents
Fusion Splicer Fujikura 80S+ — 1 pc.
Automatic Fiber Optic Cleaver Fujikura CT-50A — 1 pc.
Detachable Battery BTR-09 — 1 pc.
AC Adapter/Battery charger ADC-18 — 1 pc.
Battery Charger Cord DCC-18 — 1 pc.
AC Power Cord — 1 pc.
Spare electrodes ELCT2-20A — 1 pair
USB cable USB-01 — 1 pc.
Sleeve loader SL-01 — 1 pc.
Alcohol dispenser AP-01 — 1 pc.
Screwdriver SC-01 — 1 pc.
Instruction Manual — 1 pc.
Quick Reference Guide — 1 pc.
Warning & cautions — 1 pc.
Carrying case CC-30 — 1 pc.