Infrared BGA Rework Station Jovy Systems RE-7500 for Repairing iPhone 4S, iPhone 5S, iPhone 6, Sony Xperia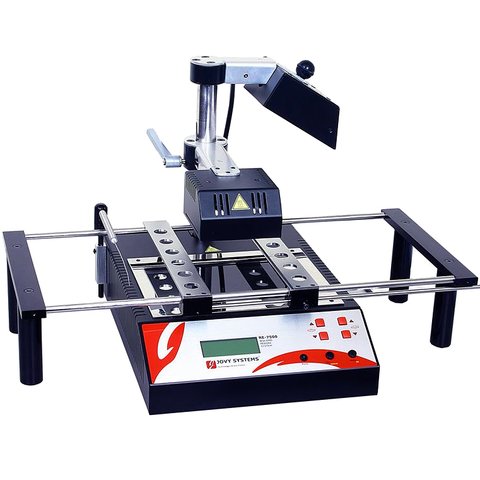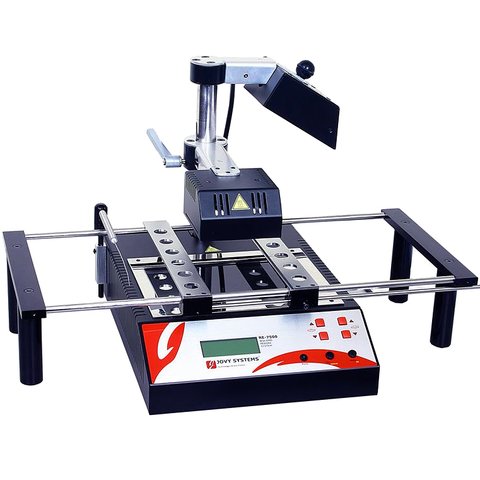 220 V
Warranty: 12 month (s)
A rework station using dark medium infrared technology for lead free PCB component soldering and desoldering. Interfaces through USB with RE Jovy Soft, PC software that helps monitor the rework process.
Jovy Systems RE-7500 is the latest technological advance in cost effective solutions for rework systems market. Jovy RE7500 is the latest rework station using the dark medium infra red technology for lead free soldering and desoldering of any PCB component. All elements are high quality, manufactured in Germany and assembled in China.
Jovy Systems RE-7500 soldering station is used for iPhone 4S, iPhone 5S, iPhone 6, Sony Xperia repair.
Features
Lead free compatible soldering tool.
Flexible application for all kinds of components like SMD, BGA, CBGA, CCGA, CSP, QFN, MLF, PGA and all epoxy non-defiled µBGA etc.
The system uses IR with no damage to adjacent components.
Complete reworking processes (pre-heating, soak, re-flow & cooling) stages are achieved for an accurate and standard reworking process.
IR safe for the adjacent component.
Sensitive temperature measurement probe to obtain accurate and instantaneous temperature reading and monitoring
Buil-in "picking system" for safe and stable removal of the ICs.
Manual or automatic (profiled) modes of PCB cooling.
Guaranteed even and safe heat distribution.
Programmable, automated & dynamic control for the ER-750 heaters.
Accurate and timely transfer of heat energy to the precise location.
Freely programmable temperature profiles.
Real time process monitor on your PC or laptop.
Avoids hot and cold spot occurrence without nozzle focus hood.
Optimal reballing equipment.
Positioning during rework process is performed by means of the laser pointer on PCB.
Precise and smooth X-Y running table (included into the package).
Easy & user-friendly operation via automatic, manual or PC modes.
Ready for sophisticated future technologies.
One year warranty.
Applications
Complete range of rework applications in medium and large scale service centers:
Cell phones:

Apple iPhone 4S
Apple iPhone 5S
Apple iPhone 6
Sony Xperia

Mobile and radio systems devices
PDAs, handhelds, laptops, notebooks & motherboards
LAN devices, network nodes and military communication equipment
Portable medical equipment
Software
The software for Jovy Systems RE-7500 Infrared BGA Rework Station is developed to enable the user to monitor and control all features and processes. The information between the soldering station and user's PC is transferred via USB interface. The software also supports the following features:
Real time PCB temperature monitoring
Switching between temperature measuring modes (°C / °F).
Complete process graph saving, printing & archiving.
User profile creation and uploading.
Upload and adjust machine settings (sleep mode, alarm sound, etc).
Upload initial factory settings.
Download & run standard profiles created by customer/equipment type
Technical Specifications
| | |
| --- | --- |
| Top heater power | 300 W |
| Preheater power | 600 W |
| Preheating area, mm | 140 × 140 |
| Voltage | 220 V |
| Frequency | 50/60 Hz |
| Max board size, mm | 350 × 450 |
Video
Reballing XBOX 360 GPU using Jovy Systems RE-7500 infrared soldering station, Jovy Systems JV-JIG reballing stand and Jovy Systems JV-RMX BGA reballing stencils for XBox 360 .
You'll find even more video reviews in the Video tab. Go and check it out!
Package Contents
RE-7500 station
Power cord
X-Y moving table
Instruction manual
USB cable
Suction cups
Extra fuse
Thermocouple
Vacuum pick up holder
Hex key
Auxiliary equipment
| | |
| --- | --- |
| Upper Heater Size | |
| Bottom heater size | |
| Heater Type | |
| Total power | |
| Control type | microcontroller / PC synchronization |
| Upper heater type | |
| Bottom heater type | |
| Upper heater power | |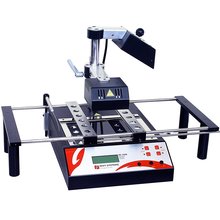 Infrared BGA Rework Station Jovy Systems RE-7500 for Repairing iPhone 4S, iPhone 5S, iPhone 6, Sony Xperia