Optical Time Domain Reflectometer YOKOGAWA AQ1200A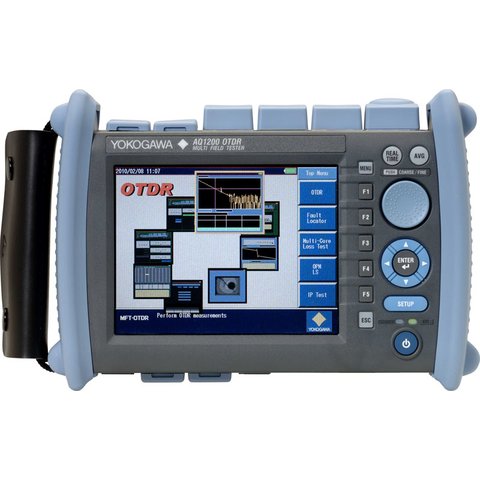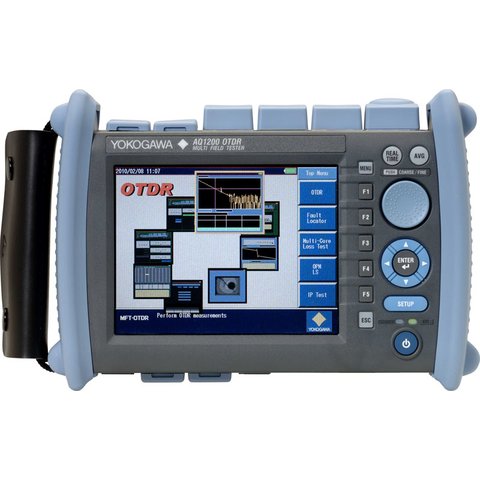 9 kg
110, 220 V
Warranty: 12 month (s)
Single port model with the two most common wavelengths of 1310 nm and 1550 nm.
YOKOGAWA AQ1200A is a single port model with the two most common wavelengths of 1310 nm and 1550 nm. In combination with the PN option it can display optical splitters in PON networks with division factor up to 64.
Analysis Tools
Single Trace Analysis

Nonuniformities analysis
Auto pass/fail analysis
Setting the new origin
Nonuniformities editing
Measurement by the two markers
Measurement by the four markers
Trace part analysis

Multi Trace Analysis

Simultaneous display of multiple traces
Two-way trace analysis
Differential trace analysis
Measurements
Distance: eight digital bits displayed with minimal readout resolution 0.01 m.
Attenuation: five digital bits displayed with minimal readout resolution of 0.001 dB.
Return loss: common optical return loss (ORL), as well as total reflection between any two points on the trace.
Measurement modes:

Full auto
Manual (expert)
Several wavelengths
PON measurement mode
Technical Specifications
Horizontal Axis Parameters
Sampling resolution
5 cm, 10 cm, 20 cm, 50 cm, 1 m, 2 m, 4 m, 8 m, 16 m, 32 m
Readout resolution (Min.)
1 cm
Number of sampled data
Up to 128,000 points (Firmware Rev2.01 or later)
Unit of distance
km, kf or miles
Distance measurement accuracy
±1 m + Measurement distance × 2 × 10 -5 ± sampling resolution
Vertical Axis Parameters
Vertical axis scale
0.2 dB/div, 0.5 dB/div, 1 dB/div, 2 dB/div, 5 dB/div, 7.5 dB/div
Readout resolution (Min.)
0.001 dB
Loss measurement accuracy
±0.05 dB/dB (When the measuring loss is 1 dB or less, the accuracy is within ±0.05 dB.)
System Parameters
Memory capacity
1000 measured waveforms and measurement conditions
Display
5.7 inch color TFT LCD; 640 (horizontal) × 480 (vertical) pixels
External interfaces
USB 1.1 Type A: For external memory, external printer, and fiber inspection probe
USB 1.1 Type B (mini): For connecting to an external PC for remote control or access to the OTDR's internal memory
File Formats
Read: SOR, SET
Write: SOR (Telcordia), SET, CSV, BMP, JPG, PNG
General Specifications
Environmental
conditions
Operating temperature: 0 to 45°C (0 to 40°C when AC adapter is being used); (0 to 35°C when battery is being charged)
Humidity: 20 to 85% RH (no condensation)
Storage conditions
Storage temperature: -20 to 60°C
Humidity: 20 to 85% RH (no condensation)
Power requirements
100 to 240 VAC, 50/60 Hz
Battery pack
Run time: 6 hours (measurement is performed for 30 seconds every 3 minutes, with no options installed, in power save mode (LCD brightness: Power save, Screen saving: ON)
Recharge time: 5 hours at temperature of 23°C, power OFF
Dimensions

217.5 (W) × 157 (H) × 74 (D) mm, excluding projections
Weight
Approx. 1 kg, including battery pack
Data Sheet
Download Download YOKOGAWA AQ1200A Data Sheet.
Package Contents
Standard
Optical time domain reflectometer YOKOGAWA AQ1200A — 1 pc.
Connector adapter FC (SU2005A-FCC1) — 1 pc.
Li-ion battery, 7.2 V, 2170 mAh (739882) — 1 pc.
Power supply/charger (739871-F) — 1 pc.
VDE standard power cord with C7 connector — 1 pc.
Hand belt — 1 pc.
Shoulder belt (B8070SY) — 1 pc.
User manual on CD (B8078VB) — 1 pc.
Quality control certificate — 1 pc.
Optional
Soft carrying case (SU2006A)
Connector adapter FC (SU2005A-FCC)
Connector adapter SC (SU2005A-SCC)
VDE standard power supply/charger (739871-F)
Li-ion battery (739882)
Shoulder belt (B8070CY)
USB microscope for optacal connectors (CI-1100-B-Yok)
| | |
| --- | --- |
| Dynamic range | |
| Wave length | |
| Fiber type | |