Temperature Humidity Meter UNI-T A12T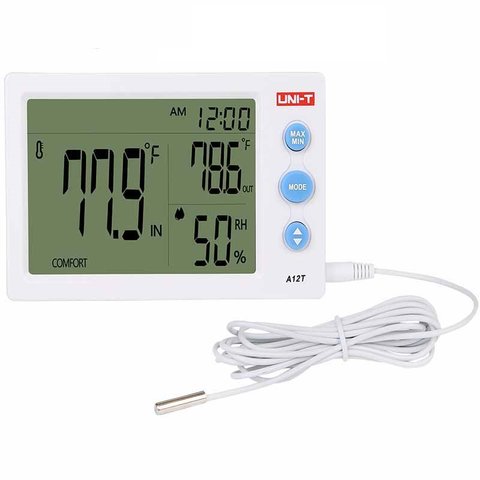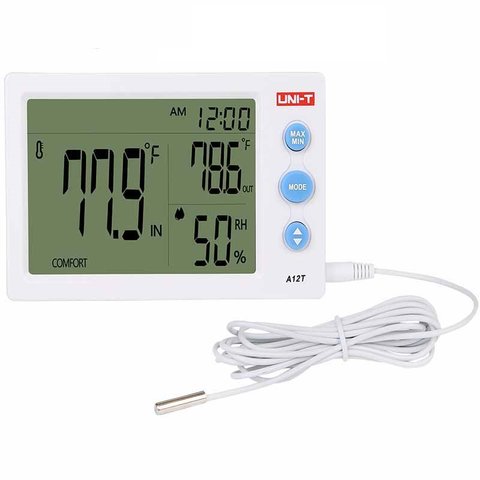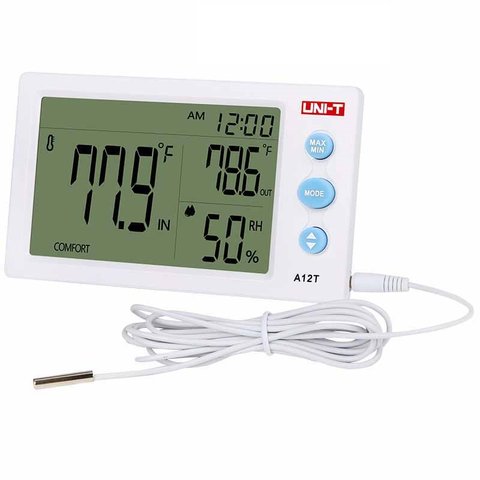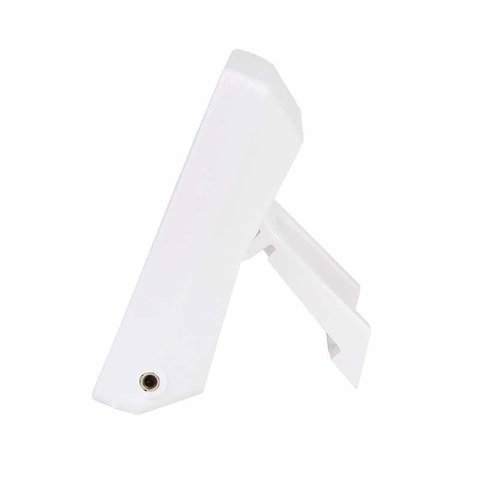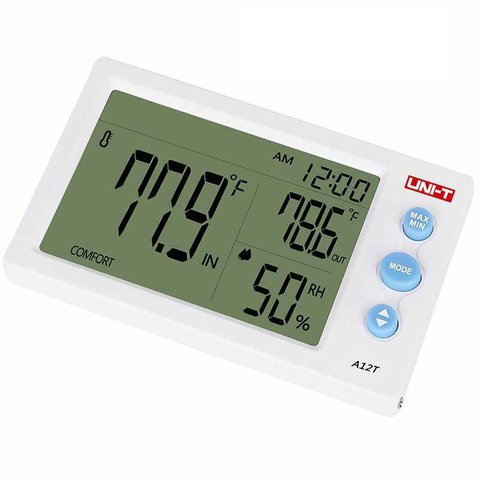 0.5 kg
Warranty: 24 month (s)
Mini digital temperature (°C/°F) and humidity meter. Temperature range: -10°C~50°C. Relative humidity range: 20%~95% RH.
UNI-T A12T is a compact temperature humidity meter that measures real-time temperature and humidity and displays readings on a large screen. It can be used for both indoor and outdoor measurements. The meter has an additional external sensor probe for measuring temperatures of two locations. Besides, it has an alarm clock and a 12/24 time mode.
A12T displays a comfort rating based on the combination of temperature and humidity. Hanging hole and stand are available for wall or table mount.
Features
Sampling time: 10 s.
Display temperature, humidity, date, and time.
12-hour/24-hour displaying system selection.
Alarm clock, rings up to 60 s.
°C / °F switch.
Comfort rating: wet/dry/comfort.
Comes with an

external temperature probe

.
Technical Specifications
Temperature Measuring
Range
-10°C~50°C
Accuracy
±1°C (0~40°C)
Humidity Measuring
Range
20%~95% RH
Accuracy
±5% RH (40%~80% RH)
External Temperature Probe
Range
 -10°C~50°C
Accuracy
±1°C (0~40°C)
Sampling Time
10 s
Power
1.5V battery (R03)
Display
92.5 mm × 60 mm
Dimensions
130 mm × 22 mm × 78 mm
Weight
110 g
User Manual

Download UNI-T A12T User Manual.
Package Contents
Temperature Humidity Meter UNI-T A12T — 1 pc.
External Temperature Probe — 1 pc.
User Manual — 1 pc.
Note! Batteries are not included in the package.