Voltage and Continuity Tester Fluke T100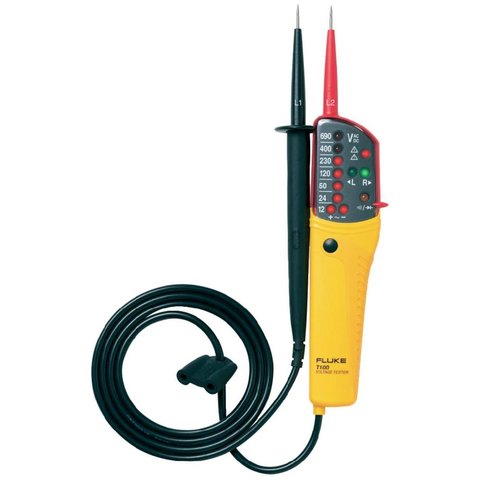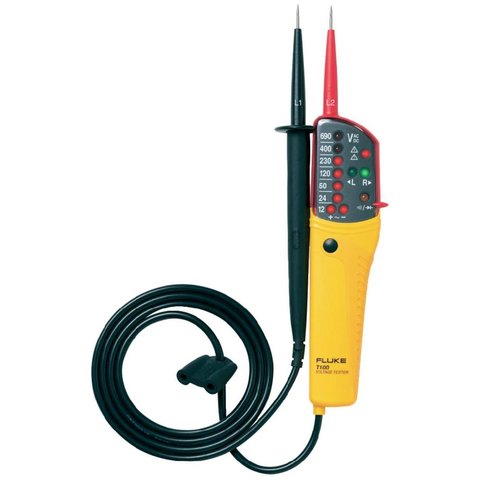 Voltage and continuity tester with continuity indication and rotary field test.
Fluke T100 voltage and continuity tester with rotary field indication is safe and reliable for the field environment and is designed in accordance with the safety prescriptions. Fluke T100 is equipped with phase indication system and indicates rotary fields. The voltage and continuity tester has backlight and fixed test probe cover.
Fluke T100 Voltage and Continuity Tester User Manuals
Download Fluke T100 voltage and continuity tester user manual
Fluke T100 Voltage and Continuity Tester Features
Testing voltage
Visual and sound continuity indication
Roller indication for field conditions
Single-pole phase test
Polarity indication
Rotary field test
Fixed test probe cover
Backlight
Fluke T100 Voltage and Continuity Tester Technical Specifications
| | |
| --- | --- |
| AC/DC voltage | 12 / 24 / 50 / 120 / 230 / 400 / 690 V |
| Continuity test | 0 - 400 kΩ |
| Frequency | 0 - 400 Hz |
| Rotary field indication | 100 - 690 V |
| Operating time | <0.1 s |
| Working temperature | -10°C to 55°C |
| Electrical safety standard | EN 61010-1 |
| Power | 2 × 1.5 V Micro, IEC LR03 |
| Dimensions (H × W × D), mm | 240 × 56 × 34 |
| Weight, g | 180 |
Fluke T100 Voltage and Continuity Tester Package
Fluke T100 tester (1 pc.)
IEC LR03 battery (2 pcs.)
User manual (1 pc.)