74 in 1 Mobile Phone and Tablet Repair Tool Kit Jakemy JM-P02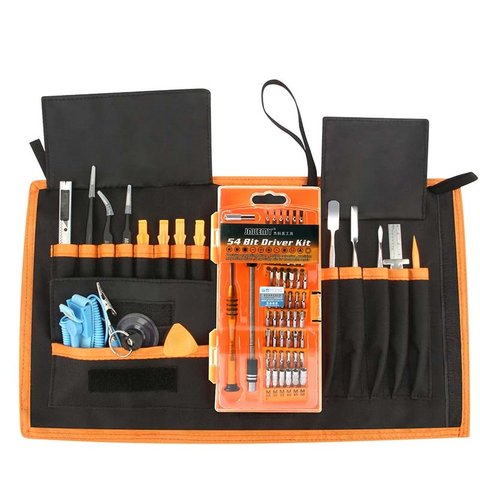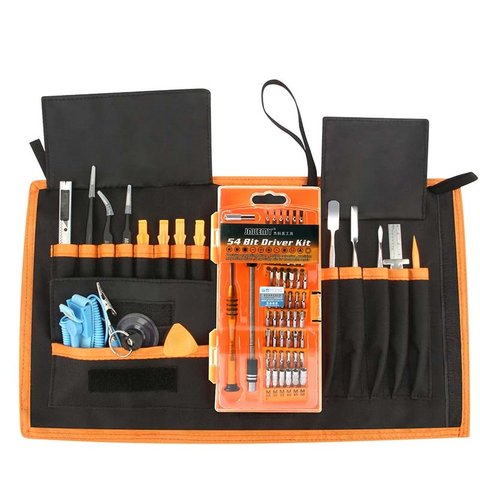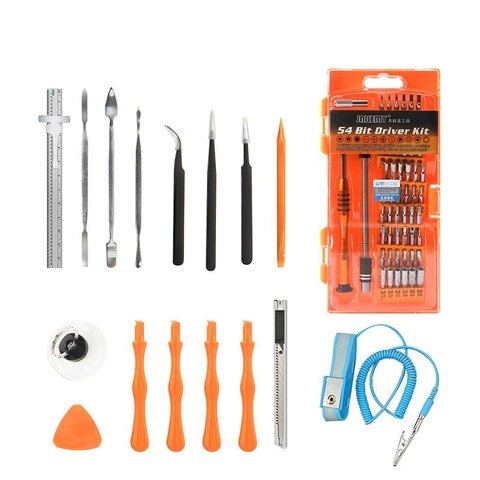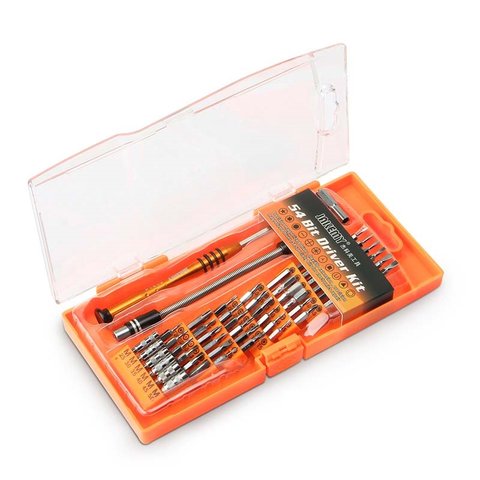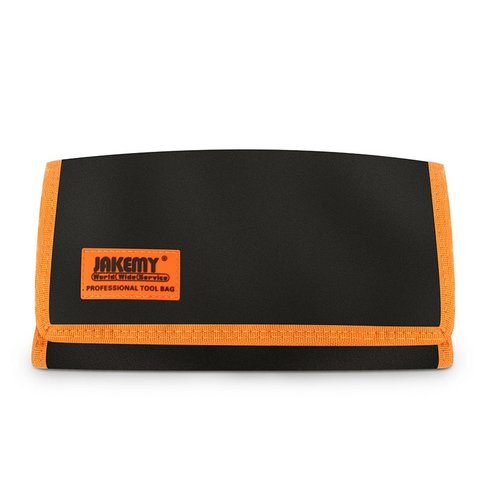 The kit includes 74 tools: 54 bits, a screwdriver, extension bars, and a set of additional tools designed for repairing devices.
Jakemy JM-P02 is a professional kit including 74 tools for disassembling mobile phones and tablets. Besides a screwdriver and bits, this kit also contains an antistatic wrist strap, an opener pick, a PCB knife, LCD screen suction cup, three metal double-sided stainless steel spudgers of various shapes with an anti-slip handle for opening devices without scratches, antistatic plastic prying bars (curved and straight) made of polyformaldehyde fiber and glass fiber which features high strength and wear resistance, a ruler and precision ESD tweezers (with sharp, curved and rounded tips). These items make the Jakemy JM-P02 kit ideal for repairing devices as well.
Features
Supplied in a durable waterproof case.
Bits with extension bars are supplied in a convenient storage/transporting case (205 × 95 × 25 mm).
The kit includes 54 bits (4 mm diameter), an anti-slip handle with a rotating cap, and flexible extension bars.
A bunch of additional tools for device repair included.
The "hook and loop" design ensures good tool storage: Velcro straps keep tools at their places.
Technical Specifications
Bits
Slotted: 1.0, 1.5, 2.0, 2.5, 3.0, 3.5, 4.0
Phillips: 1.0, 1.5, 2.0, 2.5, 3.5
Torx: T3, T4, T5, T6, T7, T8, T9, T10, T15, T20
Hex: H0.9, H1.3, H1.5, H2.0, H2.5, H3.0, H3.5, H4.0, H4.5, H5.0, H6.0
Tri-wing: Y2, Y3
Triangle: 2.0, 2.3
U-shaped: U2.6
Pentalobe (star): 0.8, 1.2, 2.0
Pozidriv: 1.5, 2.0, 2.5, 3.0
Square: SQ0, SQ1, SQ2
Inner hexagon socket: M3.0, M3.5, M4.0, M4.5, M5.0
Bit Material
chrome vanadium alloy HRC 50-52
Bits Case Dimensions
205 × 95 × 25 mm
Bag Material
Oxford 600D
Bag Dimensions
folded: 250 × 135 mm
unfolded: 410 × 250 mm
Package Content
Bit Holder — 1 pc.
Bits — 54 pcs.
Extension Bar — 2 pcs.
Adapter 28 mm — 1 pc.
Metal Spudger — 3 pcs.
Ruler — 1 pc.
Stainless Tweezers — 3 pcs.
Plastic Prying Bars — 4 pcs.
Anti-Static Spudger — 1 pc.
Anti-static Wrist Strap — 1 pc.
PCB Knife — 1 pc.
LCD Screen Suction Cup — 1 pc.
Opener Pick — 1 pc.