A Step Forward in Cleaning with Ultrasonic and Jeken
Ultrasonic cleaning technology
Nowadays a lot of industries require highly effective cleaning. Repair shops often need accurate cleaning of small spare parts during service and repair operations. During the manufacturing process cleaning is often applied to components at different stages. Precision instruments in medicine also require deep penetrating cleaning action ensuring no damage to them and no effect on their sharpness. Spacecraft and aircraft technicians need all the parts to be carefully cleaned without any possible damage to their surface to prevent undesirable or dangerous processes from occurring during flight performance. Safe product cleaning is also a must in jewellery manufacturing, optical industry, electronics, and weapon production.
All these requirements may be met with the help of ultrasonic cleaning technology. Due to its properties this method is widely used in many jewellery workshops, watchmakers' establishments, and electronic repair workshops. Ultrasonic cleaning is a fast and efficient way to get rid of dirt, dust, oils, organic compounds, corrosion products and other unwanted substances. Typically the cleaning process takes from three to six minutes. The process is conducted using specially designed devices – ultrasonic cleaners. The objects are being processed with ultrasound in a cleaning liquid: sometimes ordinary tap water is suitable, however using a special solvent, which is appropriate for the item to be cleaned and the soiling, enhances the effect.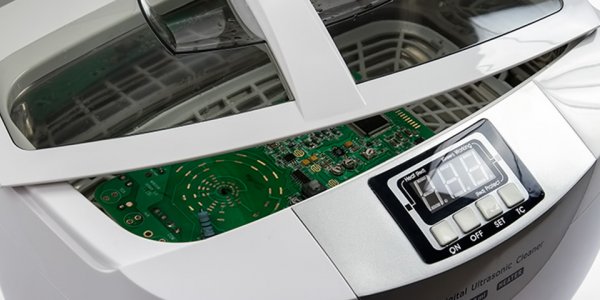 Ultrasonic cleaning technology application allows replacing manual cleaning. That increases the process speed and also helps achieve high level of surface cleaning and virtually avoid using fire hazardous or toxic solvents. These factors lead to working conditions improvement, operation efficiency rise and even help the environmental protection process.
An ultrasonic cleaner consists of an ultrasound generator along with special transducers mounted on the bottom of a stainless steel container filled with liquid. Typically the general purpose cleaners are designed for cleaning objects in the containers from 0.5 L to 10 L. The generator and the transducer jointly create alternating waves of compression and expansion in the liquid at extremely high speeds, usually between 25 and 130 kHz. The cleaning is fulfilled mainly due to the cavitation process. Cavitation occurs when the ultrasound passes through the liquid, which is compressed and stretched by this sound. When the amplitude of such sound wave increases to a level when water cannot hold the stretch, millions of vacuum micro bubbles are formed under such negative pressure. These bubbles release huge amounts of energy. Each bubble is estimated to have a temperature of more then 5000 degrees Celsius and a pressure of more then 10,000 PSI at molecular level. This results in high pressures that cause physical phenomenon responsible for the effective cleaning action that is ensured by ultrasonic cleaners.
Apart from the huge amount of applications, the increased cleaning quality and effectiveness, the ultrasonic cleaning technique has one more advantage. When the item being cleaned is placed into the cleaning liquid, the bubbles caused by ultrasound may reach all the most difficult to reach parts of the object, as well as cleaning small cracks and cavities. This method allows cleaning the items with complicated structure that are not possible to clean with traditional cleaning methods.
The ability to clean tiny objects somehow depends on the cleaning frequency. The higher the frequency, the more capable it is to remove smaller particles.
Ultrasonic cleaning became closer with Jeken
Modern cleaning technologies have become accessible with the start of mass production of the ultrasonic cleaning devices that are distributed at affordable price. One of the companies that keep the leading positions in the ultrasonic equipment market is Shenzhen Jeken Electrical Co., Ltd. The company owns a 45,000-square-feet factory with 5 production lines. Each month Jeken manufactures more than 75,000 units of fine-quality electronic products. The products are distributed to customers in North America, Germany, France, Japan, South-East Asia and the rest of the world.

The company was founded in 1998 and started the production of ultrasonic equipment. In the process of development and manufacturing the company specialists used the experience and technologies from Germany and Japan. The 15 years of research and development, together with the company experience, quality and worldwide promotion allowed the manufacturer to reach one of the leading positions in the world's ultrasonic equipment market. All the company's products quality is approved with CE, GS, PSE, ETL, CETL certificates. They have also passed ROHS, PAHS, REACH approvals. The company is licensed under ISO 9001-2000 system. All the company products and technologies are patent protected.

Jeken daily production volume is 4300 units. The product line includes mini ultrasonic cleaners, desktop ultrasonic cleaners, and laboratory ultrasonic cleaners. They also manufacture industrial ultrasonic cleaners with a single tank, double tanks and multi tanks. There are desktop cleaners with different cleaning tank volumes available: from 0.55 to 30 liters.
Following a continuous way of the company research and development, since 2003 the manufacturer gave up producing other types of products making ultrasonic cleaners their main product branch. They equipped their factory with the most advanced and fully automatic production lines with the increased efficiency and defect self-control. Now such a production line may provide manufacturing of more than 4000 units every day.
After the production stage all the products go through the procedure of multi-level quality assurance. Different kinds of tests are conducted in specialized Jeken laboratories to ensure the high quality and long lifetime of the products. There are special tests to inspect the anti-salt and moisture ability of the metal parts and the electronic components of the product, the air-proof abilities of the plastic structure, temperature and other extreme environment resistance. The researchers also conduct drop tests, button life tests, and lid life tests. It takes 35 days to finish the whole test cycle of 7 items in a Jeken lab.
Conclusions
Nowadays the technology of ultrasonic cleaning has become affordable and simple with the production of ultrasonic cleaners of various types: from household devices to industrial equipment. Ultrasonic cleaning has become a common practice in many spheres and branches of industry and service. There is a great variety of possible cleaning applications. The most common are as follows:
Jewelry: rings, brooches, necklaces, earrings, tie pins, hair pins.
Glasses and lens, sunglasses.
Watches, watch spare parts, watch straps.
Shaving heads, razors, blades.
Tableware: spoons, forks, knives.
Dentals, tooth brushes, artificial teeth and dental instruments.
Coins, badges, decorations, medals.
Computer mainboards and accessories, PCBs, laptop motherboards, hardware parts and accessories.
Spare parts for motorcycles, cars, aircraft, spacecraft, mechanisms, robotic technology.
Glassware.
Golf clubs and balls.
Knives, scissors, cutters.
Medicine: medical instruments, ampoules, test tubes.
Contact lenses.
Precious stones.
Feeding bottles and teats, baby's dummies.
Laboratory items.
Office supplies.
Weapons and weapon parts.
Fishing gear.
Tubes, wires, cables.
CDs, DVDs.
Automobile industry: carburetors, oil burners, injectors, fuel filters, etc.
Machinery: final parts processing, processing after welding, grinding, polishing.
Chemistry: solutions and liquids mixing, reactions acceleration, liquids degassing.
Polymer products manufacturing.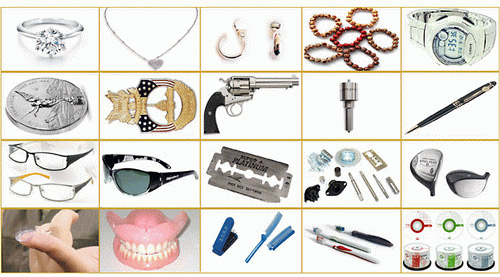 One of the most reliable and affordable manufacturers in the modern ultrasonic equipment market is the Shenzhen Jeken Electrical Co., Ltd. company that promotes its products under the brands "Jeken" and "CODY". The quality of the product is guaranteed according the many European and world certificates and licenses. The manufacturer reached the high quality level with the help of the up-to-date advanced production lines and technologies, as well as multi-level quality assurance procedure.
You may order Jeken products directly from our website. We offer a wide range of ultrasonic cleaners for various applications.

Yuriy Ter-Arutiunian
Toolboom Team
All rights reserved. This material from toolboom.com web site may not be published, rewritten or redistributed in whole or part without authorship indicated and backlinks provided.
Customers Feedback