DC Power Supply HYelec HY3002D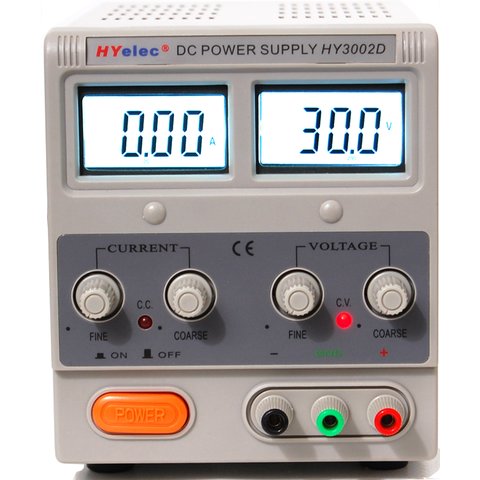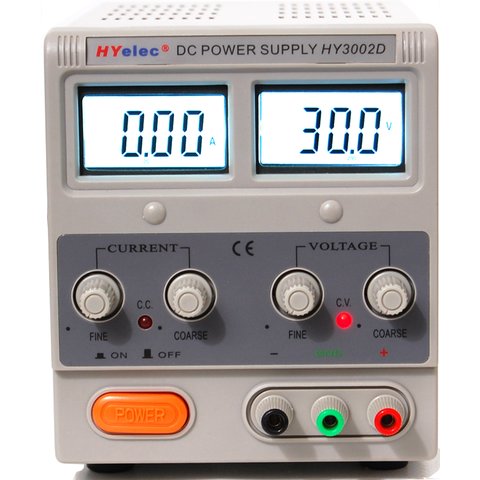 4.45 kg
220 V
Warranty: 6 month (s)
Powers by continuous current electronic devices and schemes by voltage from 0 to 30V and by current from 0 to 2A. Short circuit protection. LCD-display.
Power supply unit HY3002D provides electronic devices and schemes with continuous power supply by voltage in the range from 0 to 30V and by current in the range from 0 to 2 A.
Features
Adjusted current values and voltage values are displayed on liquid-crystal indicators.
Accuracy of measuring output voltage constitutes less than 1 % ± 2 units and current measuring no more 2% ± 2 units.
Parameters adjustment is made by means of separate potentiometers for current and voltage and separately for coarse and fine adjustment.
Output terminals, from which one can turn off the voltage and bonding point, are in the bottom of power supply faceplate HY3002D.

Sockets with screw clamps render possible one to use the wires with single-polar plugs and without any plugs at all. In that case the wire is fixed by screw clip.

In case of any breakdowns of power supplied schemes or incorrect actions.
Short circuit security system and voltage protection will prevent the power supply unit HY-3003D from breakdown in the result of power supplied schemes malfunctions or wrong actions of service staff.
Power supply is made from the alternating current network 220 V. Power supply source HY3002D switching-on and switching off is made with the help of button switch.
Technical specifications
Output voltage, V
0 - 30 V
Output current, A
0 - 2 A
Ripple level
By current, mA
≤ 3
By voltage
≤ 0,5
Load effect, %
By current, mA
≤ 0,2 + 5 mA
By voltage
≤ 0.01 + 5 mV
Supply voltage effect, %
By current, mA
≤ 0.2 + 1 mA
By voltage
≤ 0.01 + 1 mV
Indication of output current value and output current voltage
3 ½-digits LED indicators
Dimensions
206 × 153 × 110 mm
Power supply
~ 220 / 110V ± 10 %
| | |
| --- | --- |
| Type | |
| Number of channels | |
| Max. Voltage | |
| Max. Current | |
| Indicator type | |