Digital Clamp Meter UNI-T UT256A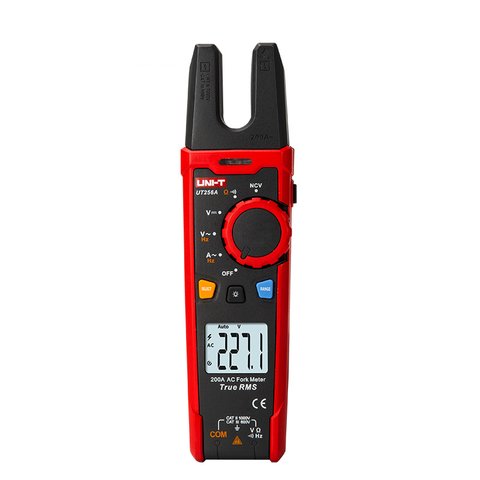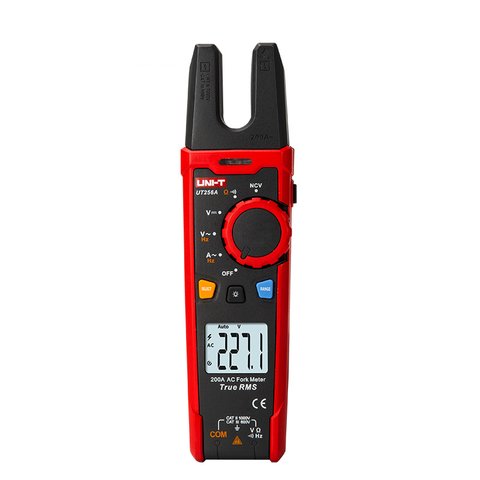 0.75 kg
Warranty: 24 month (s)
The device measures AC current via the fork, and AC/DC voltage, frequency, resistance, and continuity using test leads.
UNI-T UT256A is a stable, safe, and reliable digital clamp meter. It measures AC current via the fork, AC/DC voltage (up to 1000V), resistance, and continuity via test leads, and can detect the presence of AC voltage via the non-contact voltage (NCV) sensor. It has data hold, auto/manual range, large backlit LCD (6000-count), audio/visual alarm, and flashlight functions.
Features
Basic measurement functions:

AC/DC voltage;
AC current;
resistance;
frequency;
continuity.

Auto/manual range.
Data Hold function.
True RMS measuring.
Non-contact high voltage detection (NCV).
Auto power off.
Backlit LCD.
Built-in flashlight.
Low battery indication.
Full-scale overload protection.
Technical Specifications
Function
Range
Accuracy
AC current
200 A
±(1.8%+2)
AC voltage
1000 V
±(1.2%+3)
DC voltage
1000 V
±(0.8%+3)
Resistance
60 MΩ
±(1%+2)
Frequency
10 Hz ~ 10 kHz
±(0.1%+5)
Continuity
<10 Ω: audio signal
>100 Ω: no audio signal
General Specifications
Display
LCD, 35 mm × 26 mm, 6000 count
Power
2 batteries 1.5V (LR6)
Auto power off
about 15 minutes
Low battery indication
≤2,4 V
Input impedance
≥10 MΩ
Dimensions
217 mm × 58.8 mm × 38.5 mm
Weight
251 g
User Manual

Download UNI-T UT256A user manual.
Package Contents
Digital Clamp Meter UNI-T UT256A — 1 pc.
Test Leads— 1 set
Cloth Bag — 1 pc.
User Manual — 1 pc.
| | |
| --- | --- |
| Digit Capacity | |
| Type | |
| DC Voltage | |
| AC Voltage | |
| Resistance | |
| Capacitance | does not measure the capacitance |
| DC | |
| Temperature | |
| Power | |
| Duty cycle | |
| True RMS | |
| Backlight | |
| PC connection | |
| Diode test | |
| Analog bar graph | |
| Continuity test | |
| Three-phase voltage measurement | |
| Three-phase current measurement | |
| AC | |
| Frequency | |
| NCV | |