Digital Engine Tester MASTECH MS6231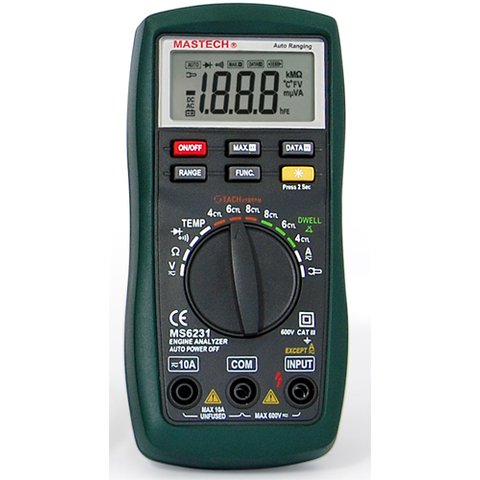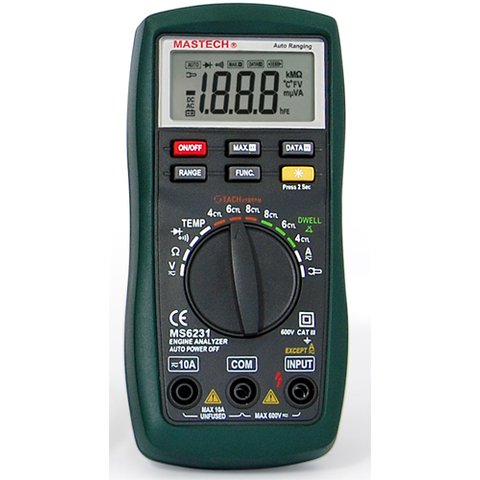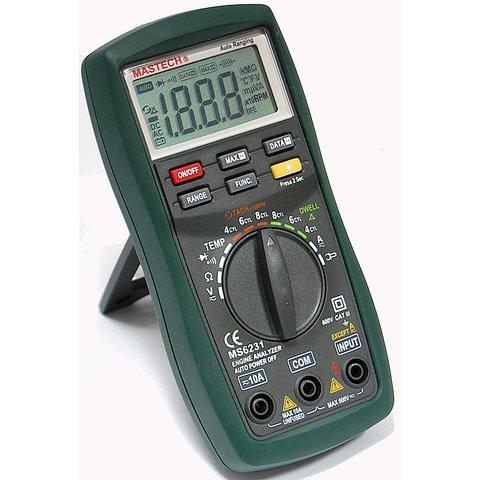 0.5 kg
Warranty: 6 month (s)
All basic multimeter functions. Measurement temperature function and number of crankshaft turns in a minute. Maximum measurement value storage.
Digital engine tester Mastech MS6231 is used for car conditions diagnostic, especially for quality control of connects in electrical circuitry of transport unit. Display illumination is used for reading obtained data in the low visibility conditions. This tachometer meets with EN61010/IEC1010 CAT II 1000V / CAT III 600V requirements.
Video
You'll find even more video reviews in the Video tab. Go and check it out!
Technical Specifications
| | |
| --- | --- |
| Counts | 1999 |
| DWELL | 4/6/8 CYL ±3 degrees |
| TACH | 4/6/8 CYL ±2% |
| DC voltage  | 200mV/2/20/200/600V ±0.7% |
| AC voltage | 200mV/2/20/200/600V ±0.8% |
| DC current  | 200/2000A (0.1mV/0.1A) ±1.2% |
| AC current  | 200/2000A (0.1mV/0.1A) ±1.5% |
| Resistance | 200Ω/2kΩ/20kΩ/200kΩ/2MΩ ±1.2%, 20MΩ ±2.0% |
| Temperature measurement range | from - 20 to +1000°C ±3.0% |
| Conductivity wire identification | yes |
| Diode, transistor test | yes |
| Automatic power-off | yes |
| Data Hold | yes |
| Display illumination | yes |
| Max/min value measurement | yes |
| Power source | 3 × 1,5V (AAA) |
| Dimensions | 158 × 74 × 31 mm |
Type
Measured Values

DC voltage
AC voltage
AC
DC
resistance
temperature
crankshaft speed

Additional Functions

acoustic continuity test
data hold
automatic shutdown/sleep mode
max / min
diode test
backlight

Range Selection
Digit Capacity
DC Voltage
AC Voltage
Resistance
DC
AC
Capacitance

does not measure the capacitance

Frequency

does not measure the frequency

Inductance
Temperature
Power
Duty cycle
True RMS
Backlight
PC connection
Diode test
Analog bar graph
Transistor check
Continuity test
Battery Testing