Digital Multimeter MASTECH MS8205C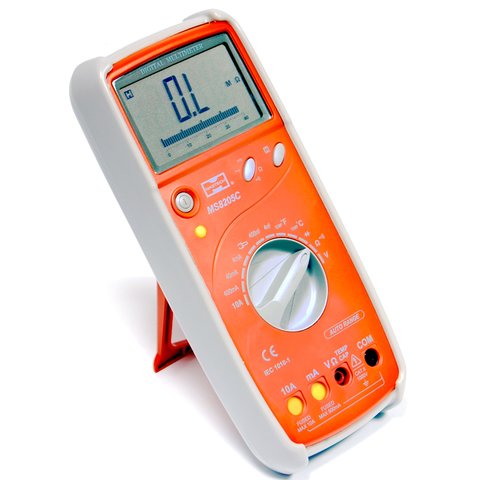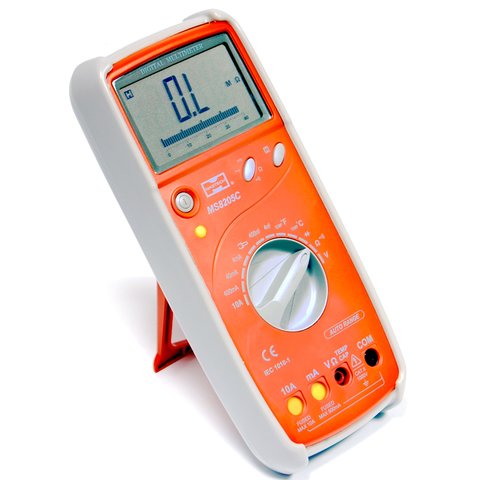 0.6 kg
Warranty: 6 month (s)
Digital and analog measurement indication. Enables temperature and capacity measurement. Auto ranging. Electronic overload protection.
Digital multimeter Mastech MS8205C with automatic ranging has large 3 ½ digits LCD display and 40-segmanted line graphic scale in the bottom, which displays measured quantity value in mnemonic style. Electronic overload protected. The device is applied  for crystal detector testing and electronic circuit continuity.  
This model is compatible with Test Leads MASTECH T3000
Video
You'll find even more video reviews in the Video tab. Go and check it out!
Technical specifications
Auto/Manual ranging
manual
Counts
3999
DC voltage 
 4/40/400 V ±0.5%, 1000 V ±0.8%
AC voltage
 4/40/400 V ±1.2%, 750 V ±1.5%
DC current 
 4/40/400 mA ±1.2%, 10A ±2.0%
400A (current clamp meter, not included in the package) (±1.2%)
AC current 
 4/40/400 mA ±1.5%, 10A ±3.0%
400A (current clamp meter, not included in the package) (±1.5%)
Resistance
 400Ω /4kΩ /40kΩ /400kΩ /4MΩ ±1.2%, 40MΩ ±3.0%
Capacitance
4/400 nF ±4.0%
Temperature measurement range t°C
0-750°C/ 0-1400°F
Conductivity wire identification
yes
Diode test
yes
Automatic power-off
yes
Data Hold
yes
Overload protection
yes
Display illumination
yes
Power source
6F22 (9V) × 1
Dimensions
191 × 82 × 36 mm
Type
Measured Values

DC voltage
AC voltage
AC
DC
resistance
capacitance
temperature

Additional Functions

acoustic continuity test
data hold
automatic shutdown/sleep mode
mnemonic
indication of proper connection of test leads
diode test
backlight

Range Selection
Digit Capacity
DC Voltage
AC Voltage
Resistance
DC
AC
Frequency

does not measure the frequency

Inductance
Temperature
Power
Duty cycle
True RMS
Backlight
PC connection
Diode test
Analog bar graph
Transistor check
Continuity test
Capacitance
Battery Testing

Digital Multimeter UNI-T UT39C
Digital Multimeter UNI-T UT55

Digital Multimeter UNI-T UT39C+