Digital Multimeter Pro'sKit MT-1232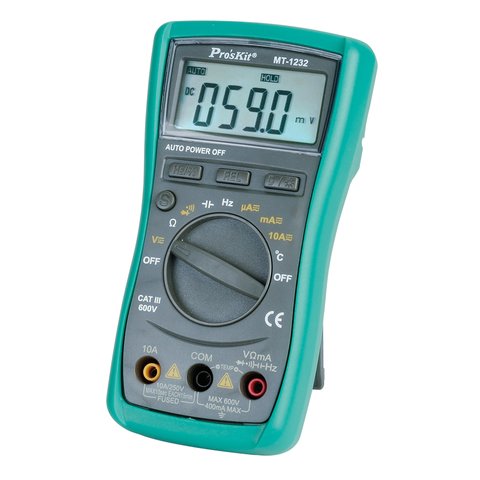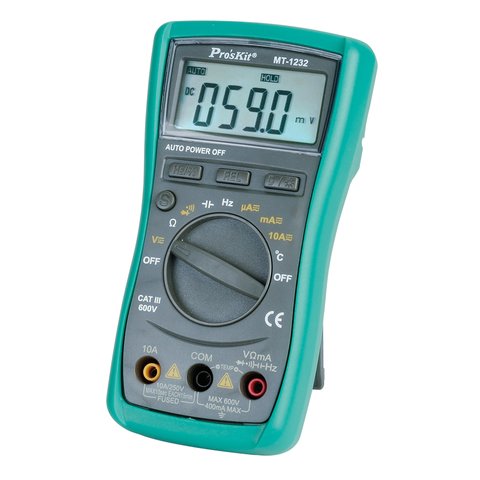 0.35 kg
Warranty: 12 month (s)
Digital multimeter for AC/DC current and voltage, resistance, capacity, frequency measurements, and for continuity and diode tests.
Digital multimeter measures AC/DC current, voltage, resistance, capacity, frequency and tests continuity and diodes. Due to its complete functions, high measurement accuracy and convenient operation, the multimeter is an ideal tool for industrial and research applications as well as for radio fans and household.
Pro'sKit MT-1232 Digital Multimeter Features
Large 3 ¾ LCD (3999)
Functions:

AC/DC voltage and current
resistance
frequency
capacitance
continuity (with buzzer)
diode test
temperature

No transistor and LED test
Relative measurement mode
Data hold function
Auto ranging
Overload protection with overrange indication on the display
Input alert
Auto power off
Low battery indication
Video
You'll find even more video reviews in the Video tab. Go and check it out!
Pro'sKit MT-1232 Digital Multimeter Technical Specifications
Display
 3 ¾ (1999) LCD, 18,9 mm
Sampling rate
approx. 3 times / sec.
Measuring method
Dual integral A/D converter
Temperature sensor
K-type thermocouple (nickel-chromium / nickel-silicon) with banana plug
DC  voltage, V
400mV/4V/40V/400V ± (0.5% + 4d)
600V ± (1.0% + 4d)
AC voltage, V
4V/40V/400V ± (0.8% + 6d)
600V ± (1.0% + 6d)
DC current, A
400µA/4000µA ± (1.0% + 10d)
40mA/400mA ± (1.0% + 10d)
10A ± (1.2% + 10d)
AC current, A
400µA/4000µA ± (1.5% + 10d)
40mA/400mA ± (1.5% + 10d)
10A ± (2.5% + 15d)
Resistance, Ω
400Ω ± (0.8% + 5d)
4kΩ/40 kΩ/400kΩ/4MΩ ± (0.8% + 4d)
40MΩ ± (1.2% + 10d)
Frequency, Hz
1Hz/10Hz/100Hz ± (0.5% + 10d)
1kHz/10kHz/100kHz ± (0.5% + 10d)
1MHz/10MHz ± (0.5% + 10d)
Capacitance, F
4nF ± (0.5% + 90d)
40nF/400nF/4µF/40µF ± (3.5% + 8d)
100µF ± (5.0% + 8d)
Temperature, ºC
(-20 °C~1000 °C) < 400 ± (1.0% + 5d)
(-20 °C~1000 °C) ≥ 400 ± (1.5% + 15d)
Safety standard
EN61010-1 CAT II 600 V / CAT III
Battery
2 x 1.5 V AA
Size (D × W × H), mm
145 × 74 × 36
Weight, g
190 (with batteries)
Pro'sKit MT-1232 Digital Multimeter Package Contains
Digital Multimeter Pro'sKit MT-1232 (1 pc)
10 A test leads (1 pair)
Temperature probe (1 pc)
Instruction manual (1 copy)
Type
Measured Values

DC voltage
AC voltage
AC
DC
resistance
capacitance
frequency
porosity
temperature

Additional Functions

acoustic continuity test
automatic shutdown/sleep mode
relative measurements
diode test

Range Selection
Digit Capacity
DC Voltage
AC Voltage
Resistance
Capacitance
Frequency
DC
AC
Inductance
Temperature
Power
Duty cycle
True RMS
Backlight
PC connection
Diode test
Analog bar graph
Transistor check
Continuity test
NCV
Battery Testing