Digital Oscilloscope Atten ADS2202CA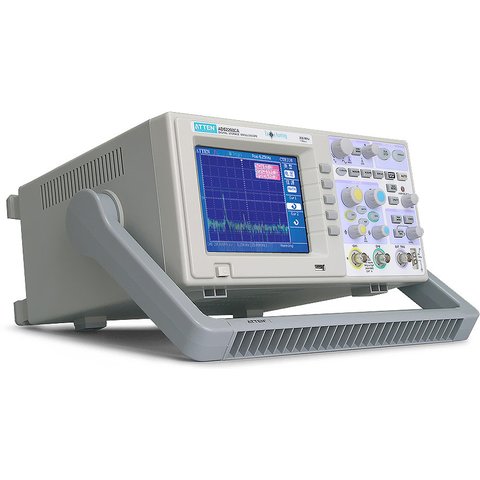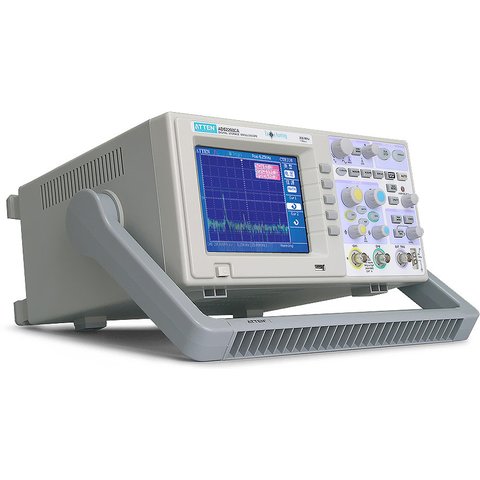 7.5 kg
110, 220 V
Warranty: 24 month (s)
Bandwidth of 200 MHz and Samplig rate of 1 GS/s are the guarantees of flawless display of high frequency, complex and single waveforms
ATTEN ADS2202CA digital oscilloscope is a powerfool tool for setting up and testing of circuits and waveform logical connections.

Bandwidth of 200 MHz and Samplig rate of 1 GS/s are the guarantees of flawless display of high frequency, complex and single waveforms.

ATTEN ADS2202CA meets all the requirements to be a modern budget oscilloscope. 32 built-in automatic measurement functions, such as waveform timegap measurement, waveform phases etc. allow uuser to understand and analyse incoming waveforms. Additional functions include function of access control, user-definre digital filters and more allow faster and easier calibration of various radio devices.

User-friendly interface. Support of 11 languages.

Built-in USB-host allows connecting external data storage devices. USB-slot on the rear panel allows direct connection of the printer. EasyScope Computer Software System allows remote control through the virtual panel and presents easy way of caving waveform data as arrays or images.
Specifications:
2-channel. Bandwidth - 200 MHz
Compact size saves space and allows easy outdoor measurements.
Color 5.7" LCD screen, 320x234px Clear and stable waveform data display.
Sampling rate: 1 GS/s
Equivalent sampling rate: 50 GS/s
Memory capacity: 4K.
Advanced start functions: frontal, video, pulse width, pulse delay.
Built-in USB-host, USB-slot for PC connection, GPIB-interface.
Digital filter and recorder functions
Good/bad mode
32 automatic measurements
Pointer measurements mode: manual, tracking, automatic
5 mathematic functions: add, subtract, multiply, divide, FFT (for 1K memjry length), digital filters (HF, LF, linear, elimination)
Frame waveform registering mode (up to 2500 frames, recording and replaying)
Technical specifications
Model
ADS2202CA
Channel quantity:
2-channels
Bandwidth
200 MHz
Samplig rate
1 GS/s
Equivalent sampling rate
50 GS/s
Memory
4k
Building-up time
1.8ns
Input impedance
1MOm, 13pF, 50Om
Horizontal sweep time:
2.5 ns/dgt - 50s/dgt
Display
Color 5.7" LCD screen, 320x234px
Vertical sensitivity
2 mV/dgt - 5V/dgt. (1-2-5 sequence)
Vertical resolution
8 bit
A1 and A2 input mode
DC, AC, ground
Maximum input voltage
300V (DC+AC max (1MOm input impedance 10X),
5V (50Om input impedance, BNC)
Start modes
frontal, video, pulse width, pulse delay, external synchonisation
Sweep start modes
Auto, normal, single
Synchronisation sources

CH1, CH2, Ext, Ext/5, AC Line

Store/Recall
Up to 20 waveforms and up to 20 control settings profiles. Bigger data storages may be connected via USB-slot on the device front panel.
Automatic measurements
Vpp, Vamp, Vmax, Vmin, Vup, Vdn, Vavg, Vrms, Negative peak, Positive peak, frequency, period, building-up time, fall time, positive legth, negative length, positive load coefficient, negative load coefficient, delay.
Pointer measurements
Modes manual, tracking, automatic
Mathematic functions
Adding, subtracting, multiplying, dividing, FFT
FFT

Window: Hanning, Hamming, Blackman, Square

XY- modes
Phase error ±3
Menu languages
Simplified Chinese, Traditional Chinese, English, Arab, French, German, Russian, Spanish, Portuguese, Japanese, Korean
Power supply
100-240V, 40-440Hz CAT II. 50W max 50 W max.
Measurements
300x150x 290 mm
Weight
4.6 kg
USB-host
Externa devices support
USB
Direct PictBridge printing support; PC control
Accessories
10:1 Probes x2, EasyScope Computer Software System, Power Cord, User's Guide.
| | |
| --- | --- |
| Screen Size | |
| Number of channels | |
| Storage Capacity | |
| Bandwidth | |
| Type | |
| Sample Rate | |