Digital Oscilloscope Atten ADS7202SA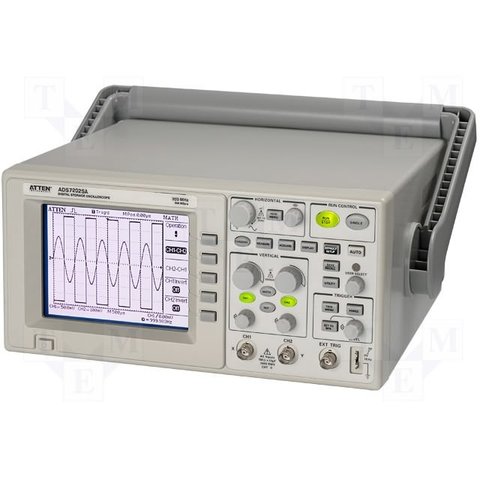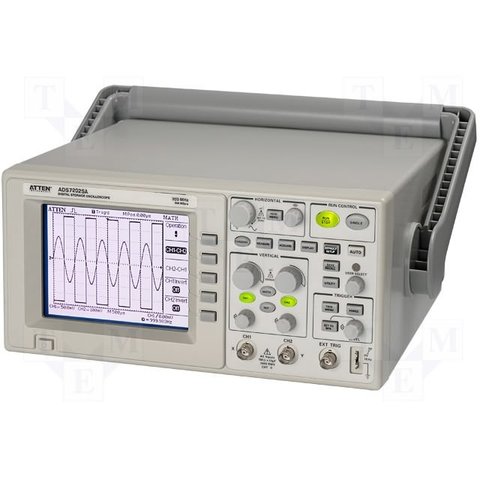 7 kg
110, 220 V
Warranty: 24 month (s)
200 MHz bandwidth, 1 GS/s sampling rate, 1.8 ns raise time, 4 Kpts of the memory, 2 channels, cursor measurements mode.
Atten ADS7202SA is a digital benchtop storage oscilloscope with 2 channels, 200 MHz bandwidth, sampling frequency of 1 GSa/s and 4 Kpts memory depth.
The Atten ADS7202SA digital oscilloscope is useful for electrical line mainteinance, checking electrical schemes and logical connections betweeen waveforms.
EasyScope computer software system enables remote control through the virtual control panel, oscillogramm storing as data arrays or graphics directly to PC.
Atten ADS7202SA Digital Oscilloscope Features
1 GSa/s sampling rate and 50 GSa/s equivalent sampling rate
2 channels
5,7" LCD
4 Kpts memory depth
Trigger types: Edge, Pulse Width, Video
FFT spectrum analyzer function
USB connection and GPIB interface
Easyscope software
Atten ADS7202SA Digital Oscilloscope Technical Specifications
Channels
2
Analog bandwidth (at input BNC)
200 MHz
Real time sampling rate
1 GSa/S

Equivalent sampling rate
50 GSa/s
Memory depth
4 Kpts
Raise time
≤ 1.8 ns
Input impedance
1 MΩ|| 13 pF, 50 Ω
Vertical sensitivity
2 mV to 5 V/div at input BNC (1-2-5 order)
Horizontal scan range
2.5 ns/div to 50 ns/div (100 MHz-200 MHz)
Vertical resolution
8 bit
Input coupling
AC, DC, GND
Input voltage
100-240 V AC, CAT II, auto selection
Trigger types
edge, pulse width, video
Trigger modes
auto, normal, single
Set Storage/Recall
10 groups measuring storage/recall function
Waveform Storage/Recall
2 group referenced waveforms, storage/recall function
10 group captured waveform storage/recall function
Auto measure

MAX, MIN, Peak-Peak, Average, Vrms, Rise Time, Fall Time, Cycle Frequency, Positive Pulse Width, Negative Pulse Width
Cursor measure
ΔV, ΔT, 1/ΔT
Math operation
+,-, *,FFT
FFT
window mode: hanning, hamming, blackman, rectangular
X-Y mode

± 3 degrees phase error
Display mode
TFT 5.7" diagonal
Menu languages
English, Chinese
Dimensions (L × W × H), mm
300 × 290 × 150
Weight, kg
4.6
Atten ADS7202SA Digital Oscilloscope Package
Digital oscilloscope Atten ADS7202SA (1 pc.)
Probe (2 pcs.)
USB cable (1 pc.)
Power cord (1 pc.)
User manual (1 pc.)
EasyScope software(1 pc.)
| | |
| --- | --- |
| Screen Size | |
| Number of channels | |
| Storage Capacity | |
| Bandwidth | |
| Type | |
| Sample Rate | |