Digital Oscilloscope RIGOL DS2072A
No results found for your request.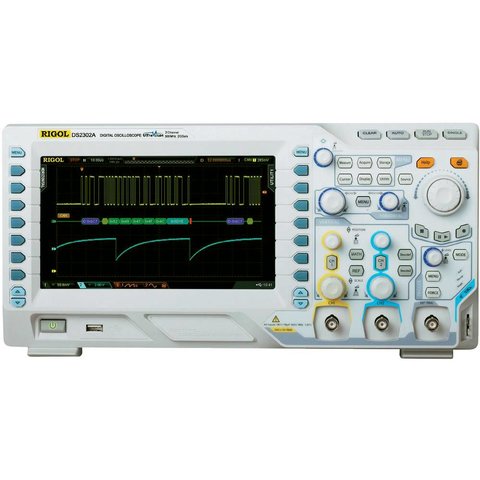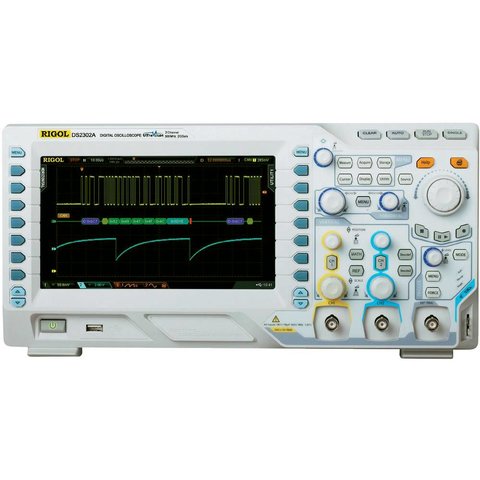 Availability in stock: HK
PromoFree shippingBestseller
---
Note! This item may be shipped after February 5, 2020.
---
Dual-channel digital oscilloscope with 70 MHz bandwidth, 2 GSa/s real-time sample rate, 8" display and 50,000 waveforms/sec acquisition.
RIGOL DS2072A digital oscilloscope is a new high-quality dual-channel oscilloscope (70 MHz). This compact lightweight digital oscilloscope provides exceptionally accurate waveform viewing and measurements. RIGOL DS2072A provides up to 50 000 wfms/s waveform acquisition rate.
RIGOL DS2072A digital oscilloscope is ideal for production tests, field service, research, design and all other applications involving analog/digital circuit tests and troubleshooting, as well as education and training.
Features
Bandwidth: 70 MHz.
2 channels.
Real-time sample rate: 2 GSa/s.
Memory depth: 14 Mpts.
Innovative UltraVision technology.
Vertical sensitivity: 500 μV/div – 10 V/div.
Waveform acquisition rate up to 50,000 wfms/s.
Math functions: Add, Subtract, Multiply, FFT.
8-inch color LCD.
Standard interface: USB host & device, LAN, AUX.
The recommended calibration interval period is one year.
Real-time waveform recording, waveform playback, and waveform analysis.
Compact design, small dimensions, light weight.
Technical Specifications
Bandwidth
70 MHz
Channels
2
Real time sample rate
2 GSa/s (single-channel), 1 GSa/s (dual-channel)
Memory depth
14 Mpts (Std.), 56 Mpts (Opt.)
Waveform acquisition rate
50,000 wfms/s (Max. )
Vertical sensitivity range
500 μV/div – 10 V/div
Offset range
500 μV/div – 50 mV/div (± 2 V)
51 mV/div – 200 mV/div (± 10 V)
205 mV/div – 2 V/div (± 50 V)
2.05 V/div – 10 V/div (± 100 V)
Vertical resolution
8 bits
Math
Add, Subtract, Multiply, FFT, editable
Output voltage
~ 3 V, peak-peak
Frequency
1 kHz
General Specifications
Trigger modes
Auto, Normal, Single
Power
50 W (max.)
Power voltage
100-240 V, 45-440 Hz
Temperature range
Operation: 0°C to +50°C
Non-operation: -20°C to +70°C
Cooling method
Fan
Standard Ports
USB host (support USB-GPIB), USB device, LAN, Aux (TrigOut/PassFail)
Display
8" WVGA color LCD (800×480)
Weight
3.9 kg (± 0.2 kg)
Dimensions
361.6 × 179.6 × 130.8 mm
Video
You'll find even more video reviews in the Video tab. Go and check it out!
Package Contents
RIGOL DS2072A digital oscilloscope (1 pc.)
Passive probes (2 pcs.)
Power cable (1 pc.)
USB data cable (1 pc.)
| | |
| --- | --- |
| Type | |
| Number of channels | |
| Bandwidth | |
| Sample Rate | |
| Screen Size | |
| Storage Capacity | |