Double DC Power Supply HYelec HY3005-2 ( 2*0-30V;2*0-5A)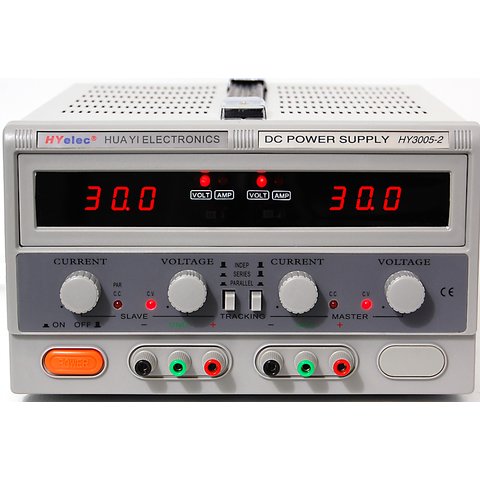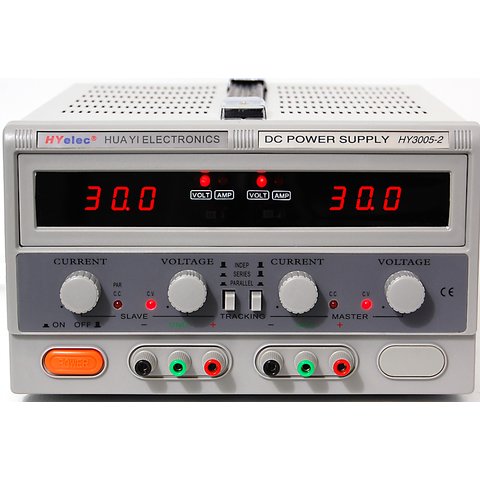 11.2 kg
220 V
Warranty: 6 month (s)
Dual LED displays, 2 independent channels 0-30V, load current 0-5A.
Two-channel power supply unit HY3005-2 developed to provide continuous current voltage of devices and schemes.
Features
Two independent channels with the voltage from 0 to 30 V and load current from 0 to 5 A each one are used. If necessary, channels are connected one after another or parallel to double output voltage or current correspondingly.
Current value and voltage value adjustment is made by potentiometers separately for each one. Output current value and output voltage value in each channel are displayed on separate 3-digit LED panels. Accuracy of measurements constitutes no more than 1 % ± 2 units by voltage and 2% ± 2 units by current.
Output terminals, from which one can turn off the voltage and bonding point, are in the bottom of power supply faceplate HY3005-2. Each channel has its own terminal.
Power source HY3005-2 has an overload protection by current and by voltage on each channel. Corresponding overload indicator is lighting up when any protection is operating. Before device failure, the security system switches off channel's secondary voltage, where protection functioned, for device breakdown prevention.
Power supply is made by the AC network 220 V. Power supply HY3005-2 switching on/off is made with the big key switch with safe position fixation.
Technical specifications
Output voltage, V
0 - 30 V
Output current, A`
0-10
Ripple level
By current, mA
≤ 3
By voltage, mV
≤ 0,5
Load effect, %
By current, mA
≤ 0.2 ± 5 mA
By voltage, mV
≤ 0.01 ± 5 mV
Supply voltage effect, %
By current, mA
≤ 0.2 ± 1 mA
By voltage, mV
≤ 0.01 ± 1 mV
Output current value and output current voltage indication
Two 3-digit LED matrices
Dimensions
365 × 265 × 164 mm
Power supply
~ 220V ± 10 %
| | |
| --- | --- |
| Type | |
| Number of channels | |
| Max. Voltage | |
| Max. Current | |
| Indicator type | |
Compare
No items in compare list