Fiber Optic Fusion Splicer SUMITOMO Z2C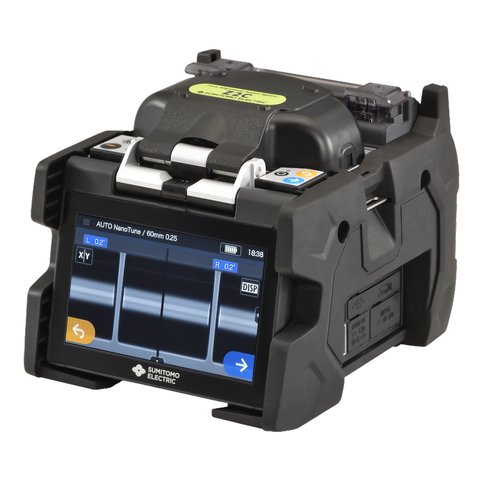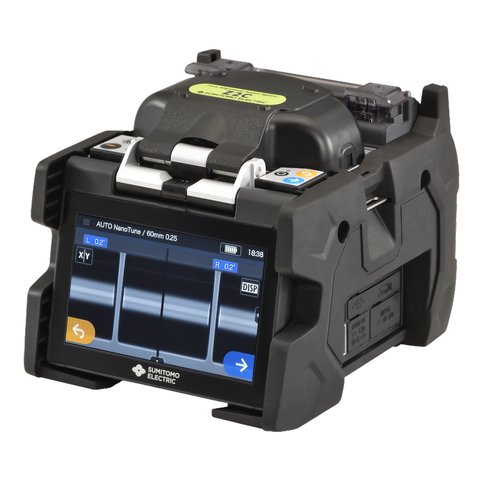 12 kg
Availability in stock:
HK
Warranty: 12 month (s)
Fast and capable fusion splicer. Automatically identifies and splices all types of fiber (SMF, MMF, DSF, NZDSF, BIF). Splicing time: 6 s, heating time: 15 s.
Note! This item is shipped within 7 working days.
SUMITOMO Z2C is a fast, capable and practical automatic adaptive core fusion splicer. It automatically identifies and splices all fiber types (SMF, MMF, DSF, NZDSF, BIF). Splicing time: 6 seconds, heating time: 15 seconds.
SUMITOMO Z2C is equipped with a high-capacity battery, and is also dust-resistant, water-resistant and shock-proof (drop from 76 cm on 5 faces, excluding top face).
Features
Splicing cycle time: 6 sec.
Heating cycle time: 15 sec.
Automatic fiber identification (SMF, MMF, DSF, NZDSF, BIF, other).
Long-life battery for 300 splice&heat cycles.
Automatic arc calibration.
Dust-resistant, water-resistant and shock-proof.
Compact & lightweight (only 1.7 kg).
Touch-screen operation.
Upgrades software via web.
Remote interactive maintenance via web.
Equipped with onboard user training video.
Technical Specifications
Optical Fiber Requirements
Material

silica glass
Fiber Count / Profile Types
Single / SMF (G.652), MMF (G.651), DSF (G.653), NZDSF (G.655), BIF (G.657)
Fiber Diameter
Cladding diameter: 80 µm ~ 150 µm, Coating diameter: 100 µm ~ 1,000 µm
Cleave Length
5~16 mm with coating clamp
Standard Performance
Splice Loss (typical)
SMF: 0.02 dB, MMF: 0.01 dB, DSF: 0.04 dB, NZDSF: 0.04 dB
Return Loss (typical)
≤60 dB
Splicing cycle time (typical)
6 sec (SM G652 Quick Mode), 8 sec (Auto Mode)
Heating cycle time (typical)
15 sec (FPS-61-2.6 sleeve, S60mm 0.25)
Splice & Heat cycles per battery full charge
approx. 300 cycles
Fiber view & magnification
two CMOS cameras observation, 350X (zoom: 700X) for X or Y single axis view, max. 250X for both X & Y dual axis view
Proof Test
1.96 - 2.09N
Applicable Protection Sleeve
60 mm, 40 mm and Sumitomo Nano sleeves
Programs
Splicing programs
max. 300 (40 are pre-optimized, 260 editable by user)
Heating programs
max. 100 (23 are pre-optimized, 77 editable by user)
Functions
Splice image capture / Splice data storage
 200 images / 10 000 splice data (internal memory only)
50 200 / 20 000 (with 16 GB SD card)
Universal clamps for 250µm, 900µm tight & loose buffer fiber
Provided
Reversible coating clamps
Provided
Onboard user training video
Provided
Automatic fiber identification
Provided (SMF / MMF / other)
Automatic arc calibration
Automatically compensates for environmental condition changes
Display of remaining Splice & Heat cycles
Provided (Battery mode)
Terminals
DC output
DC12 V (for JR-6)
USB port
USB 2.0 (mini-B type)
Storage media
SD / SDHC memory card MAX 32 GB
Power Supply
AC input
100 ~ 240 V, 50 / 60 Hz (ADC-16)
DC input
10 ~15 V
Battery Pack
Li-ion 10.8 V, 6,400 mAh (BU-16)
Mechanical Parameters
Monitor

5.0" touch screen color LCD
Dimensions

128(W) x 154(D) x 130(H) mm (without anti-shock rubber)
Weight

1.7 kg (without battery), 2.0 kg (with battery BU-16)
Electrode life
6 000 arc discharges
Environment
Operating conditions
Altitude 0~6,000 m, Temperature -10~+50°C, Humidity 0~95% (non-condensing), Wind velocity up to 15 m/s
Storage conditions
Temperature -40~+80°C, Humidity 0~95% (non-condensing), Battery -20~+30°C (long term)
Dust resistance
Equivalent to IP5x (Operates normally after 8 hours in a dust chamber (containing dust of particle size 25 µm or below)
Water resistance
Equivalent to IPx2 (Operates normally after being exposed to water dripping at 3mm/min. for at least 2.5 min on each of 4 surfaces tilted at 15°)
Shock resistance
Drop from 76cm on 5 faces (excluding top face)
Data Sheet

Download SUMITOMO Z2C data sheet.
Package Contents
Fiber Optic Fusion Splicer SUMITOMO Z2C — 1 pc.
AC Adapter ADC-16 — 1 pc.
Power Cord PC-AC — 1 pc.
Cooling Tray — 1 pc.
Battery Pack BU-16 — 1 pc.
Spare Electrodes ER-10 — 1 pair.
Quick Reference Guide — 1 pc.
Carrying Case with Workable CC-82 — 1 pc.
Hand Strap — 1 pc.
USB cable — 1 pc.