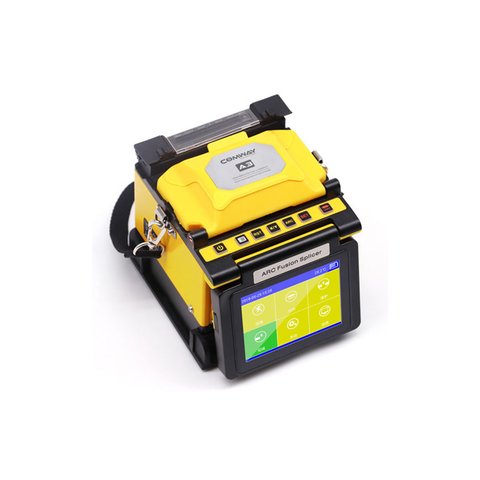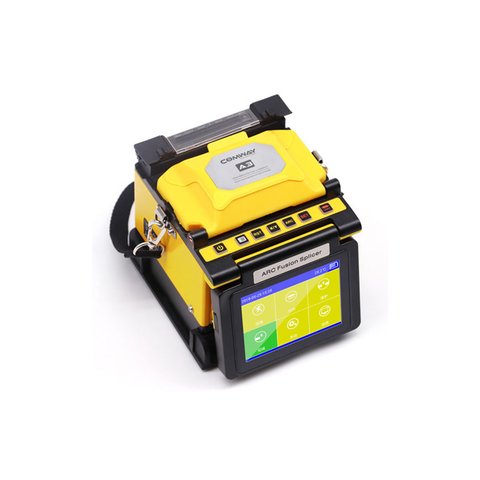 11 kg
Warranty: 12 month (s)
Compact and powerful fusion splicer for SM, MM, DS, NZ/NZDS, BI optical fibers. Fiber endface melter. Splice time: 6 s, heating time: 15 s.
Comway A3 is a fusion splicer and a fiber endface melter, all in one. This is a compact and powerful tool for for SM, MM, DS, NZ/NZDS, BI optical fibers. It has cladding alignment with fixed V-grooves, and also includes the high-performance heater and ceramic fiber presser.
Features
2 in 1: a fusion splicer and a fiber endface melter.
Smart ARC control technology provides stable work under any conditions.
Fast and power saving high-performance heater.
The high-quality screen ensures clear viewing of results even under bright sunlight.
Ultra-narrow ceramic V-Groove. Suitable for all kinds of applications.
Stable and durable ceramic fiber presser.
Removable large capacity battery. Fully charged performs over 240 times splicing and heating.
Technical Specifications
Fiber Alignment
High Presicion PAS Alignment
Fiber Type
SM (ITU-T G.652)
MM (ITU-T G.651)
DS (ITU-T G.653)
NZ/NZDS (ITU-T G.655)
BI (ITU-T G.657)
Splice Mode
Single Fiber
Fiber Diameter
Cladding Diameter: 80-150 μm
Coating: 100-1000 μm
Cleave Length
Cladding Diameter 250 μm: 8~16 mm
Cladding Diameter over 250 μm: 16 mm
Splicing Programs
Max. 100
Splicing Time
6 s (SM Fast); 15 s (SM G652)
Heating Programs
Max. 30
Heating Time
Adjustable, 15 s typical
Splice Protector
10~60 mm
Splice Image Capture
Max. 300
Splice Data Storage
Max. 20,000
Splice Loss
SM: 0.02 dB; MM: 0.01 dB; DS: 0.04 dB; NZ/NZDS: 0.04 dB; BI: 0.02 dB
Return Loss
≥60 dB
Loss Estimation
Provided
Operation Condition
Temperature: -20~+50 °C
Humidity: 0-95%
Altitude: 0-5000 m
Wind Velocity up to 15 m/s
Storage Condition
Humidity: 0-95%
Temperature: -40~+80 °C (Battery: -20~+40 °C)
Tension
1,96~2,25 N
Fiber View
Two 300x cameras observation, 4.1 inch high-light color screen
Fiber Magnification
300x for X or Y single axis view, 150x for both X&Y dual axis view
Port
High-speed USB
Electrode Life
5000 arc discharges
Power Supply
AC 100-240 V; 50/60 Hz
Battery
4000 mAh
Dimensions, mm
136 × 135 × 136
Weight, kg
1,5 (1,8 with battery)
Data Sheet

Download Data Sheet for Comway A3.
Package Contents
Fusion Splicer Comway A3 — 1 pc.
User Guide — 1 pc.
Stripper CFS-2 — 1 pc.
Drop Cable Stripper — 1 pc.
High-precision Cleaver — 1 pc.
Carrying Case — 1 pc.
High-capacity Battery BAT-05 — 1 pc.
AC adapter ADC-05 — 1 pc.
Extra Electrodes — 1 set
Cooling Tray — 1 pc.
AC Adapter Cable ACC-01 — 1 pc.
Hand Strap — 1 pc.
Alcohol Bottle — 1 pc.