Fusion Splicer ORIENTEK T40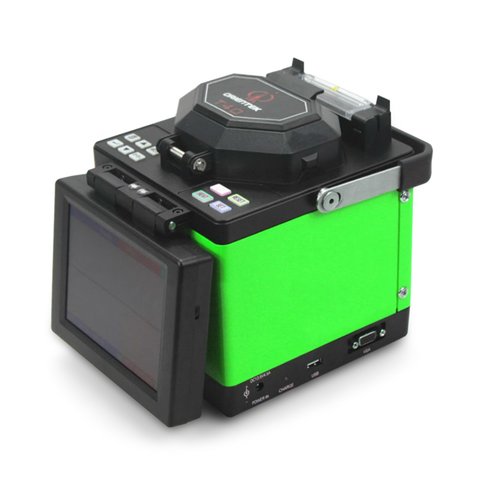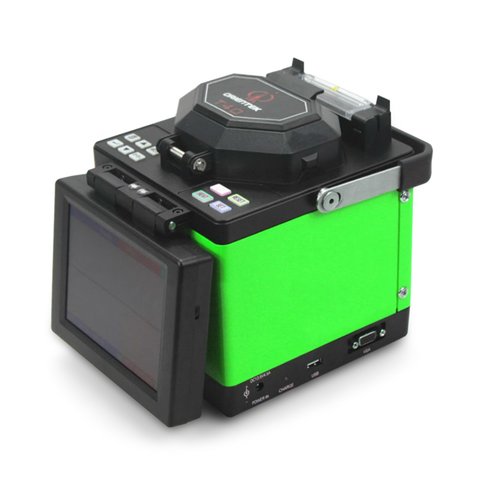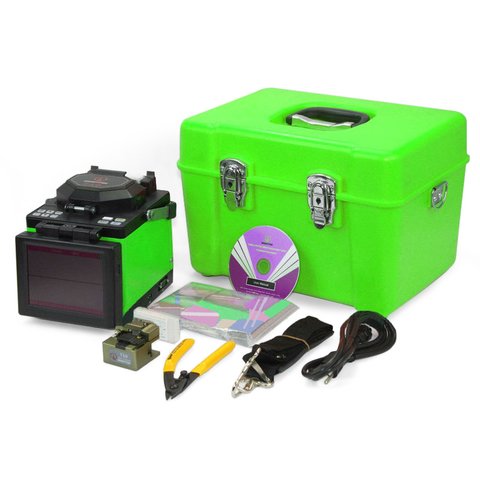 13 kg
110, 220 V
Warranty: 12 month (s)
Core-to-core alignment fusion splicer for SM, MM, DS, NZDS optical fibers. Splice time: 8 sec., heating time: 25 sec. Splicing kit includes: Fusion Splicer, Fiber Cleaver, Stripper and more in a carrying case with a shoulder strap.
OrienTek T40 is a core-to-core alignment digital fusion splicer with 8 seconds splicing time, 25 seconds tube heating time designed for splicing SM, MM, NZDS, EDF optical fibers.
The OrienTek T40 kit includes all the necessary accessories: Fusion Splicer, Fiber Cleaver, Stripper and many more in a carrying case with a shoulder strap.
Features
The advanced core to core fiber profile alignment system.
Simultaneous displaying of X/Y axes.
Magnification up to 304 times.
8 sec. splicing time.
25 sec. tube heating time.
High-resolution true color 5.7-inch LCD display.
Real time calibrating system.
Four display modes, fiber core visible.
Storing 6000 groups of splicing results.
USB interface for software updates and transferring results to external devices.
Built-in high capacity battery: supports 220 splicing and heating cycles (corresponds to one day of operation).
Long electrode lifetime: up to 4000 cycles.
Three splicing modes: auto, semi-auto, manual.
Closes splicing shield automatically.
Closes heater lid automatically.
Interfaces: USB, VGA.
One year warranty.
Technical Specifications
Applicable Fibers
SM, MM, NZDS, EDF
Average Splice Loss
0.02 dB (SM), 0.01 dB (MM), 0.04 dB (NZDS), 0.04 dB (EDF)
Return Loss
≥ 60 dB
Tension Test
2.0 N (200 gf) Standard
Splicing Programs
50 groups
Protection Sleeve Length
20 mm, 40 mm, 60 mm
Battery
160 splice & heat cycles
Electrodes Lifetime
4000 times
Language
English, Japanese, Chinese, German, Spanish, Russian, Korean
Environmental Conditions
Operation Temperature
-10 ~ +50℃
Relative Humidity
0 ~ 95%
Altitude
0 ~ 5000 m
Power Supply
AC
100 ~ 240 V, 50/60 Hz
DC
13.5 V, 4.5 A
Battery
11.1 V Li-ion
Mechanical
Dimensions (w × d × h)
160 × 150 × 140 mm
Weight
2.3 kg (no battery)
Package Contents
OrienTek T40 Fusion Splicer — 1 pc.
OrienTek T30 High Precision Fiber Cleaver — 1 pc.
Three-hole Fiber Stripper — 1 pc.
Kimwipes Lint-Wipers (280 wipers/box) — 1 pc.
Fusion Splice Protection Sleeves — 500 pcs.
Internal Battery — 1 pc.
Charger — 1 pc.
AC Adaptor — 1 pc.
Spare Electrodes — 1 pair
Cooling Tray — 1 pc.
Alcohol Bottle — 1 pc.
Blower Brush — 1 pc.
User Guide — 1 pc.
Instruction CD — 1 pc.
USB Flash Disk — 1 pc.
Carrying Case with a Shoulder Strap — 1 pc.