Handheld Digital Oscilloscope Hantek DSO1102B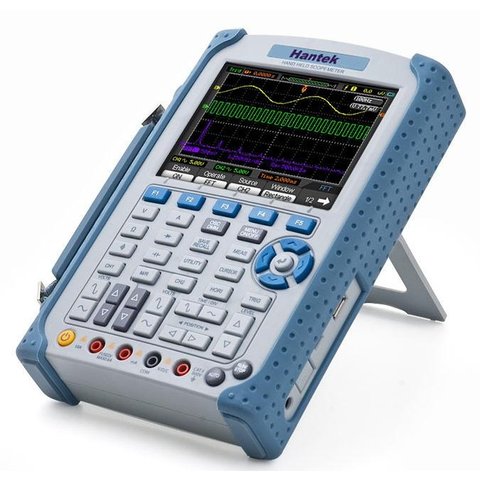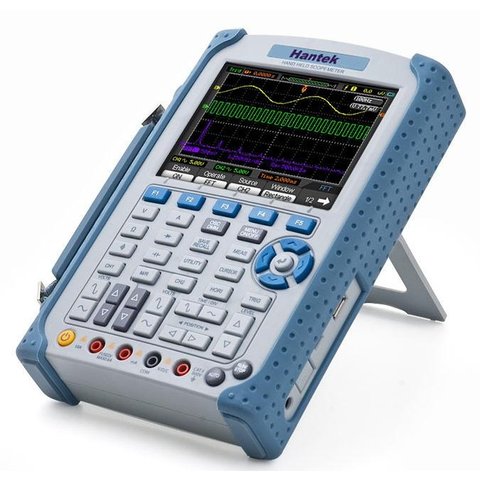 2.5 kg
110, 220 V
Warranty: 12 month (s)
Handheld dual-channel digital oscilloscope with integrated multimeter functions, 100 MHz bandwidth, 1 GSa/s real-time sample rate, 1M memory depth.
Hantek DSO1102B is a dual-channel handheld digital oscilloscope with a 100 MHz bandwidth and 1 GSa/s real-time sample rate. The oscilloscope is characterized by an integrated multimeter function. Multimeter mode allows user to measure AC/DC current and voltage, resistance, capacitance, continuity and test diodes.
Hantek DSO1102B Handheld Digital Oscilloscope offers exceptional waveform viewing and measurements in a compact, lightweight package. This digital oscilloscope is ideal for production test, field service, research, design, education and training involving applications of analog circuit tests and troubleshooting.
Features
Bandwidth – 100 MHz.
Real-time sample rate – 1 GSa/s.
Memory depth – 1M points.
High refresh rate – 2500 frames.
Up to 1000 waveforms recording.
23 automatic measurements.
Functions of high precision digital multimeter (6000 counts).

AC/DC voltage
AC/DC current
Resistance
Capacitance
Continuity
Diode test

Math: Add, Subtract, Multiply, Divide, FFT.
X-Y mode.
Pass/Fail function.
Labview\VB\VC second design instance.
Large 5.6" TFT color LCD display with backlight.
Integrated Li battery (up to 6 hours).
Easy-to-use pop-up menu.
Built-in multi-language help system.
USB Host/Device 2.0 full-speed interface with removable disk support. RS-232/LAN optional. Easy to control with PC or at long-distance.
Software compatible with: Windows 2000, XP, Vista, Windows 7.
User Manual
Download Hantek DSO1102B Handheld Digital Oscilloscope User Manual.
Technical Specifications
Channels
2
Bandwidth
100 MHz
Real-time Sample Rate
1 GSa/s
Equivalent Sample Rate
25 GSa/S
Memory Depth
1 M (Single Channel), 512 K (Dual Channel)
Time Base Range
4 ns/div to 40 s/div (in a  2, 4, 8 sequence)
Time Base Precision
±50 ppm
Input Impedance
Resistance 1 MΩ
Capacitance 20 pF
Input Coupling
AC, DC and GND
Vertical Resolution
8 bits
Rise Time
≤3.5 ns
Vertical Sensitivity
2 mV/div ~ 5 V/div
Trigger
Source
CH1, CH2
Trigger Sensitivity
DC: 1 div from DC to 10 MHz; 1.5 div from 10 MHz to Full
AC: attenuates signals below 10 Hz
HF Reject: attenuates signals above 80 kHz
LF Reject: attenuates signals below 150 kHz
Measurements
Automatic Measurements
Frequency, Period, Mean, Peak-to-peak, Cycle RMS, Minimum, Maximum, Rise Time, Fall Time, Positive Width, Negative Width
Cursor Measurements
Manual, Track, Auto
Multimeter Mode
Maximum Resolution
6,000 Counts
Testing Modes
voltage, current, resistance, capacitance, diode test, continuity test
Maximum Input Voltage
AC: 600 V, DC: 800 V
Maximum Input Current
AC: 10 A, DC: 10 A
Input Impedance
10 MΩ
General information
Display Type
5.6 Inch TFT LCD with LED Backlight
Display Resolution
640 × 480
Interface
USB 2.0 Full Speed,

LAN (Optional)

Power Source
AC 100 V ~ 240 V, 50 Hz ~ 60 Hz; DC Input: 12-17 V, 1500 mA, Battery Power (Li-ion Battery, up to 6 h)
Dimensions
245 × 163 × 52 mm
Weight
1.3 kg
Package Contents
Hantek DSO1102B Digital Oscilloscope (1 pc.)
Multimeter test leads (2 pcs.)
Oscilloscope probes (2 pcs.)
USB cable (1 pc.)
Carrying bag (1 pc.)
Power adapter (1 pc.)
User manual (1 pc.)
| | |
| --- | --- |
| Screen Size | |
| Number of channels | |
| Storage Capacity | |
| Bandwidth | |
| Type | |
| Sample Rate | |

Handheld Digital Oscilloscope SIGLENT SHS810
USD 573.00
USD 515.00
You save USD 58.00

Handheld Digital Oscilloscope UNI-T UTD1102C