Handheld Digital Oscilloscope OWON HDS1021M-N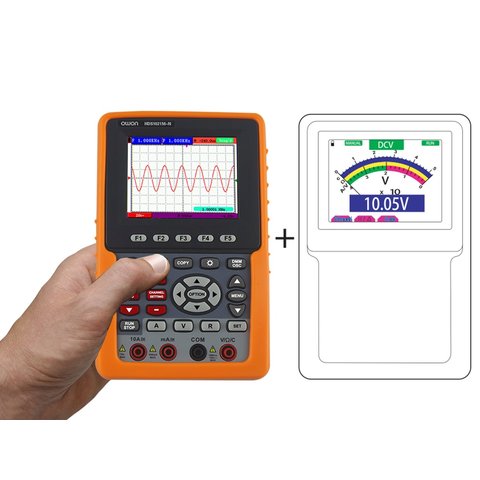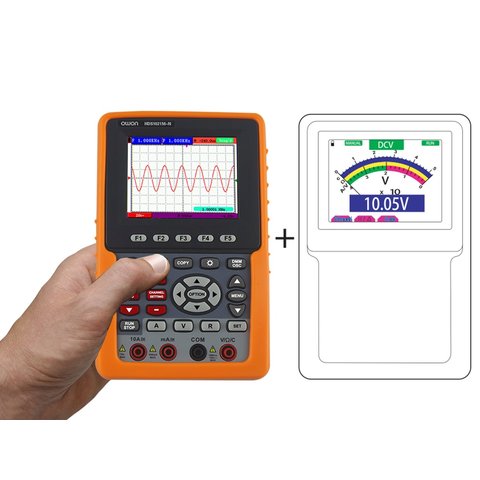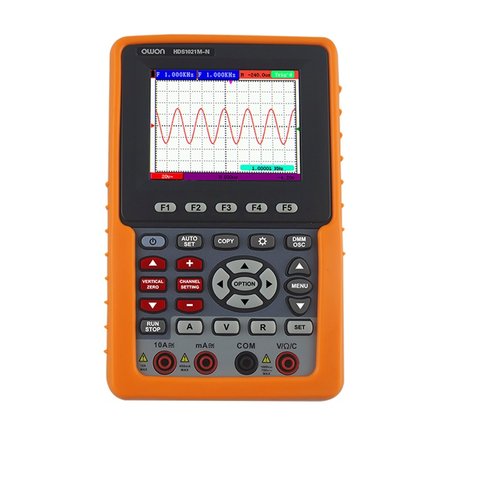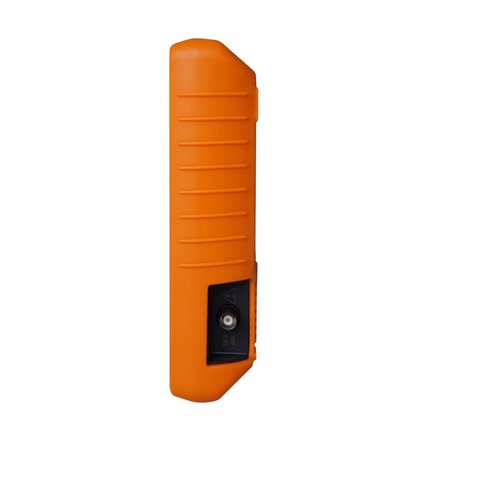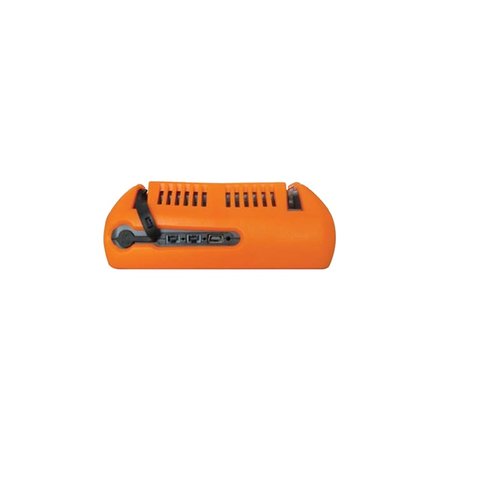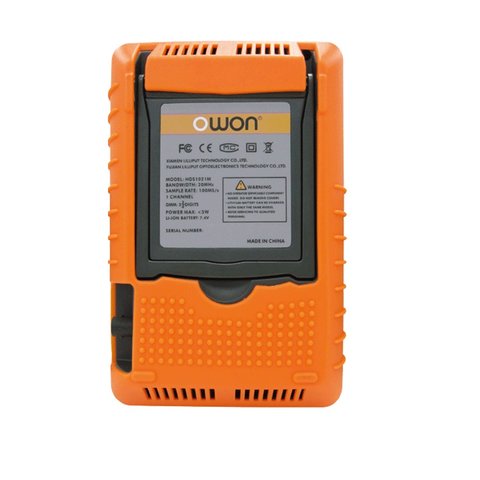 0.65 kg
Warranty: 12 month (s)
Single channel portable digital oscilloscope with 20 MHz bandwidth, 500 MSa/s sample rate, and a set of multimeter measurement functions.
OWON HDS1021M-N is a single channel portable oscilloscope with 20 MHz bandwidth, 500 MS/s real-time sample rate, and 6K pts wavelength. In addition to the basic oscilloscope functions, the device performs the multimeter functions measuring AC/DC voltage and current, resistance, capacity and performing diode and continuity check. There is USB host for external device connection.
Features
20 MHz bandwidth.
Channel: 2 in 1 (DSO + Multimeter).
Sample rate: 500 MS/s (Real time).
6K pts wavelength.
3.7" color TFT display (640 × 480 pixels).
SCPI supported.
Interface: USB.
Built-in multimeter.
Technical Specifications
Bandwidth
20 MHz
Rise Time
≤ 11 ns
Channel
2 in 1 (DSO + Multimeter)
Vertical Sensitivity
5 mV/div - 5 V/div
DC Gain Accuracy
3%
Vertical Resolution (A/D)
8 bits
Horizontal Scale (s/div)
5 ns/div - 100 s/div
Input
Input Impedance
1 MΩ, 10 pF
Input Coupling
AC, DC, GND
Max Input Voltage
± 400 V, CATI, CATII
Passive Probes
х1; х10
Probe Attenuation Factor
х1; х10; х100; х1000
Trigger System
Trigger Mode
Auto, Normal, Single
Trigger Type
Edge, Video, Alternate
Video Trigger
Sampling Type
real-time
Sample Rate
500 MSa/s
Wavelength
6K pts
Sampling Mode
Direct Sampling, Peak Recording, Averaging
Interpolation
sin(x)/x
Measurement and Mathematical Treatment System
Automatic Measurement
Vpp, Vavg, Vrms, Freq, Period, Vmax, Vmin, Vtop, Vbase, Overshoot, Preshoot, Rise Time, Fall Time, Delay A→B↑, Delay A→B↓, +Width, -Width, +Duty, -Duty
Math Functions
Addition, Subtraction, Multiplication, Division, FFT
General Characteristics
Display type
3,5" color LCD
Display resolution
320 × 240
Power
100-240 V / Li-ion 7.4 V (6 hours' operation)
Dimensions
115 × 40 × 180 mm
Weight
0,65 kg
User Manual

Download OWON HDS1021M-N user manual.
Software
Download OWON HDS1021M-N Software.
Package Contents
Digital Oscilloscope OWON HDS1021M-N — 1 pc.
Probe — 1 pc.
Power Cord — 1 pc.
USB Cable — 1 pc.
Multimeter Probes — 2 pcs.
USB Testing Adapter — 1 pc.
Capacity Measurement Module — 1 pc.
User Manual — 1 pc.
Guarantee Card — 1 pc.
| | |
| --- | --- |
| Number of channels | |
| Type | |
| Sample Rate | |
| Bandwidth | |
| Screen Size | |
| Storage Capacity | |