Hot Air Repairing System AOYUE 738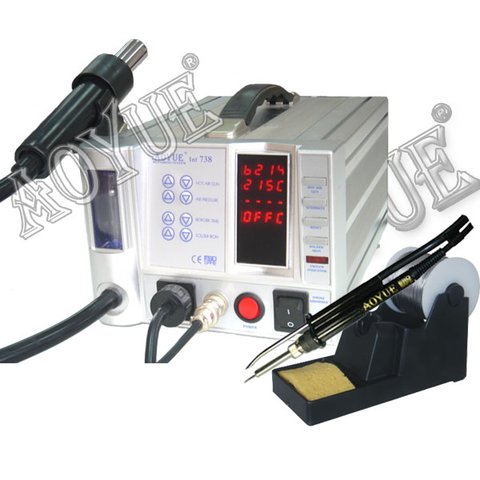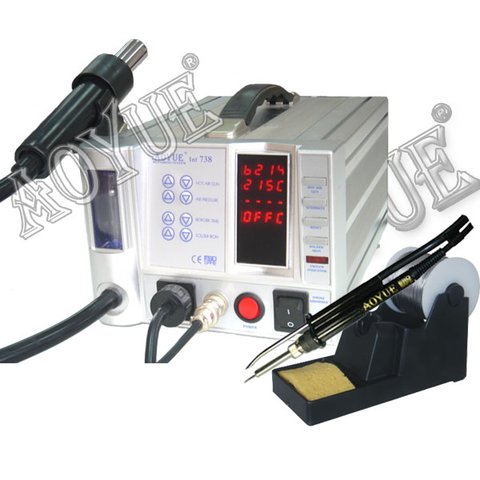 5.9 kg
220 V
Warranty: 12 month (s)
Repairing System AOYUE 738 - three in one environment friendly repairing system that combines the functions of a Hot Air Gun, a Soldering Iron and a Smoke Absorber
Features
Microprocessor-controlled ESD safe unit.
All digital display of hot air temperature, soldering iron temperature and air pressure with touch type panel controls.
Three in one environment friendly repairing system that combines the functions of a Hot Air Gun, a Soldering Iron and a Smoke Absorber.
Unique 15-minute stand-by auto sleep mode. Returns to previous setting when the handle is held up again.
Designed with an auto-cool off process. Upon turning the unit off, it starts to blow cold air until it reaches a safe temperature of 85 degrees, this is to ensure safety and to prolong usage life of the heating element.
Creative built-in smoke extractor that absorbs the fumes created at the source. Eliminates the space hindering smoke absorbing units yet allowing a healthy environment.
Compatible with various type of air nozzles.
Compatible with different kind of tips.
Technical specifications
Main Unit
Voltage
220 V
Power consumption
600 W (max.)
Dimensions
188 × 126 × 250 mm
Soldering Iron
Heating element voltage
24 V AC
Heating element power
45 W
Heating element
ceramic
Temperature range
250...480 °C
Hot Air Gun
Heating element power
500 W
Heating element
ceramic + thermocouple
Temperature range
100...480 °C
Timer
20...9999 sec.
Pump type
diaphragm
Air capacity
23 l/min.
Smoke Absorber
Vacuum pressure
600 mm Hg
Compatible Soldering Tips
| | |
| --- | --- |
| Pump type | |
| Design type | |
| Vacuum pick-up tool | |
| Desoldering Pump | |
| Power Supply | |
| Soldering Iron Power | |
| Hot Air Gun Power | |
| Desoldering Gun | |