Hot Air Soldering Station AOYUE 899A+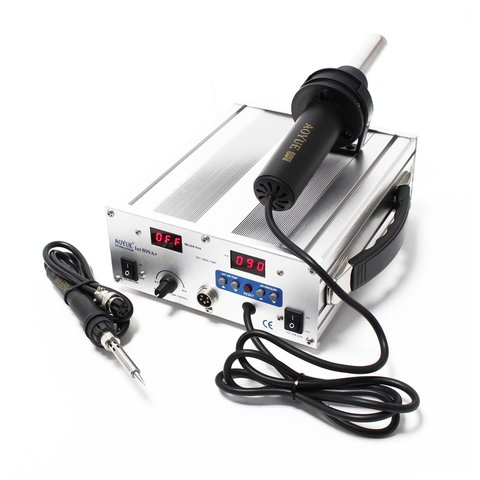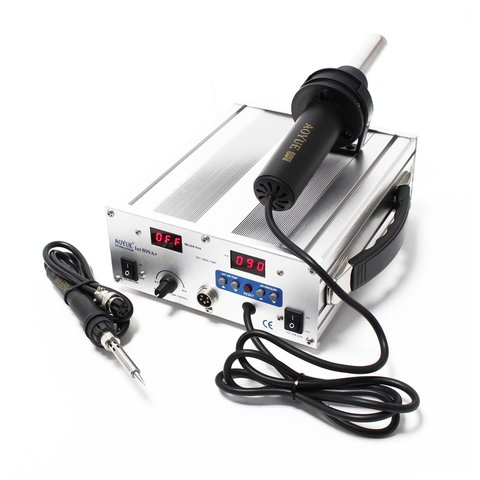 5.2 kg
220 V
Warranty: 12 month (s)
Soldering iron and hot air gun with three nozzles included. 220 V power input. Suitable for the whole range of electronic components.
AOYUE 899A+ repairing system includes slodering iron and a hot air gun. AOYUE 899A+ has quick and easy settings and can be used for the whole range of electronic components (DIP, SOIC, CHIP, QFP, BLCC, BGA etc).
Features
Antistatic performance to avoid electronic components damages in the result of static discharging
Compact size
Microprocessor-controlled
Turbine generator of hot air gun ensures steady air flow
Long-life Japanese heaters quickly reaching necessary temperature settings
Technical Specifications
Power input
220 V

Power consumption

550 W
Soldering iron
Output voltage
24 V AC

Power consumption

35 W

Heating element with tip

ceramic
Temperature range
200–480 °C
Hot air gun

Air capacity

23 l/min

Pump/motor type

turbine

Power consumption

500 W
Temperature range
100–500 °C
Package
Soldering station with hot air gun AOYUE 899A+ — 1 pc.
Soldering iron AOYUE B003 — 1 pc.
Soldering iron holder AOYUE 2630 — 1 pc.
Air nozzles — 3 pcs.)

AOYUE 1196
AOYUE 1197
AOYUE 1313

Hot air gun holder AOYUE 306853 — 1 pc.
IC popper AOYUE G001 — 1 pc.
Power cord — 1 pc.
Compatible Soldering Tips
| | |
| --- | --- |
| Pump type | |
| Design type | |
| Vacuum pick-up tool | |
| Desoldering Pump | |
| Power Supply | |
| Soldering Iron Power | |
| Hot Air Gun Power | |
| Desoldering Gun | |