Hot Air Soldering Station AOYUE 908+ (Soldering Iron, Hot Air Gun Holder)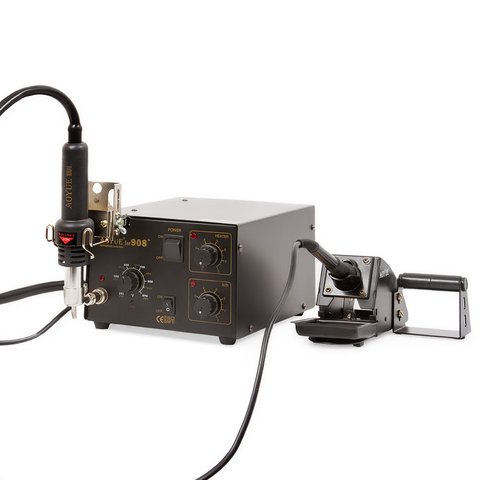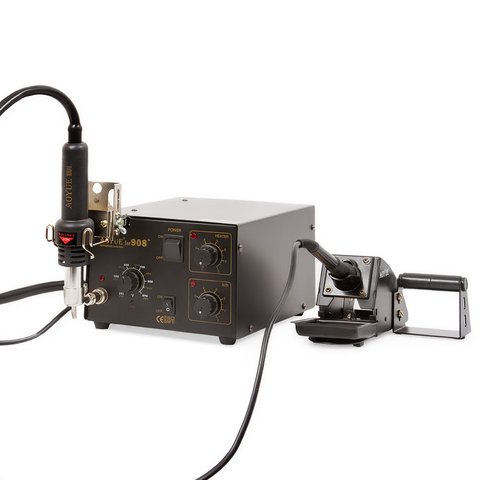 7 kg
220 V
Warranty: 12 month (s)
Expansible hot air gun holder with adjustable slope angle. Diaphragm pump. Automatic cooling. PTC heating element
Hot air soldering station AOYUE-908+
enables efficiently support of the distance between the plate and the hot air gun nozzle, thanks to that ensures stable mode and repetition of soldering and desoldering. Analog control of hot air gun temperature/airflow and soldering iron temperature. Soldering iron with "antistatic" function, high-speed heating. Meant for mobile phones repairing, PCB, plastic plugs, metallic coverings, BGA, IC etc.    
Features
Soldering iron and hot air gun can be adjusted unrelated with one another.
Hot air gun holder is expansible with adjustable hot air gun slope angle. Fixed on the stand and placed inside the station.   
Station is equipped with reliable diaphragm pump.
Automatic cooling is provided for hot air gun heating element protection after station shutdown.
Base package includes 4 replaceable hot air gun nozzles (1124, 1130, 1196, and 1197) and mechanical vacuum pickup.
Antistatic station performance enables to work with static-sensitive components. 
5 A fuse is on back panel of the station. 
Technical Specifications
Station AOYUE-908+
Temperature range, °C
100 to 500
Soldering iron temperature adjustment
Analog, smooth
Hot air gun temperature adjustment
Analog, smooth
Airflow adjustment
Analog, smooth
Power consumption
250 W (max.)
Operating voltage  
220 V
Airflow
24 l/min (max.)
Pump
803 (diaphragm)
Dimensions (L × W × H), mm
187 × 128 × 246
Soldering iron plug
5-pins
Nozzles
1124, 1130, 1196, 1197
Hot Air Gun AOYUE-908+
Heating element
10093, (2-digits, with concertina wire)
Nozzle diameter
21,5 mm
Airflow
Linear
Soldering Iron AOYUE-908+
Model
10087
Temperature range,°C
200 to 480
Resistance between grounding and nozzle
2 Ω
Potential between grounding and nozzle
2 mV
Operating voltage
24 V
Power
60 W
Heating element
Hakko 003 (4-pins, semi-conducting ceramics)
Packed with standard bit
Aoyue-I
Total length (without cable)
190 mm
Package Contents
Soldering station Aoyue -908+ – 1 pc.
Hot air gun  – 1 pc.
Z003 Adjustable hot air gun holder - 1 pc.
B002 Soldering iron  – 1 pc.
2630 Soldering iron stand – 1 pc.
Nozzles – 4 pcs.
939 Mechanical vacuum pickup – 1 pc.
Power cable, 1 m – 1 pc.
Manual – 1 pc.
Packing box with foam protective frame – 1 pc.
Compatible Soldering Tips
| | |
| --- | --- |
| Pump type | |
| Design type | |
| Vacuum pick-up tool | |
| Desoldering Pump | |
| Power Supply | |
| Hot Air Gun Power | |
| Desoldering Gun | |
| Soldering Iron Power | |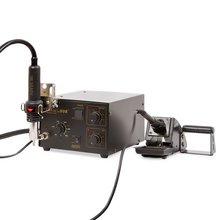 Hot Air Soldering Station AOYUE 908+ (Soldering Iron, Hot Air Gun Holder)