Hot Air Soldering Station AOYUE i803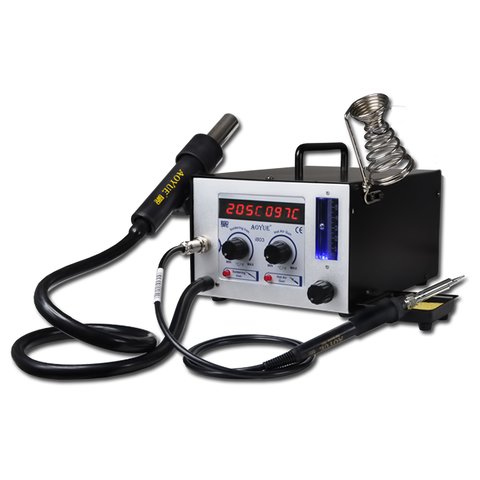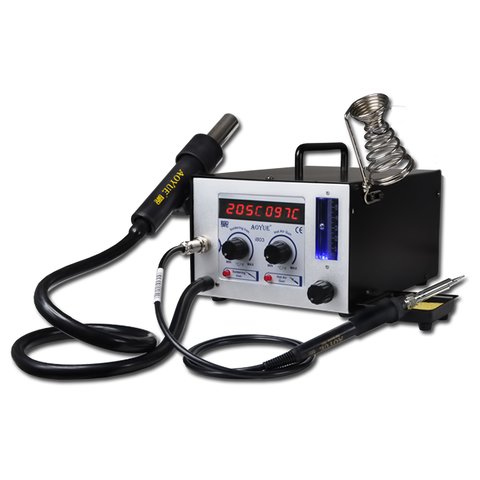 4.5 kg
220 V
Warranty: 12 month (s)
Compact soldering station with adjustable thermostat, digital indication of temperature, and ceramic heater. Temperature range 100 - 480°C.
AOYUE i803 compact hot air soldering station with ceramic heater.
Features
2-in-1 repairing system combining hot air gun and soldering iron.
100% ESD safe.
Portable control unit with carrying handle.
Digital control and display of hot air temperature, soldering iron temperature, air pressure with knob type controls for easy use.
Built-in auto-cooling process that protects the system from excessive heat.
User configurable sleep mode for additional device protection and power saving.
Technical Specifications
Hot Air Gun
Power Consumption
500 W
Temperature Range
100 - 480°C
Heating Element
Metal spiral
Pump Type
Diaphragm pump
Air Capacity
23 L/min (max)
Soldering Iron
Power Consumption
30 W
Output Voltage
24 V
Temperature Range
200 - 480°C
Heating Element
Ceramic Heater
Tip to Ground Resistance
< 2 Ω
Tip to Ground Potential
< 2 mV
General Specifications
Power Input
220 V
Dimensions
188 × 250 ×126 mm
Weight
5.6 kg
Package Contents
Soldering station AOYUE i803 – 1 pc.
Hot air gun – 1 pc.
Soldering iron – 1 pc.
AOYUE 1124 Air nozzle – 1 pc.
AOYUE 1197 Air nozzle (ø9 mm) – 1 pc.
IC popper – 1 pc.
Sponge tray – 1 pc.
Power cord – 1 pc.
User manual – 1 pc.
Compatible Soldering Tips
| | |
| --- | --- |
| Pump type | |
| Design type | |
| Vacuum pick-up tool | |
| Desoldering Pump | |
| Power Supply | |
| Hot Air Gun Power | |
| Desoldering Gun | |
| Soldering Iron Power | |

Hot Air Rework Station Accta 401

Hot Air Rework Station Accta 301

Hot Air Rework Station Accta 501