Infrared Thermometer UNI-T UT302C+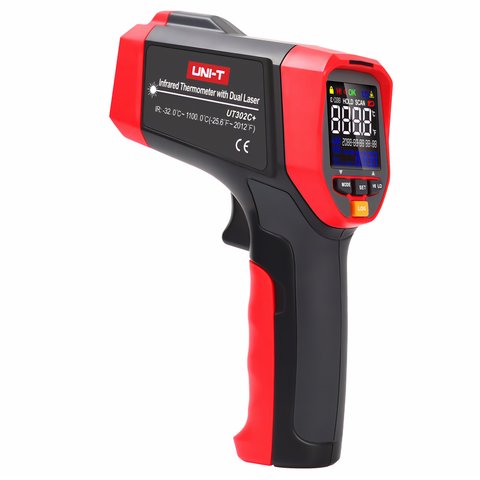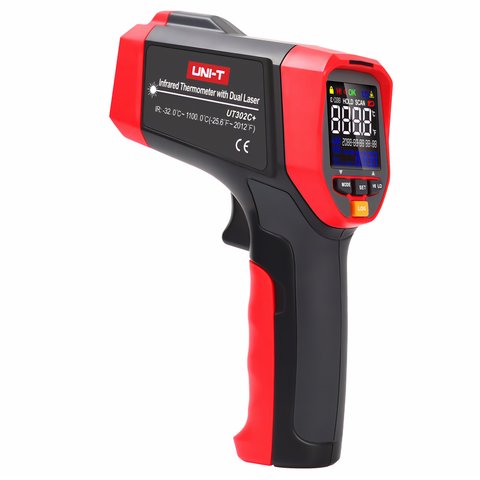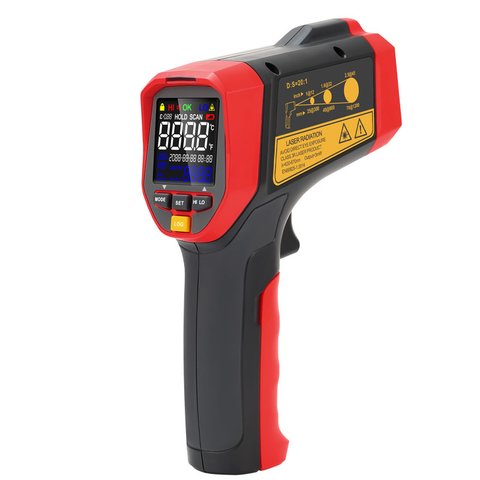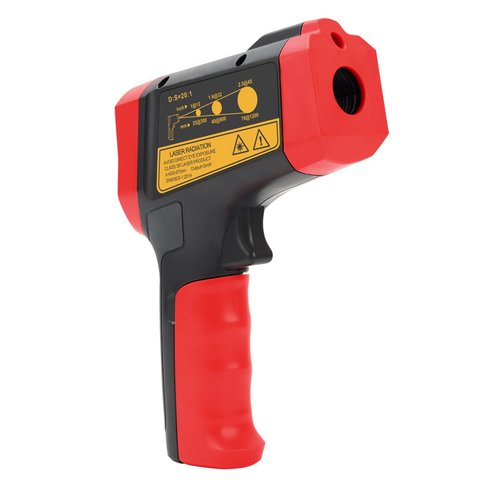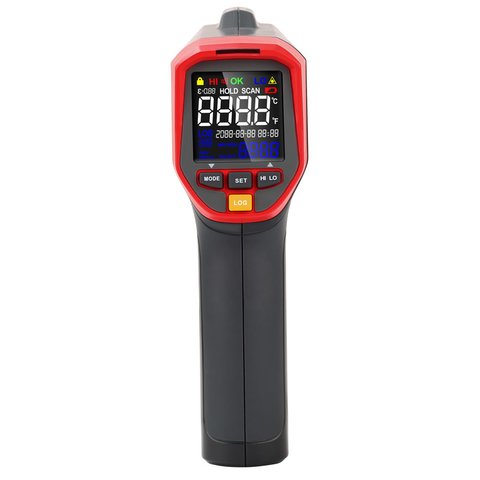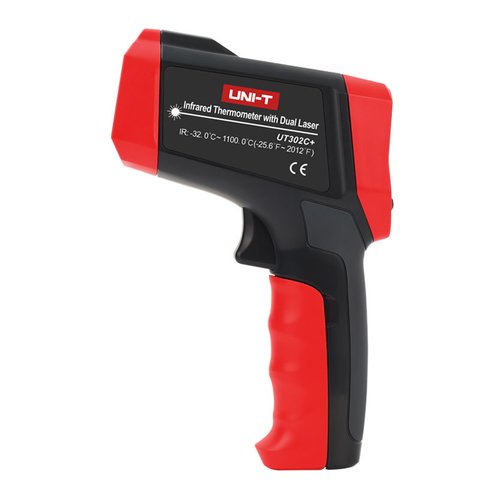 1 kg
Warranty: 24 month (s)
An easy-to-use infrared thermometer for surface temperature measurements within the range from -32 °C to 1100 °C. Response time: 250 ms. D:S ratio: 20:1.
UNI-T UT302C+ is a reliable and easy-to-use infrared thermometer for non-contact temperature measurement within the range from –32ºC to 1100ºC / -25.6℉ to 2012℉. It has an adjustable high and low temperature visual/audible alarm, responding faster than 250 ms, which can help you quickly detect anomalies. You can preset and save 5 sets of emissivity values, and quickly switch the emissivity according to different surfaces to get more accurate results.
UT302C+ can be applied to power distribution/transportation equipment inspection, HVAC/equipment maintenance, vehicle troubleshooting, and more fields.
This infrared ihermometer is NOT a medical device. However, you can use it to measure a person's body temperature. To do this, you need to select empirically and set the emission factor in the settings (it's in the range 0.6-0.9 for the human body).
You should always maintain safety and security while working:
make sure the laser beam don't get into your eyes;
don't let children play with the device;
don't use the device near surfaces that could reflect the laser beam into anyone's eyes.
Features
Temperature measurement range: –32ºC~1100ºC / -25.6℉~2012℉.
Ring laser indication.
5 sets of high/low temperature alarm preset values and 5 sets of emissivity preset values can be stored for users to set up quickly.
High contrast backlit color EBTN display.
With tricolor (red, green, and blue) LED and buzzer alarm functions.
MAX/MIN/AVG/DIFF/ modes.
Data hold.
Lock measurement, for processes that require temperature monitoring..
99 sets of data logging with date and time.
Low battery indication.
Auto power off
Tripod mount.
Technical Specifications
Measurement range
-32℃~1100℃
-25.6℉~2012℉
Accuracy
≥0℃: ±1.5℃ or ±1.5%; <0℃: ±(1.5℃+0.1℃/℃)
≥32℉: ±3.0℉ or ±1.5%; <32℉: ±(3.0℉+0.1℉/℉) 
Repeatability
0.7℃ or 0.7% (1.5℉ or 0.7%)
D:S ratio
20:1
Response time
250 ms
Emissivity
0.1~1.0 (adjustable, stores 5 sets of preset values)
Spectral response
8 μm ~ 14 μm
Laser power
< 1 mW
General Specifications
Display
color EBTN, 35 mm × 35 mm
Power
9V battery
Operating temperature
0℃~50℃ (32℉~122℉)
Storage temperature
 -20℃~60℃ (-4℉~140℉)
Operating humidity
<90% RH (non-condensing)
Drop test
1 m
Dimensions
179 mm × 126.5 mm × 53 mm
Weight
310 g
User Manual

Download UNI-T UT302C+ user manual.
Package Contents
Infrared Thermometer UNI-T UT302C+ — 1 pc.
Battery — 1 pc.
User Manual — 1 pc.
Carrying Bag — 1 pc.
| | |
| --- | --- |
| Min. temperature | |
| Optical resolution | |
| Regulated compensation factor | |
| Max. temperature | |