Infrared Thermometer UNI-T UT309E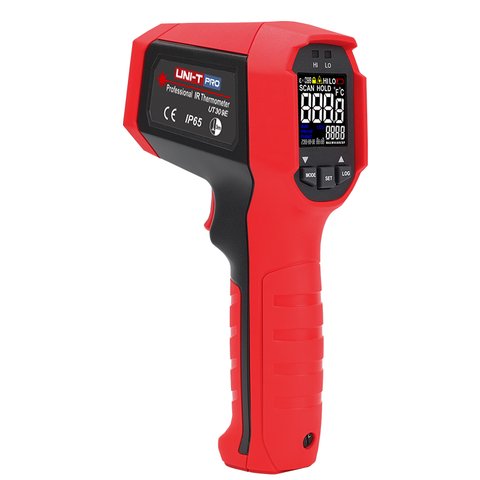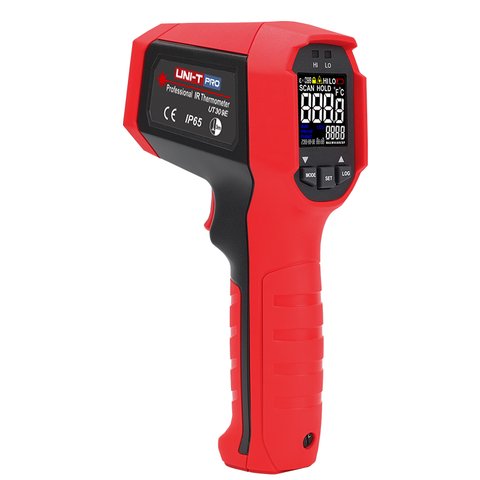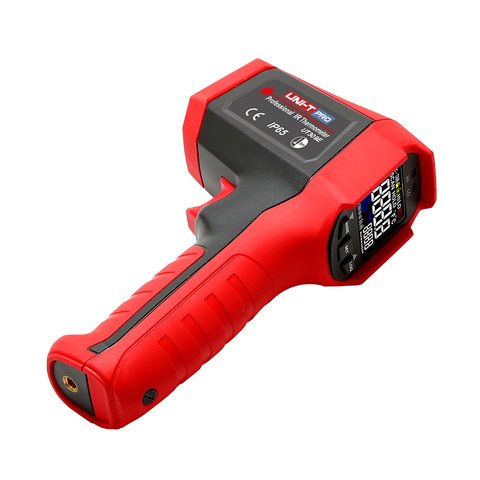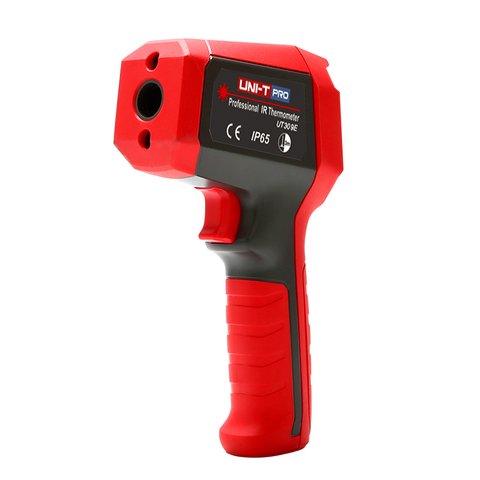 1.4 kg
Warranty: 24 month (s)
An infrared pyrometer for surface temperature measurements within the range from -35°C to 850°C. Response time: 250 ms. D:S ratio: 20:1.
UNI-T UT309E is an infrared thermometer for non-contact surfaces and objects temperature measuring within the range from -35ºC to 850ºC. It is designed to meet some of the highest protection ratings in UNI-T's product line, IP65. UNI-T UT309E is 3 m drop proof.
With a rapid response rate of 250 ms, high measurement accuracy, and multiple scanning modes, UNI-T UT309E proves to be a necessary tool for engineers and technicians working in a various fields.
Features
IP65 dust and water protection.
Strong and durable case: 3 m drop test.
High/low temperature alarm with LED indication.
Dual-wavelength rotatable laser indication.
Scheduled measurement (maximum interval is 96 hours).
Auto power off.
Low battery indication.
Data hold.
°C/°F selection.
Scanning modes: MAX / MIN / AVG / DIF.
Lock measurement.
Technical Specifications
Temperature range
-35°C~850°C
-31°F~ 1562°F
Accuracy
≥0°C: ±1.8°C or ±1.8%
<0°C: ±(1.8°C+0.1°C/°C)
≥32°F: ±3.6°F or ±1.8%
<32°F: ±(3.6°F+0.1°F/°F)
D:S ratio
20:01
Response time
<250 ms
Emissivity
0.95 (default); 0.1~1.0 (adjustable)
Spectral response
8 μm ~ 14 μm
Laser power
<1 mW
Display
LCD color EBTN, 32 mm × 32 mm
Operating temperature
0°C~50°C (32°F ~122°F)
Storage temperature
-20°C~60°C (-4°F~140°F)
Operating humidity
<90% RH (non-condensing)
Drop test
3 m
IP rating
IP65
Data storage with date and time
99
Power
9V battery
Dimensions
189 mm × 118 mm × 55 mm
Weight
292 g
User Manual

Download UNI-T UT309E user manual.
Package Contents
Infrared Thermometer UNI-T UT309E — 1 pc.
Carrying Bag — 1 pc.
Battery — 1 pc.
User Manual — 1 pc.
| | |
| --- | --- |
| Min. temperature | |
| Optical resolution | |
| Regulated compensation factor | |
| Max. temperature | |