LED Standalone Controller H803SA (8192 px)
No results found for your request.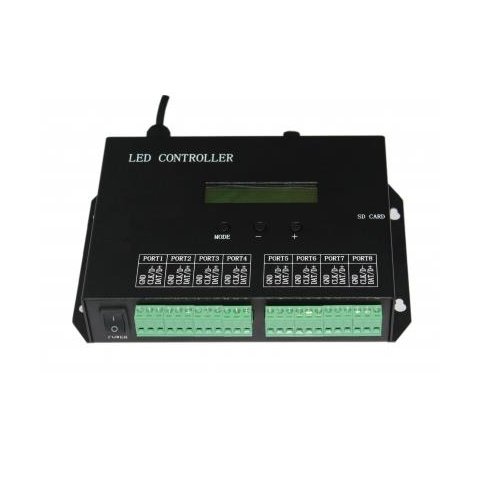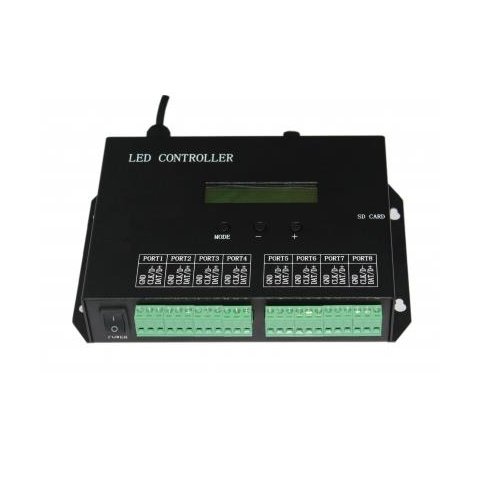 Availability in stock: CN
---
Note! This item is shipped within 7 working days.
---
Allows controlling and displaying text/images on LED RGB modules. Max. number of pixels:8192.
With the help of H803SA controller you will be able to control and display text/images on LED RGB modules. Programs are recorded on an SD card.
H803SA uses 8 output ports to drive up to 8192 pixels. Equipped with 3 control buttons and an LCD screen for convenient operation. Compatible with AC power supplies and can be connected to a DMX console.
Downloads
Download LedBuild software manual
Download H803SA user manual
Features
Max. number of pixels: 8192
SD card support (max. 64 GB)
DMX support
8 inputs (max. 1024 pixels per input)
Compatible ICs
LPD6803, LPD8806, LPD6812, LPD6813, LPD1882, LPD1889, LPD1883, LPD1886, APA102, APA104, P9813, P9823, LD1510, LD1512, LD1530, LD1532, UCS6909, UCS6912, UCS1903, UCS1909, UCS1912, WS2801, WS2803, WS2811, WS2813, DZ2809, SM16716, TLS3001, TLS3002, TM1812, TM1809, TM1804, TM1803, TM1914, TM1926, TM1829, TM1906, INK1003, BS0825, BS0815, BS0901, LY6620, DM412, DM413, DM114, DM115, DM13C, DM134, DM135, DM136, 74HC595, 6B595, MBI6023, MBI6024, MBI5001, MBI5168, MBI5016, MBI5026, MBI5027, TB62726, TB62706, ST2221A, ST2221C, XLT5026, ZQL9712, ZQL9712HV.
Technical Specifications
| | |
| --- | --- |
| Voltage | DC 220 V |
| Protection level | IP20 |
| Output | max. 8192 pixels |
| Control radius | 30 m |
| Dimensions | 145 × 140 × 54 mm |
| Weight | 1200 g |
Package Content
H803SA controller — 1 pc.
SD card — 1 pc.
| | |
| --- | --- |
| Control type | |
| Number of controlled pixels | |
| Voltage | |
| SD-card present | |
| Wi-Fi present | |
| Remote control present | |
| Bluetooth | |