Mastech MS6810 Multi-Network Cable Tester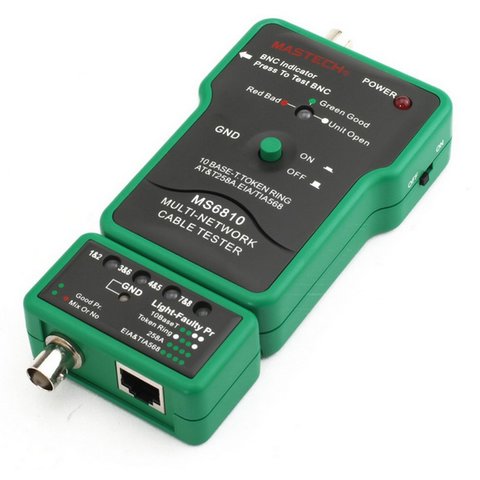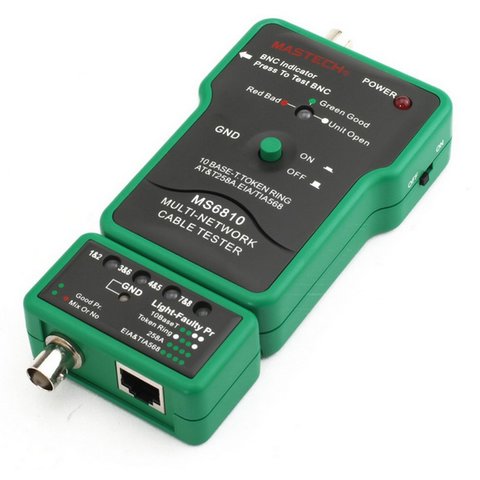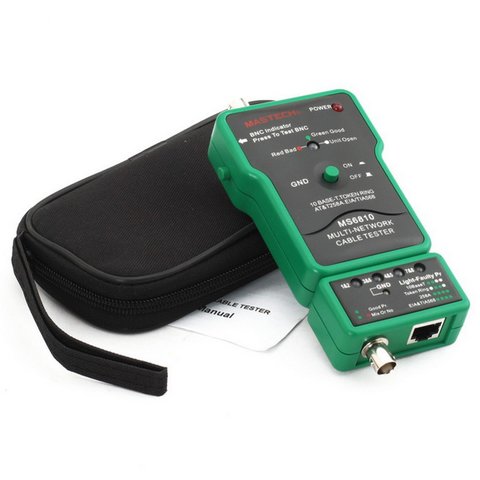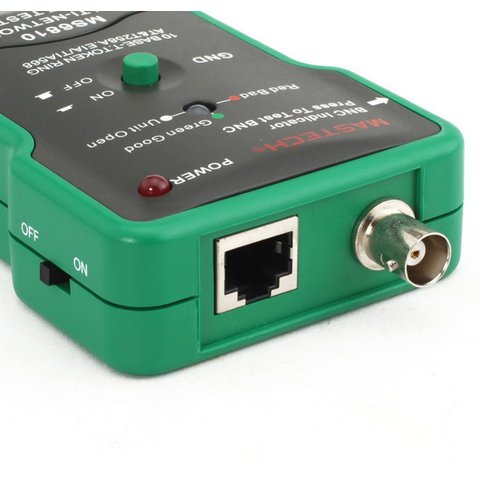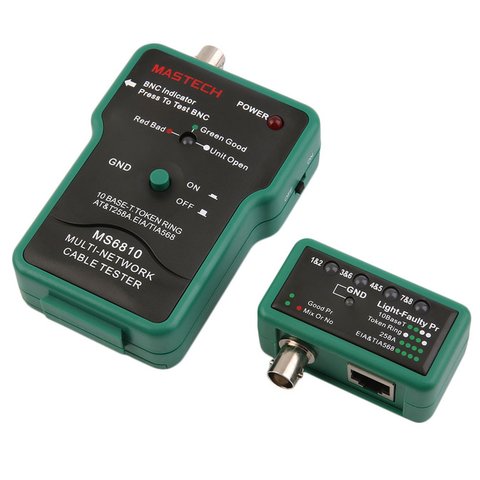 0.25 kg
Warranty:

6 months
Automatic check for open circuits, shorts, miswires, and reversals of RJ45 or BNC cables
Description
Mastech MS6810 Cable Tester - multi-functional network cable tester is widely used for coaxial cable (BNC), UTP and STP cable checks. It can automatically check for open circuits, shorts, miswires, and reversals. Just connect RJ45 or BNC cable to the tester, and switch it on, it will tell you if the cable is correctly wired. If the cable is shielded, you may check the cable's integrity
Mastech MS6810 Cable Tester - multi-functional network cable tester is widely used for coaxial cable (BNC), UTP and STP cable checks. It can automatically check for open circuits, shorts, miswires, and reversals. Just connect RJ45 or BNC cable to the tester, and switch it on, it will tell you if the cable is correctly wired. If the cable is shielded, you may check the shield's integrity
Read more
Mastech MS6810 Cable Tester - multi-functional network cable tester is widely used for coaxial cable (BNC), UTP and STP cable checks. It can automatically check for open circuits, shorts, miswires, and reversals. Just connect RJ45 or BNC cable to the tester, and switch it on, it will tell you if the cable is correctly wired. If the cable is shielded, you may check the cable's integrity
Mastech MS6810 Cable Tester - multi-functional network cable tester is widely used for coaxial cable (BNC), UTP and STP cable checks. It can automatically check for open circuits, shorts, miswires, and reversals. Just connect RJ45 or BNC cable to the tester, and switch it on, it will tell you if the cable is correctly wired. If the cable is shielded, you may check the shield's integrity
Specifications and Features:
Coaxial cable (BNC) testing.
Testing UTP and STP cables (RJ45) for 10 Base-T, EIA/TIA-568A, EIA/TIA-568B, AT&T258A, and Token Ring Cable.
Fast and convenient testing
Easy to read fault display
Sleeping mode
Automatic power disconnection
Low battery LED indication
Tester block size: 110 x 70 x 25 mm, terminal size: 60 x 35 x 25 mm
The device consists of the tester block and detachable terminal. While not in operation, the detachable terminal is fixed to the tester block. The device comes with a nylon carrying bag.
| | |
| --- | --- |
| Cable length measurement | |
| USB Cable Testing | |
| Twisted pair cable testing | |
| Coaxial cable testing | |
| Locator function | |