Network Tone and Probe Kit Pro'sKit MT-7059
No results found for your request.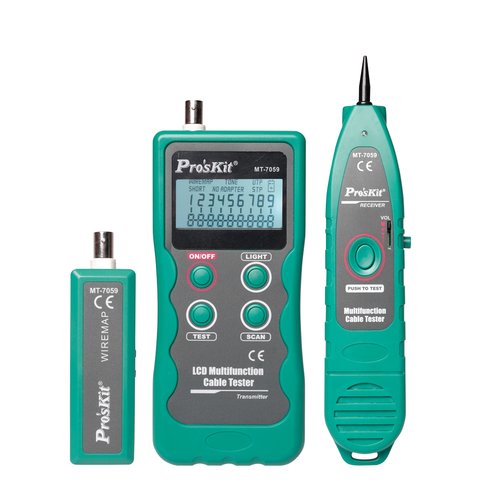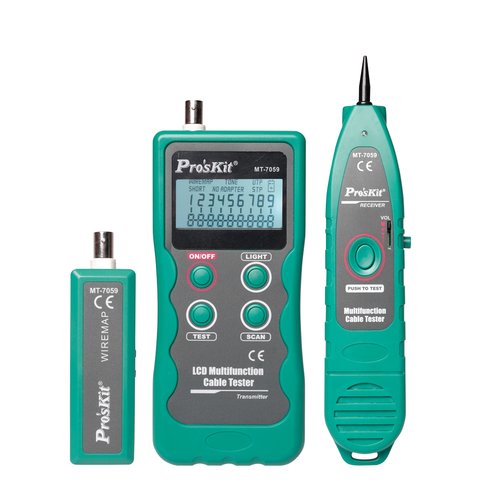 Availability in stock: HK
---
---
A multi-function device with LCD display for quick wire tracing, LAN cable condition diagnostic and 9 different tone cable status identification.
Pro'sKit MT-7059 is a multi-function device for service works in telecommunication, networking, cable TV, as well as for cable network outdoor maintenance. Pro'sKit MT-7059 comes with LCD display for easy reading and cable status identification and can locate up to 2 km long wire/cable even in a complex PC network or telephone system. Pro'sKit MT-7059 is used for quick diagnostic of LAN cable condition and scanning for continuity, open, short as well as reversal and crossed wiring.
Network Tone and Probe Kit Pro'sKit MT-7059 – Features
Display test result on LCD
Validate and troubleshoot wiring on RJ11/RJ45 cables, coaxial cables, USB cables, IEEE 1394 cables
Continuity, open, short and crossed wiring scan
9 different tones selection
Network Tone and Probe Kit Pro'sKit MT-7059 – Technical Specifications
Toner
Display
LCD 53x25 mm, with backlight
Frequency
225 Hz
Max. distance of transmission
2 km
Max. distance of cable map
300 m
Tone mode
9 tones (adjustable)
Compatible connectors
RJ-45 (8 pin), RJ-11 (6 pin), BNC, USB, IEEE 1394
Max. signal voltage
1.5 Vp-p
Function selection
3 buttons, 1 power switch
Cable map indication
LCD (#1~#8)
Phone line polarity indication
yes
Voltage protection
AC 60 V/ DC 42 V
Low battery display
6.5 V
Power
9 V (6F22)
Dimensions
185 × 80 × 32 mm
Reciever
Frequency
225 Hz
Earphone jack
1
LED illumination
2 LEDs
Power
9 V (6F22)
Dimensions
218 × 46 × 29 mm
Remote unit
Compatible connectors
RJ-45 (8 pin), RJ-11 (6 pin), BNC, USB, IEEE 1394
Dimensions
107 × 30 × 24 mm
Network Tone and Probe Kit Pro'sKit MT-7059 – Package Contents
Toner (1 pc.)
Receiver (1 pc.)
Remote unit (1 pc.)
Earphone (1 pc.)
RJ45 adapter cable (1 pc.)
RJ11 adapter cable (1 pc.)
Alligator clip adapter cable (1 pc.)
Carrying bag (1 pc.)
User manual (1 pc.)
| | |
| --- | --- |
| Cable length measurement | |
| Locator function | |
| Twisted pair cable testing | |
| Coaxial cable testing | |
| USB Cable Testing | |