Energy Saving Car Headlamps in Our Stock!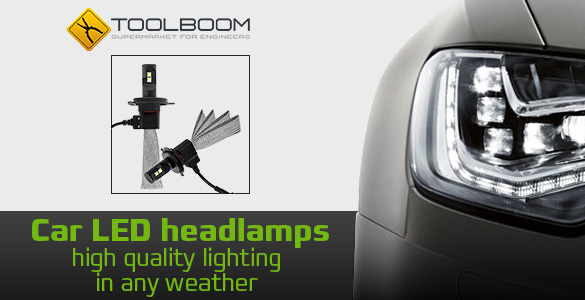 With each coming year LED technologies are gaining more popularity and spreading into various areas of our life. Nowadays, LEDs can be encountered almost anywhere: from household lighting to data transmission or even plant growing. It's not surprising that they have also found use in automotive industry, more specifically, in providing light sources for car headlamps.
LEDs that are installed in car headlamps provide at least 65% more lighting than regular halogen lamps. Thanks to their working voltage (12 or 24 V) these lamps can be installed in almost any car.
Universality is just one of the advantages of LED car headlamps. They consume a lot less power, their life cycle is a lot longer (more than 30 000 hours) and they are also a lot safer on the road. Indeed, even when used in the reflector headlamps, LEDs form a clear boundary between light and shadow, which, in turn, eliminates the danger of drivers being blinded by the oncoming traffic.
Experience all of the advantages of energy saving car headlamps for yourself. Look for them in our stock!
Go to the category