Have You Ever Assembled a 3D Puzzle?
This time we decided to prepare a pleasant surprise for you and added one more category to our product range — Hobbies & Crafts.
We introduce very entertaining and interesting Mechanical 3D Puzzles. These are construction sets for assembling certain models without using any glue or tools. Apart from being a good way to spend your time while assembling it, and having a nice look as a ready model, this puzzle also gives you a possibility to play with it, as each model has moving elements and mechanisms.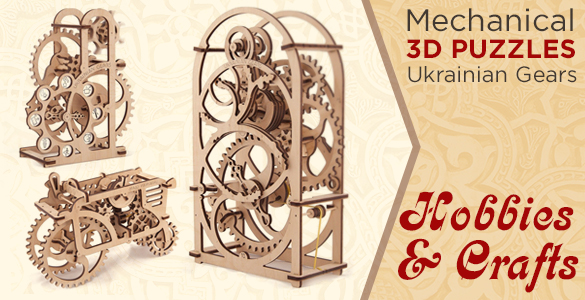 You may use the manual to assemble the 3D puzzle, and you may also benefit from assembly tips on our website. The puzzle is easy to use, and the wooden elements contain no harmful agents.
The complete assembled puzzle may become a decoration of the businessman's office, setting element of a styled room,  collection model, as well as a game of skill for young craftsmen. Moving models like these will be a pleasure for any adult, and the kids will be thrilled by them!