Month of Oscilloscopes at ToolBoom!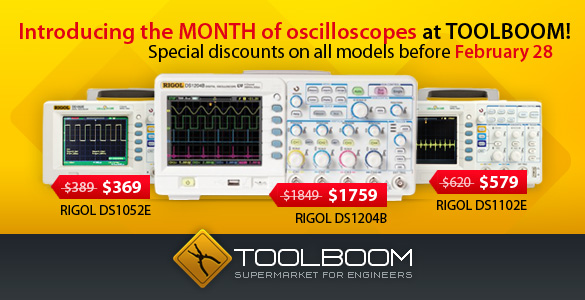 Dear customers!
Here at ToolBoom we are constantly thinking of how to provide you with the best offers on the market. Therefore, we announce a MONTH OF OSCILLOSCOPES! It means that during the limited time you can buy oscilloscopes at our store at discounted prices.
Hurry up! Special discounts are applied to all oscilloscope models and are valid from January 20th through February 28th.
At ToolBoom you have an opportunity to purchase the most popular models of Rigol, ATTEN and Hantek oscilloscopes at the most attractive prices.
Our sales managers are always willing to answer your questions and help to choose the right model. You can visit our multilingual sales chat or contact us in any other convenient way.
Enjoy shopping with us,
ToolBoom team