PC Based Digital Oscilloscope OWON VDS6102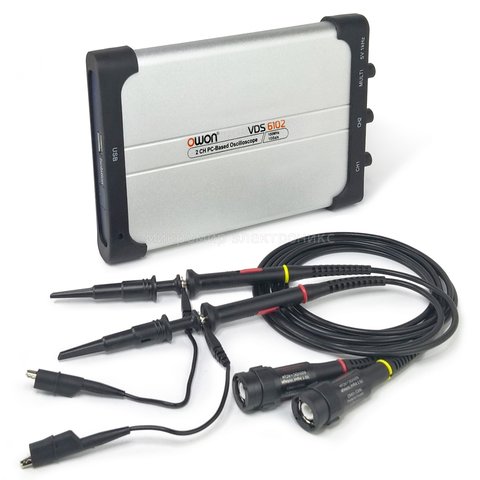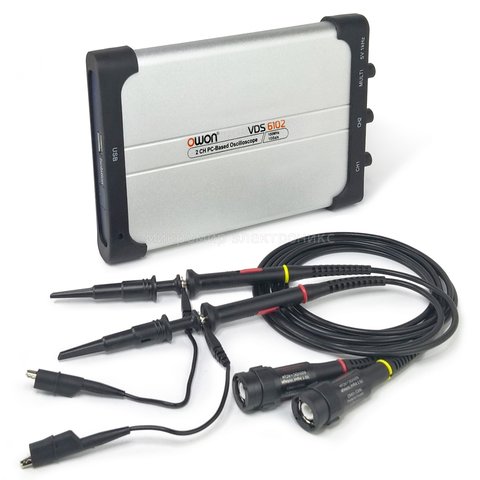 2 kg
Warranty: 12 month (s)
Dual-channel oscilloscope with a built-in signal generator. 100 MHz bandwidth, 10M record length, 1 GS/s sampling rate, and 8-bit vertical resolution.
OWON VDS6102 is a dual channel PC based oscilloscope with built-in function signal generator. The device has 100 MHz bandwidth, a large memory capacity of 10M points, and 1 GS/s sampling rate.
OWON VDS6102 oscilloscope is compatible with Android, iOS, Windows 10, Windows 8, Windows 7, Windows NT, Windows XP, VISTA. It has standard interfaces USB, LAN, WiFi (optional).
Features
Ultra-thin body (only 18 mm high).
100 MHz bandwidth, 1 GS/s real-time sampling rate.
Built-in signal generator (5 MHz frequency).
Vertical resolution: 8 bits.
Record length 10M.
Simultaneous display of FFT or X-Y mode results and waveform.
Standard SCPI protocol supported.
LabVIEW supported.
USB Type-C powered, faster data transmission.
Technical Specifications
Model
VDS6102
VDS6102A
Bandwidth
100 MHz
Channel
2 + 1 (Function Generator)
Sample rate
1 GSa/s
Rise time
≤3.5 ns
Horizontal scale
5 ns/div~100 s/div, step by 1~2~5
Sampling mode
sample, peak detect, average
Record length
10M
Input coupling
DC, AC, ground
Input impedance
1 MΩ ± 2%, in parallel with 15 pF ± 5 pF
Vertical sensitivity
2 mV/div~5 V/div
Vertical resolution
8 bits
14 bits
Max. input voltage
40 V (DC + AC Peak)
Probe attenuation factor
1X, 10X, 100X, 1000X
Channel isolation
50 Hz: 100:1, 10 MHz: 40:1
Interpolation
Sin(x)/x
Vertical range
±2 V (2 mV/div – 50 mV/div);
±20 V (100 mV/div – 500m V/div);
±40 V (1 V/div – 5 V/div)
LF respond (AC, -3dB)
≥5Hz (at input, AC coupling, -3dB)
Trigger type
Edge, Video, Slope, Pulse
Line/Field frequency (video)
supported standards: NTSC, PAL and SECAM broadcast systems
Trigger mode
auto, normal, single
Mode XY
bandwidth: full bandwidth, phase difference: ±3 degrees
Automatic measurement
Vpp, Vmax, Vmin, Vtop, Vbase, Vamp, Vavg, Vrms, Overshoot, Preshoot, Freq, Period, Rise Time, Fall Time, Delay A→B, Delay A→B, +Width, -Width, +Duty, -Duty
Interface
USB (Type-C), LAN; Wi-Fi (optional)
Power Consumption
≤8 W
Dimensions
190 × 120 × 18 mm
Weight
380 g
Built-in Signal Generator
Standard waveforms
Sine (0.1 Hz - 5 MHz), Square(0.1 Hz-200 kHz), Ramp(1 Hz-10 kHz), Pulse(1 Hz-10 kHz)
Frequency output
5 MHz
Sampling rate
25 MSa/s
Channel
1
Vertical resolution
8 bit
Amplitude range
10 mVpp - 5 Vpp
DC offset range (AC+DC)
±2.5 V
Output impedance
50 Ω (typical)
User Manual

Download OWON VDS6102 User Manual.
Package Contents
PC Based Digital Oscilloscope OWON VDS6102 — 1 pc.
Power Cord — 1 pc.
Power Adapter — 1 pc.
Type-C Cable — 1 pc.
Q9 Cable — 1 pc.
Probe — 2 pcs.
CD with Software — 1 pc.
Number of channels
Bandwidth
Type

with built-in generator
USB

Sample Rate
Storage Capacity