Power Supply with LED Indicators HYelec HY3005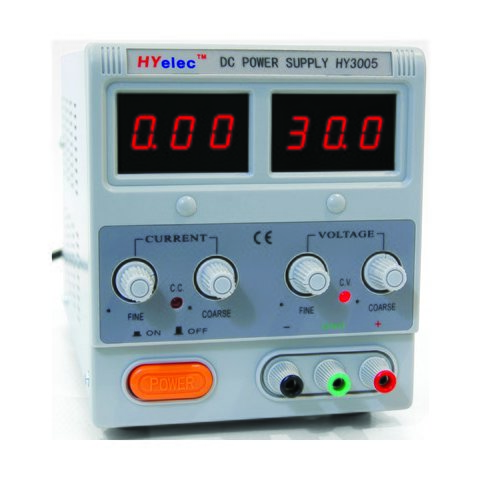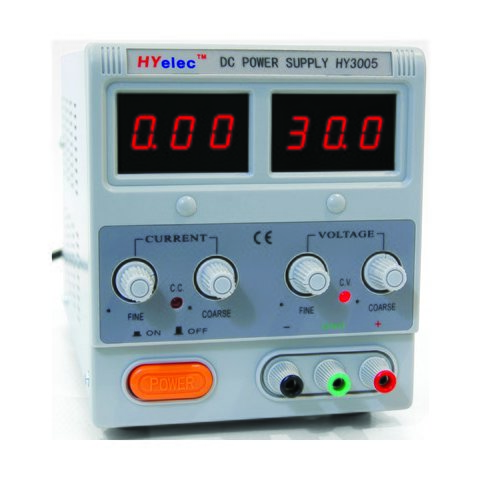 5 kg
220 V
Warranty: 6 month (s)
Dual LED display, short-circuit protection, output voltage 0-30 V
Power supply unit HY3005 provides electronic devices and schemes with power supply by continuous voltage in the range from 0 to 30 V and by current in the range from 0 to 5 A.
Features
Parameters adjustment is made by potentiometers. There are two adjusters for each parameter (Coarse/Fine).
Output current value and output voltage value are displayed on 3-digit red colour LED-indicators.
Power supply source HY3005 has fault protection in the secondary circuit. In case of protection operating correspondent limiting LED indicators are lighting up by current or by voltage.
Output terminals, from which one can turn off the voltage, and bonding point are in the bottom of power supply faceplate HY3005.
Power supply is made by AC network 220 V. Power supply source HY3005 turning on/off is made by the big key switch with safe position fixation.
Technical specifications
Output voltage, V
0 - 30 V
Accuracy of output voltage system , V
0,1
Ripple level
By current, mA
≤ 3 (I ≤ 3A)
≤ 6 (I ≥ 3A)
By voltage
≤ 0,5(I ≤ 3A)
≤ 1.0 (I ≥ 3A)
Load effect, %
By current, mA
≤ 0,2 + 3 mA (I ≤ 3A)
≤ 0,2 + 5 mA (I ≥ 3A)
By voltage
≤ 0.01 + 3 mV(I ≤ 3A)
≤ 0.01 + 5 mV(I ≥ 3A)
Supply voltage effect, %
By current, mA
≤ 0.2 + 2 mA
By voltage
≤ 0.01 + 2 mV
Output current value and output current voltage indication
LED-panels
Overload protection
By current,short-circuit protection
Power supply
~ 220 / 110V ± 10 %
| | |
| --- | --- |
| Type | |
| Number of channels | |
| Max. Voltage | |
| Max. Current | |
| Indicator type | |
Compare
No items in compare list